The Crafty Geek: How To Make A Feltie Zombie Hoard
Recently, the CDC issued a warning of a Zombie Apocalypse. Though, there is no clear sign that this is something we need to worry about just yet, you can find yourself overwhelmed  in cute by your own Feltie Zombie Hoard.
Working with felt is actually one of the easier fabrics to work with. Felt doesn't unravel and won't pull out from where you cut it.
What you'll need: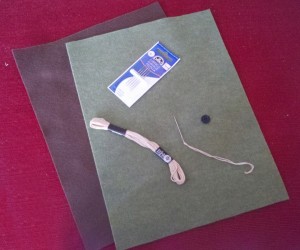 -2 sheets of felt (one for the Zombie's body and another color for clothing)
-sharp ended  yarn needle (I like a Chenille Needle. It has a relatively big head to thread the cord through)
-Craft Cord in a nice contrast color so it shows up. You can also use Embroidery Floss
-1 button
-sharp pair of scissors
-piece of paper
-marker
-Polyfiber
I used Olive and Brown Felt for my Zombie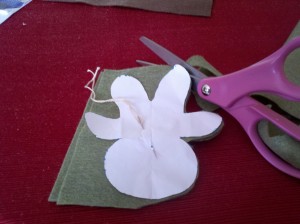 To cut out your Zombie, you may want to make a pattern. You can either make one free hand, but if you're not comfortable with that, you can use a large Gingerbread Man cookie cutter to make a paper pattern or trace directly onto the felt.
You'll want to double your felt so you cut two thicknesses at  once and you'll cut two body shapes. This will give you a front and a back piece. You may want to use your needle to pin the pattern to felt while you cut it out.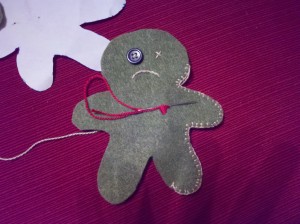 Pick one to be the front and you'll want to add your facial features before you put you pieces together. Stitch on your button "eye" with a X pattern and then stitch your "X" for the missing eye.  You can stitch on a mouth with a "stem stitch." You can also add a heart if you'd like.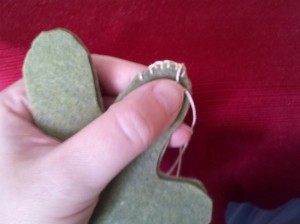 Once you have your features in place, you'll want to put the two pieces of felt together with the insides facing each other. When you have them evened up, you'll want to start stitching.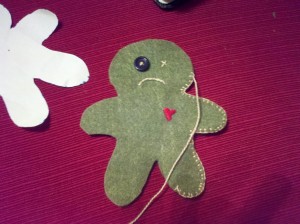 The stitch you'll be using is a blanket stitch.
Work your stitches around the edges evenly. I find it works best to start at the foot of one leg and work around to the foot of the other leg.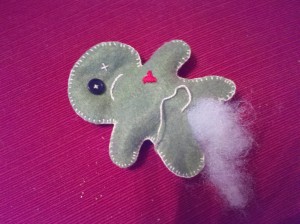 When you have stitched all the way around, you are ready to stuff him. In small bunches, start to stuff your Zombie. Make sure to push it gently to the end of the arms and fill the head and body. Stuff enough to fill his legs. This will be a bit tricky, but pinch the fabric as you sew it back together.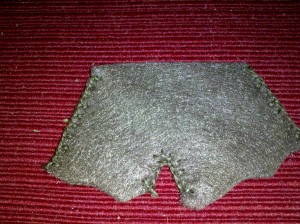 Once you finish stitching, you have your first of your Zombie Hoard! You may want to dress him and add your own flare to your undead. A simple way is to add pants! You can make the edges a bit rough, because being undead isn't the easiest of un-lives!
Now, you have your finished project–A Newly Minted Zombie!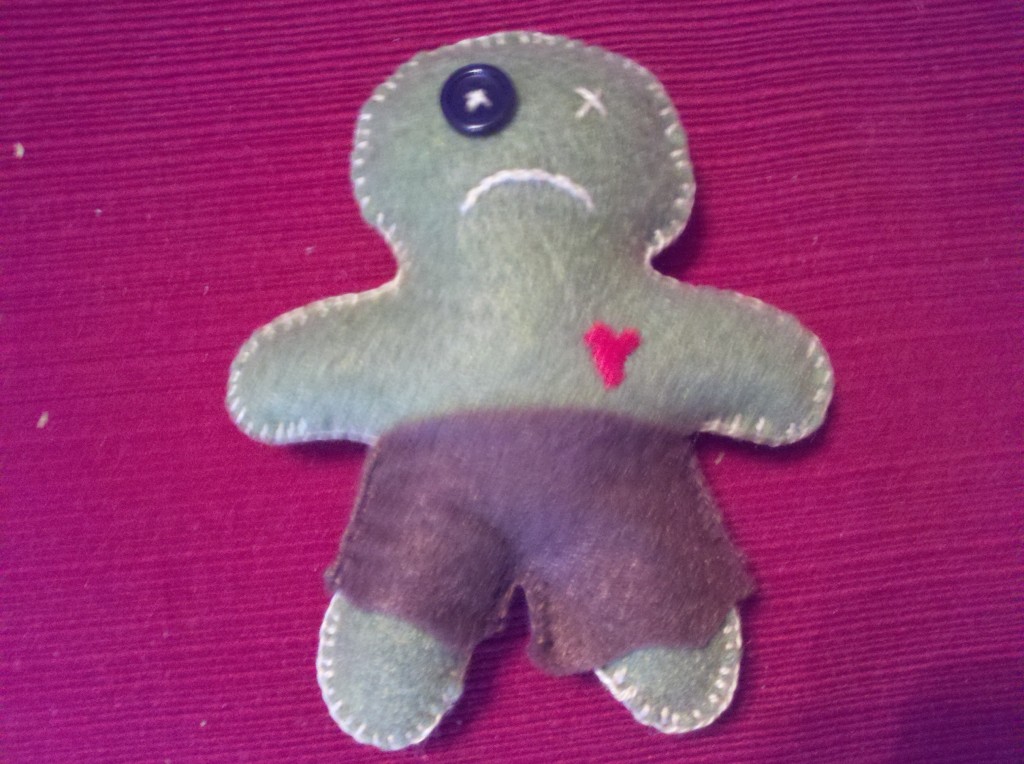 If you have any pictures of your own Zombie Hoard, I would love to see them! Feel free to post links to them in the comment section of this post!
You can check out some more of Rebecca's Zombies and other crafts HERE.