Book Reviews for Writers: Agent of Change by Sharon Lee and Steve Miller
Welcome to the 4th review in Reviews for Writers, where books are viewed with an eye towards craft. This week, we'll be taking a look at Agent of Change, the first book in the Liaden Universe.
Agent of Change is an exciting story with characters I fell in love with, and it takes place in a well-crafted, complex world. If you're in the mood to oversimplify, you could say that Agent of Change is rather like James Bond, The Bourne Identity, and a classic space opera all rolled into one, with a thread of romance woven in for good measure.
There are two main characters in Agent of Change (one man and one woman): Val Con yos'Phelium, and Miri Robertson. The point of view is evenly balanced between them, making them equitable main characters. As a writer, I appreciate this device; when done well, it allows both male and female readers to relate, thus maximizing the reading audience who might be interested. I have rarely seen this done as effectively as it is in this book. Both characters are likable, believable, and well-written. They each have a full history that is reflected in their actions and motivations. By the end of the story, I felt like I knew the characters personally, understood why they behaved/reacted they way they did, and felt emotionally invested in both of them—translation: character development is top notch in this book.
Val Con and Miri are thrown together abruptly at the beginning of the story: each brings unique strengths to the partnership, as well as unique danger. Miri is being hunted by one of the universe's larger and most powerful crime organizations, the Junatavas, and Val Con by the increasingly shady and sinister seeming organization he works for, the Department of the Interior. Miri and Val Con are strangely drawn to each other and, after a few hiccups, decide that sticking together will give both a better chance at survival.
Over the course of the story they dine and stay in a hotel with a group of touring Clutch Turtles (think 800 year old, eight-foot tall, incredibly broad-shelled, slow-moving, talking turtles)— one of whom is the adopted brother of Val Con— get smuggled off planet by a troop of mercenaries, borrow a spaceship the size and shape of a large asteroid, manage to get captured (and released) by the Juantava's, get marooned on a dead ship and dodge a Yxtrang hunting party (aliens with a completely military culture who view any non-Ystrang as inferior, and therefore, prey). Needless to say, the main plotline is exciting and faced-paced.
That being said, there is one notable weakness I feel compelled to point out: the pacing of the first chapter is a bit too slow for my taste. Now, normally I would consider one slow chapter in an entire novel too insignificant to criticize. The only reason I am pointing it out is because of its placement… it is the FIRST chapter; a slow or awkward opening chapter can be fatal to a novel, because a reader may decide not to continue. This book (not to mention the entire Liaden Universe collection of books) is frankly too good to be missed, and it would be tragic if it were set aside because of the first chapter.  The first chapter is written from the point of view of a non-essential character as he observes Val Con, and it reads a bit slow. The second chapter establishes the special agent/spy skill set of Val Con, and the introductory meeting of the two main characters, and the third chapter really seems to launch the main storyline. Other than the first chapter, the pacing is excellent. It is well-balanced, and suited to what is going on in the plotline at any given time It is possible the authors were trying to achieve a greater level of suspense and dramatic tension by creating a slow but steady build in pace until the beginning of the third chapter, but I think the first chapter stalls the story unnecessarily.
Now that that's over with… on to the good stuff! I absolutely love this series because of the rich alternate cultures that the authors have constructed. Each book in the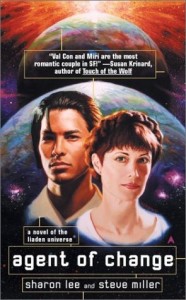 series seems better than the last, and each adds depth and nuance to the fabric of the constructed universe. Agent of Change is a good opening to an excellent series. The world building is very strong: the authors did a commendable job of building a complex, believable alternate culture– without resorting to dense and heavy handed descriptive passages. Information about the world and various cultures is seamless woven into the action and dialogue. Agent of Change was a good science fiction story without neglecting character development and interpersonal relationships between characters.
It isn't practical to describe every culture introduced in this book, but I feel that I must mention that the authors have built a solid foundation for four separate and unique cultures within the world: Liaded culture, Terran culture, Yxtrang culture, and the culture of the Clutch Turtles. Each cultural group has different traditions and norms, and views the world differently, which makes for some intereting intercultural misunderstandings. Here is one of my favorite examples: relatively early on in the story, Val Con gives Miri a knife. They are about to go to an establishment that doesn't allow guns, and he doesn't want her to be unarmed. Due to the traditions of their culture, the Clutch Turtles see this as a marriage ceremony: a knife was offered and accepted. From that point forward, they believe that Val Con and Miri are lifemates—partners in a permanent, lifelong marriage.
There are several other times where differing cultures come into play, and the inter-cultural interactions do much to further the world building.
Overall, Agent of Change is an exciting, character-driven space adventure with a touch of romance. It is definitely worth reading!
5/5 stars
Happy writing and reading until next time!
~Amy
Agent of Change has been re-issued with it's direct sequel, Carpe Diem, in the omnibus The Agent Gambit. If it suits your fancy, ebok versions of both are available at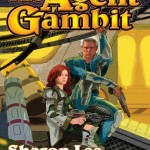 Baen.com