Book Review: The Lady of Seeking in the City of Waiting by Jennifer Brozek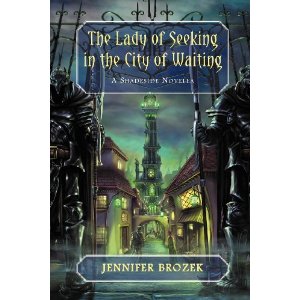 The Lady of Seeking in the City of Waiting by Jennifer Brozek is a thoroughly enjoyable fantasy with some unexpected little twists that make it more rewarding. There's enough excitement to keep the pages turning, and Jane is an engaging heroine I was happy to cheer for.
Lady of Seeking opens when Jane falls into Shadeside with little memory of who she was, no idea how she got there, and only the sense that she has agreed to meet a man (she doesn't know who) as a guide for her actions. Guardianship over her is claimed by two different houses, she has to pick her allies without knowing their purposes, and a sense of urgency drives her to begin searching the city without truly learning its ways, leading her and the guardsman assigned to her into trouble.
The city is vividly described as Jane moves from one quarter to the next, always watched by the mysterious gates whose expressions may or may not be changing, and often hunted by unknown foes. Though the amnesiac heroine has been done before, Jane's loss of memory and its slow return are well handled, and the reason believable and suited to the world.
Similarly Shadeside (a shared world; I'm going to have to look for some of the other books) uses a number of familiar fantasy tropes, and does so in an enjoyable way with some new little twists to keep it interesting. I am particularly fond of the expressive Gates and of the Ghost Tower, a clock tower which may or may not be there.
I recommend The Lady of Seeking in the City of Waiting for when you're in the mood for a quick adventure read with a strong heroine and a couple of deft twists. By the by, while I commend the twists as twists, the book does not depend on them. I think would be as much fun a second time, knowing what was coming, which is what makes for the best sort of twist. I'm going to be looking for more of Brozek's books to read.
Know what I want now? I want a graphic novel version of this. The city is vividly described and visual, and I kept seeing all the rich colors while I read, and Jane often acts as she thinks. It would be a beautiful work!
4/5
Disclosure: Copy sent by author for review.