Virtual Interview with Eva Caye, Author of DIGNITY (To Be Sinclair)
The Geek Girl Project is pleased to present: An interview with Eva Caye, author of the new (and unique) science fiction romance series, To Be Sinclair.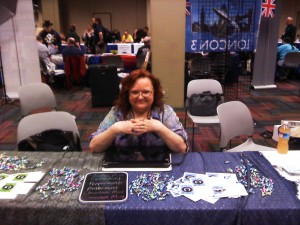 GGP:  What is the title of your most recently published book, and what genre does it fit into?
Eva:  DIGNITY is the first of the seven-part To Be Sinclair series.  The series is science fiction romance, but each book has varying levels to it.  I would say DIGNITY is perhaps 60% romance, whereas book two, MAJESTY, is more 90% science fiction.  FEALTY, book three, I will likely simply call a 'futuristic romance', since it has very little science to it, but the other books are at least 50% science fiction, although they are romances at heart.
GGP:  What would you say the book is about?
Eva:  DIGNITY is about geek love!  Lady Felicia Sorensen has never had a boyfriend before, since she has always been too involved in her intellectual pursuits.  Emperor Victor Sinclair falls madly in love with her, first because he's never dated a lady who wasn't a socialite, and second because Felicia's mental abilities can help him in a thousand ways.  You find out there is a third, subconscious reason for his obsession with her, eventually!
GGP:  Who is your favorite character, and why?
Eva:  Felicia is the person I wish I could be.  In the Afterword to my book, I explain it exactly that way, as well as why I devised her to be the greatest female character I possibly could.
GGP:  What type of person do you believe this book will appeal to?
Eva:  Thousands!  People who love personal and intellectual honesty as well as the knightly virtues, people who have come to a full stop in their personal lives and had to learn how to live again, people who try to expand their horizons.  I particularly hope I can reach the romance readers who like science on a general basis but have never been exposed to science fiction.  The first 1/3 of the book is primarily romance, and I slowly work in the science to deepen an understanding of how scientists pursue their intellectual goals and develop their disciplines.
GGP:  Can you tell us about one challenge you had to overcome in order to make this book a reality?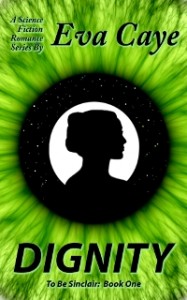 Eva:  I would say the biggest challenge is in trying to sustain a balance between how much the reader can absorb of the 'background information' to the story per scene.  For example, in Chapter One, I give considerable descriptions of two locations, the two main locales in which events occur, and then only refer to small details about those locations throughout the rest of the book, just enough to orient readers for the actions involved.  Another example is how to present historical information about the planet and culture; I have two expositions and a lot of small comments sprinkled throughout.  Those two expositions are in situations in which the characters are 'captive audiences' (a formal dinner and a ceremony), and although I made them concise and emotionally pertinent expositions, if for any reason the reader is bored with them, they will at least be subliminally in tune with the characters as part of the 'captive audience'!
GGP:  Based on your personal experience, do you believe that there are any unique challenges that women writers face within your genre?
Eva:  Science fiction romance is such a niche genre to begin with!  Amazon doesn't even have a separate category for it!  Publishers tend to think that only women are interested in romance, and not interested in science fiction.  With the proliferation of such awesome science and science fiction TV shows as CSI and Warehouse 13, I believe the time for science fiction romance to come to the fore as a unique and substantial genre has come!  Some people think that means paranormal, time-travel, or fantasy romance, whereas I do not.  My books are science fiction, with the full intent to show that scientists need and are as deserving of love as everyone else.  The fusion of science fiction and romance has a lot to offer readers of both genres.  In that respect, I feel the entire genre will be a way for women writers to draw attention to themselves as genuine writers of science fiction, which has always been proliferated by primarily male writers.
GGP:  If you could give one piece of advice to every aspiring author, what would it be?
Eva:  Line up a number of beta readers before submitting your work to an editor.  I had 15 beta readers, 9 of whom were romance readers.  I revised heavily before turning it over to my editor, who was impressed by the few substantive corrections she had to point out to me.  She rarely had me rewrite any section, and only then to amplify background information that I presumed the reader would remember or assume, which I added according to her suggestions.
GGP:  What three words best describe your writing process?
Eva:  "Scribe, not goddess."  I would watch the characters acting out in my mind, and they would do so until I wrote the scene according to their actions!  I tried changing the plot a few times, but these characters would pester me until I wrote their lives accurately.  I cannot describe how aggravating it is to have scenes downloaded into your brain while you are trying to get to sleep; I would have to get up and write them, even if it took until 5:00 a.m.!
GGP:  What authors or novels have influenced your writing or style?
Eva:  Tons.  I have read heavily in both the science fiction and fantasy genres.  In my Afterword, I specifically describe why I consider my entire series to be an 'inadequate homage' to the works of Lois McMaster Bujold.  I should definitely mention Robert Heinlein as my role-model for daring to project healthy sexuality for the future.
GGP:   What are you currently reading?
Eva:  Nothing as far as fiction is concerned.  Most of my reading is to do research online; I have been doing quite a bit of medical research for extensive background information for book six, in which a space battle occurs and one main character suffers burns.  Once I began writing the first book, the stories began pouring out of me and I simply haven't had the chance to pick up a book since then!  I've been a dilettante since college as far as writing is concerned, entering contests and such.  But when I started writing DIGNITY, I couldn't' stop, and now it is ALL I do.  I now consider myself a 'real' writer; I wake up, get on my computer, and either write the visions that woke me up or revise a scene that has been plaguing me.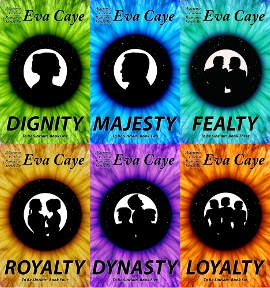 GGP:   Do you have any new projects in the works?
Eva:  Hah!  Although I am calling this a seven-book series, I already have an 8th book, between books six and seven, consisting of four novellas.  My series occurs about 600 years in the future, but I have 2/3 of a prequel written, approximately 150 years from now and some 70 years after spaceship 'jump' drives are created.  I have a non-fiction book I work on occasionally that has nothing to do with any of my fiction, and I have the first chapters and some background notes on two other fiction books.  I put everything aside to get DIGNITY and MAJESTY finished, since this was the first summer I could afford an editor, and I plan to get the rest of the series whipped into shape before I concentrate on the rest.
GGP:   Is your work available in print, as an e-book, or both? Why did you decide to (or not to) publish in each format?
Eva:  Right now, it is exclusively a Kindle e-book, for I signed up with Kindle Select to take advantage of their promotions.  In December I anticipate putting it on Nook, but otherwise I am not sure I will do a 'traditional' publishing route at all.  I collected my share of rejections from agents and editors, and came to a few realizations.  First, almost every rejection said something to equate to 'the publishing industry is very subjective'.  I address that issue in two places on my website evacaye.com which I invite everyone to peruse.  Second, if I do sign up with a paper publisher someday, I have decided I want my books to be exclusively print-on-demand books so that I do not contribute to the waste stream, which I describe on my website, too.
GGP:  What have you done that you feel is truly unique, that will help you stand out above other authors?
Eva:  At the end of my book, I do the typical things – a preview of the next book and, for DIGNITY, an afterword.  But after that, I added something special:  an Easter egg!  I describe what an Easter egg is for video games, and then I add a short story from another person's point of view!  Since my books do have a few sexual scenes, I try to do them tastefully so as not to drive away the science-fiction readers, but in my Easter eggs I specifically warn readers that the story is more erotic (i.e. body parts are mentioned) and not to read any further if such descriptions would upset them!  I have Easter eggs already written for books 1-5; book 3 has two Easter eggs.  I'm just waiting for my characters to show me the final Easter eggs for books 6 and 7.  I can't wait, because those are the two most exciting books so far!  I hope everyone enjoys them, because they were as much fun to write as the books themselves, if not more!
I hope you have enjoyed this interview with Eva Caye, author of the science fiction romance series, To Be Sinclair. DIGNITY was wonderful start to the series (you can read my review of it here). For more about the To Be Sinclair series, check out Eva Caye's website!
Happy writing and reading until next time!
~Amy
_____
Dignity (To Be Sinclair) is available on amazon.com, here.
Eva Caye has been a life-long reader of science fiction and fantasy.  For three decades she attended writers conferences and took creative writing courses, writing an occasional story or the start of an occasional book.  A life crisis helped her latch on to a story idea, and several books came roaring out in response.  She spent her 50th birthday at Chicon 7, the 2012 World Science Fiction Convention, promoting her first book, partying with other fans and authors, and wondering how amazing the next 50 years will be.  She lives in Louisville, Kentucky with her very supportive husband and two beautiful mutts.  See evacaye.com for further details.