Virtual Interview with Phoebe Matthews, author of Vampire Career
This week, The Geek Girl Project presents an interview with Phoebe Matthews, an who writes in several genres, including urban fantasy and paranormal fiction! Onward to the interview…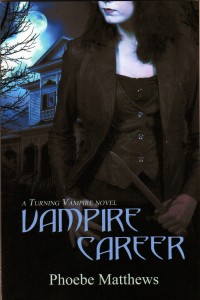 GGP: What is the title of your most recently published book(s), and what genre does it fit into?
Phoebe: Vampire Career, February 2011; Vampire Disaster, May 2012.
These are the first two novels in a four book Turning Vampire series.
GGP: What would you say the book is about?
Phoebe: Faced with dying from a defective heart at age 18, Seattlite Georgia decides to look for a vampire to turn her and give her a longer life. Hey, she lives in driving distance of the Olympic peninsula where glittery vampires are rumored to live.
GGP: Who is your favorite character, and why?
Phoebe: I like Georgia. She is frail and sickly and knows nothing about the life of a vampire, but she marches courageously into a deadly situation.
GGP: What type of person do you believe this book will appeal to?
Phoebe: This is light entertainment, suitable for adults or teens.
GGP: Can you tell us about one challenge you had to overcome in order to make this book a reality?
Phoebe: The first challenge was to drive to the Olympic peninsula and decide on the location. I set out with five friends, visited the glitzy vampire gift stores, enjoyed the scenery, ate at some great restaurants and had a fabulous weekend. Really hard challenge, right?
GGP: If you could give one piece of advice to every aspiring author, what would it be?
Phoebe: Pick a subject that fascinates you.
GGP: What best describes your writing process?
Phoebe: I always write from a strong, detailed outline.
GGP: What authors or novels have influenced your writing or style?
Phoebe: I read about three books a week and absorb, undoubtedly, but I think my style is my own. I always write single viewpoint, usually first person, and I spend a lot of time thinking about my protagonist and getting into her head.
GGP: What are you currently reading?
Phoebe: Today? A charming novel by Tanith Lee titled Piratica.
GGP: Do you have any new projects in the works?
Phoebe: The third vampire novel is now with the editor at Dark Quest.  The sixth novel of the Mudflat Magic series will be out in ebook in October and in print sometime this year.
GGP: Is your work available in print, as a ebook, or both?
Phoebe: Most of my books are in both print and ebook.
GGP: Why did you decide to (or not to) publish in each format?
Phoebe: Dark Quest always brings books out in print first. Take a glance at the layout. Danielle Ackley-McPhail does the layout, picks the font and so forth, and her work is pure art.
GGP: Why did you pick Dark Quest?
Phoebe: The publisher looks for off-beat, quirky fantasy and science fiction that doesn't match the standard genre descriptions, and that is exactly what I like to write.
To read more about Phoebe Matthew's books, and find purchase links, visit her website at http://phoebematthews.com
_______
Phoebe Matthews admires superheroes who save the universe or the planet or at least the whole nation, but admits her own world is much smaller.  And so she writes about people with limited powers who have only their wits and courage between themselves and destruction.  In Phoebe's new Turning Vampire series for Dark Quest the gutsy heroine's powers are in the minus range.