Virtual Interview with Jaleta Clegg, Author of Priestess of the Eggstone
Today, The Geek Girl Project presents an interview with science fiction author Jaleta Clegg (a geek girl at heart). Read on to find out a bit more about the latest book in her science fiction adventure series!
What is the title of your most recently published book, and what genre does it fit into?
Priestess of the Eggstone is a science fiction adventure. I call it space opera but I've found out most people have no idea what that means.
What would you say the book is about?
About 300 pages long in print. Just kidding. Pursued by the Targon Crime Syndicate bent on revenge, the Patrol intent on recruitment, and the Sessimoniss who want their god back, the last thing Captain Dace needs is a handsome copilot with romance on his mind.
Who is your favorite character, and why?
I love all the characters, but my side characters like to try to steal the show. Leon Gravis is my favorite from this book. He's a lawyer, working for a crime syndicate as a paper pusher when Dace first meets him. He hijacks her ship, but he's totally incompetent as a terrorist. He's a bit of a puntz until later in the book, but I don't want to spoil the end.
What type of person do you believe this book will appeal to?
Anyone who enjoys a good adventure story. If you're looking for literary romance, try Wuthering Heights. If you enjoy the golden age of sci-fi, please give my book a try. I've had kids as young as 10 tell me they love it. My 90-something grandmother enjoyed the story.
Can you tell us about one challenge you had to overcome in order to make this book a reality?
Myself. Really. I have this nasty little voice in my head that tells me I write crap. It's a scary thing sending your book out into the world. It takes a lot of guts to believe in yourself and your art. And then you get the nagging inner voice ripping apart any shred of self-confidence you've managed to build. It's hard enough writing the book, but letting strangers read it and review it is like walking around naked in public. Except you won't get arrested for writing a book. You just get the voice in your head mocking you for being stupid. I'm my own worst enemy some days. But lucky for me, I have a husband who adores my stories. He keeps me going when the voice inside gets too loud.
Based on your personal experience, do you believe that there are any unique challenges that women writers face within your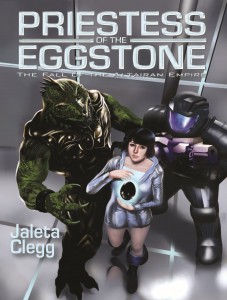 genre?
Nobody takes you seriously. Especially if you write space opera. I've had romance authors sniff down their noses at me when they find out I write science fiction. I've had science fiction authors do the same when they find out I write space opera. There's a growing market for science fiction romance, but I don't quite fit that mold. I don't write hard SF, either, which is what the male authors adore. The people who pass out awards are looking for depressing literary SF. Yeah, it's tough being a girl in the old boys' club of SF. But I've been smashing down that door since I was ten and discovered Andre Norton's space adventures. She did it, so can I. I've got a publisher who loves my work. Now I just need rabid fans…
If you could give one piece of advice to every aspiring author, what would it be?
Don't listen to people like me who tell you that you MUST do it some way or another. Write what you love. Enjoy what you write. Chances are that if you enjoy it, other people will, too.
What three words best describe your writing process?
Chaos, spurts, interruptions. I live with seven of my eight children, two dogs, an obese cat, three zombie frogs, and my afore-mentioned patient husband. At least I don't have a day job right now. Instead I have health issues. I write when I can for as long as I can.
What authors or novels have influenced your writing or style?
Andre Norton and Elizabeth Moon. Both wrote awesome space opera.
What are you currently reading?
I just finished Carnival Girl by Sonja Herbert, an autobiographical story of her life growing up in a carnival in post WWII Germany. Fascinating stuff.
Do you have any new projects in the works?
Always. Mostly short stories for anthologies right now, but I'm also finishing a short novel set in a steampunk version of fairyland. Elves in airships, oh, yes.
Is your work available in print, as a ebook, or both? Why did you decide to (or not to) publish in each format?
Priestess of the Eggstone is available as both. The publisher will even give you the ebook free when you buy the paperback from them. http://journal-store.com/bookstore/priestess-of-the-eggstone
Nexus Point, book one in the series, is also in ebook and print.
It's nice to have options and with POD (print on demand), there's no reason not to. They print the books as they are ordered, no warehouse full of copies waiting to sell, so no overhead for print and storage. The trade paperbacks are a bit more expensive than a mass-market paperback, but they are much higher quality paper and printing.
What else do you do for fun?
I write silly horror short stories, crochet cthulhu toilet paper cozies and cat toys, and piece quilts. I also do quite a bit of cooking. I'm working on getting a cookbook published. That's been a very different project compared to writing fiction.
My day job, which is on hiatus depending on when they finish rewiring the center, was running a classroom and planetarium for the Christa McAuliffe Space Education Center. I got to teach physics, chemistry, and astronomy to 10-12yo kids. Plus I got to play in the planetarium whenever I wanted. I also made costumes for the starship simulators. Good times…
Yep, I'm a total and complete geek. I even went to ComDex before it turned into a boring businessmen seminar. I used to own a Commodore128 and still have my original NES system.
Thanks so much for inviting me over to Geek Girls. It's been a blast!
And thank you Jaleta Clegg for interviewing with us! You fit right in with the girls at Geek Girl Project.
_____
Jaleta Clegg loves telling stories, mostly science fiction adventures but she also dabbles in silly horror, fantasy, and a teensy bit of romance. She can't write stories about the real world because somehow spaceships, aliens, zombies, unicorns, and magic manage to sneak into the plot no matter how hard she tries to keep them out. She also loves astronomy, cooking, piecing quilts, and crocheting Cthulhu abominations. You can find more at www.jaletac.com or on her blog, The Far Edge of Normal, http://jaletaclegg.blogspot.com
Find more about her science fiction adventure series, The Fall of the Altairan Empire, at www.altairanempire.com