Book Reviews for Writers: MAJESTY (To Be Sinclair) by Eva Caye
Welcome to the 10th review in Reviews for Writers, where books are viewed with an eye towards craft. This week, I'll be looking at MAJESTY, the second book in Eva Caye's To Be Sinclair series. It is a direct sequel to DIGNITY, and I strongly recommend reading that book before you pick up MAJESTY; it will be much more enjoyable for those who are familiar with the events (and character development) that occurred in the previous book. DIGNITY was wonderful, so it won't be a hardship, I promise! (Click here to read my review of DIGNITY)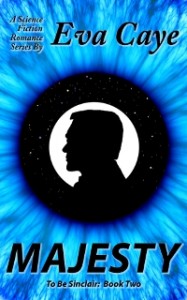 Now, down to business… let's talk about MAJESTY. It is quite different from DIGNITY, primarily because of the focus of the plot (DIGNITY focused on Victor and Felice's romance and courtship, and MAJESTY focuses on Felice's scientific discoveries and inventions, as well as the politics of the Empire), but just as difficult to put down.
MAJESTY is really Felice's story. You could say that the plot is divided into three components: Felice's role in a family unit (a wife and mother); her role as an innovative scientist; her role as Empress/political figure. Each of those elements intertwine and affect each other in numerous ways. Felice has to learn to balance her commitments as a mother, an Empress, and a scientist, while still maintaining a healthy relationship with her husband, Victor. She makes mistakes along the way, mostly because she has a tendency to become mono-focused on her scientific work, and neglect her other responsibilities. I like this aspect of fallibility in Felice, since it makes her a realistic character; I don't think there is a woman out there who hasn't had some trouble balancing all of her commitments.
In addition to the regular complications inherent in everyday life, Felice has to walk a delicate political and ethical line due to her role as a scientist. She makes a technological and scientific advancement that will literally expand the horizons and growth potential of every known society in the galaxy by revolutionizing space travel. Unfortunately, while she was developing this new technology, she also discovered a devastating weapon. Both of these discoveries create new challenges for Felice. Throughout it all, Victor socially and politically supports Felice's role as a scientist, drags her back to everyday life when she gets too wrapped up in the intellectual plane, and provides emotional support.
Politics is interwoven with both the familial and scientific plotlines in MAJESTY. The author does a fabulous job constructing a political system and illustrating the struggles the main characters have because, as Emperor and Empress, every aspect of their lives is affected by politics. The Dukes seem determined to control Felice, and gain more power within the Empire. They try everything from attempting to prevent Felice's scientific research to interfering with the way she and Victor have children. When Felice makes the technology she developed public, they try to gain control over the technology and the power and profits that it will gain.
The Dukes and the Ducal Assembly were incredibly aggravating, and entirely believable (there are several parallels I could make to modern entities). They are, for the most part, power-hungry, acquisitive, selfish, and resistant to change. They frequently create political stumbling blocks that stall the plans that Victor and Felice have made, and they are so lost in their own agendas, that do not realize the harm their politicking is doing to the Empire as a whole. In stark contrast, Victor and Felice do their best to serve not only the Empire, but the development of humanity as a whole. They seem to represent the innovators in society, who are constantly struggling to make positive changes within a very ridged social and political system.
I don't want to spoil it, but I have to mention that the ending was top notch! The political maneuver that Victor and Felice engineer together was brilliant— I had a huge smile on face while reading it. It was exactly the sort of thing I imagined a brilliant political mind like Victor's would come up with when supported by a scientific (and detail oriented) mind like Felice's. I didn't think it was possible for the Ducal Assembly to be put back on track, but Victor and Felice manage to politically outmaneuver the Dukes and, in doing so, reshape the political system of the Empire in a way that will allow for forward movement and positive change — it left me feeling immensely satisfied.
Overall, MAJESTY was another well-crafted book from Eva Caye. Like DIGNITY, it was one of the best edited books I have ever come across (not a single grammatical, punctuation, or typographical error jumped out at me). The pace is suited to the story: it mirrors the life of the Empress, steady, unhurried forward momentum interspersed with bursts of fast-paced action (the life of an Empress is not without danger!), the themes are nicely developed reflections of real life that nearly anyone can relate to, and the plotlines intertwined into a cohesive whole.
Watching Felice become the most important person in the Empire (and possibly the galaxy), and gain the political savvy she needed to be an effective Empress and scientist was fascinating. The majority of the world building in this installment of the series was political in nature. The political aspect of the plot was fully developed and, in my opinion, added a very interesting and complex layer to all of the events in the story. I loved the theme of balancing multiple roles and relationships within the constraints of society; Felice manages to find a way, but she has to overcome issues within herself as well as various external sources in order to do so. I also appreciated the continuation of the relationship between Victor and Felice. They both act as intelligent adults, and make an effort to maintain their relationship, and communicate. They also support each other even when one partner is working through a difficult and/or self-destructive emotional period.
I recommend MAJESTY for readers who like characters that are intelligent reflections of real people, with reactions and emotions well grounded in reality. I am looking forward to the next installment in the series!
4/5 stars
Happy writing and reading until next time!
~Amy
______
* Disclosure: book sent by author for review