Virtual Interview with Speculative Fiction Author Tony Thorne
The Geek Girl Project is excited to start off the week with an interview with Tony Thorne! Read on to find out more!  
What is the title of your most recently published book? 
There are two recently published… Points of View from Eternal Press andThree Kinds of Culture Shock from Books To Go Now, both intended for young readers of all ages.
What would you say the books are about?
Points of View is a spy thriller about a blind young Londoner who acquires intelligent nanotronic eyes and becomes assistant to a real secret agent. His new eyes soon develop superhuman abilities when he needs them, which he often does.
Three Kinds of Culture Shock comprises three novelettes, the first two are fantasy and the third is SciFi. "Spellbind" is about an inept old Welsh witch and her evil cat. She schemes to take over a flourishing enterprise in another village. However her sinister spells don't always work out. "Demonstration" is about a young girl looking for work in a foreign location. The unusual job she undertakes, has unexpected consequences which change her life forever. "Culture Shock" is about an alien invasion of a small island, but with a difference, and its long term effects on the inhabitants.
Who is your favorite character, and why?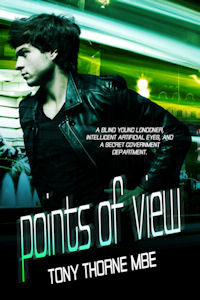 It has to be my young hero, Horace Mayberry, in Points of View, and its first sequel (ready early next year). He is innocent and inexperienced, but possesses, intelligent, artificial eyes which develop various remarkable powers. He also has vivid dreams which mirror his apprehension and experiences, in his exciting new job.  It's great fun to write about him, and get him into, and then out of, all kinds of mishaps and adventures, both when he's sleeping and awake.
What type of person do you believe your books will appeal to?
The young in heart of all ages, who enjoy speculative action tales of adversity and triumph.
Based on your personal experience, do you believe that there are any unique challenges that women writers face within your genre?
I can't think of any. Many of the best Fantasy and SciFi stories have been written by women about men, and my hero in Points of View could just as easily have been a heroine… and the main character in Demonstration is a tough female.
If you could give one piece of advice to every aspiring author, what would it be?
Never give up, even though it's getting a lot more difficult nowadays, with so much competition about. Unfortunately, even if you are really good, you will find it still costs money and valuable time to promote your work–and even more of both if you are not very good at it.

How would you describe your writing process?
I get an idea for an opening sentence and take it from there. The plot develops, the characters emerge, and away I go. It's no good asking me where the ideas come from, because I don't know. However, a lot of the details do come from my experiences as an engineer/inventor of hi-tech products, back in the last century..!
What authors or novels have influenced your writing or style?
J.B.Priestly, (The Good Companions) with his easy-to-read style, and the late Harry Harrison, (The Stainless Steel Rat series) with his humour and imagination.
What are you currently reading?
The complete works of H.P.Lovecraft, which are a revelation. The most chilling for me, so far, is the story about the demise of a German U-Boat back in WW1.
Do you have any new projects in the works?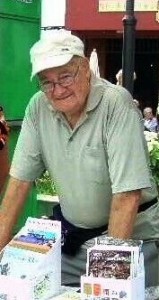 I'm over halfway into the first sequel to Points of View, and I believe it's more exciting than the original. It even keeps me awake writing it! I'm also into selecting twenty-five yarns from the total of thirty-seven in my award winning Tenerife Tall Tales trilogy, to make up a BEST OF bumper edition.
Is your work available in print, as an ebook, or both? Why did you decide to (or not to) publish in each format?
At first, my twenty two books were only available as paperbacks. Now they are all available in both formats, which I'm convinced is essential nowadays. Soon, I suspect it'll be all eBooks. Perhaps before long, paperbacks and hard copy versions will only sell to collectors.  Personally I like to show people, and chat about, my books by displaying them wherever and whenever I can, and you can't sign an eBook very easily.
I hope you've enjoyed this interview with Tony Thorne! His books are available on amazon, here. Alternatively, click here to order your paperback copies!
You can learn more about him on his website, www.tonythorne.com.
Happy writing and reading until next time!
~Amy
______
Tony Thorne's bio:
I am an Englishman, born and technically educated in London, England as a Chartered Design Engineer, specializing in Applied Physics products. For developments in low and high temperature processes, the Queen awarded me an MBE. Now retired, I write easy-to-read speculative Macabre and SciFi stories, with new readers in mind, especially young adults, and have published over 110 short stories in magazines, anthologies, websites, and themed collections. The first volume in my trilogy, TENERIFE TALL TALES, won the SF Category in a New York Beach Book Festival Contest, and has an enthusiastic introduction by the legendary Harry Harrison. My first novel, POINTS OF VIEW,  has just been published by Eternal Press.