Virtual Interview with author Jennifer Brozek
Today, The Geek Girl Project is pleased to present, an interview with Jennifer Brozek, author of The Lady of Seeking in the City of Waiting. If you haven't already done so, you can read Jessica's review here. Onward to the interview!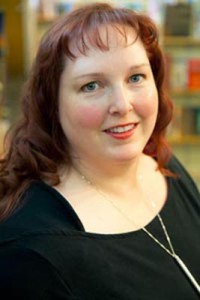 What is the title of your most recently published books and what genre does it fit into?
I write a lot of things. So, while it is not my most recent book, The Lady of Seeking in the City of Waiting is my most recent fiction book. It was published by Dark Quest Books in Feb 2012.
What would you say the book is about?
The Lady of Seeking in the City of Waiting is about a young woman, Jane, fighting to find herself and discover why she is where she is. As the book progresses, she starts to regain her memory and figure out exactly who it is she is supposed to meet.
Who is your favorite character, and why?
While Jane is a plucky heroine with an interesting past and future, I have to admit that my favorite character in the book is Jonas, the Butcher. He is a walking contradiction—polite, gentlemanly, psychotic, merciless, and vicious. He does have his own code of honor and that appeals to me.
What type of person do you believe this book will appeal to?
People who like a fantasy mystery story that enjoy a mash-up of genres. Shadeside, the City of Waiting, is a city of different times and places. Parkour runners travel the city as couriers, while ghosts rule over the undead quarter, and dark elves fight a political war with human slave traders in the noble quarter. The city is rich with potential and opportunity as well as danger.
Can you tell us about one challenge you had to overcome in order to make this book a reality?
This is a tie-in book to a forthcoming role-playing game called Shadeside. The biggest challenge I had was making sure I had all the pieces I needed to tell the story I wanted to tell. When I couldn't find a piece, I needed to go back to the RPG developer for that information. In one case, I had to create an entire class of person which then became cannon in the game.
Based on your personal experience, do you believe that there are any unique challenges that women writers face within your genre?
There are no unique challenges for women writing science fiction and fantasy. Sometimes we have to try harder to be heard. And in the RPG arena, you need to prove you know the knowledge of the game more than men. But, this is not unique. We work harder to get the same amount of recognition.
If you could give one piece of advice to every aspiring author, what would it be?
Don't give up on the story you want to write. Don't think "what will sell?" or "what's hot right now?" Write what you want to write. Do what you love. That passion will come through in your writing and the story will reward you for it.
What three words best describe your writing process?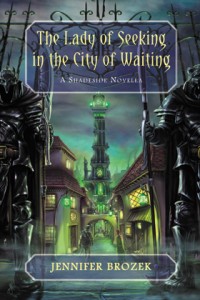 "Consistent." "Passionate" "Diligent." I sit down and I write. "Writing" can mean: outlining, brainstorming, editing, rewrite requests, research. Whatever it is I'm doing with my writing, I am consistent. I work on it every day in some way. I do the best work I can on everything I produce.
What authors or novels have influenced your writing or style?
Susan Cooper, Stephen King, Seanan McGuire, Neil Gaiman, Steve Perry, Barry Sadler… the list is endless. I don't think I could name them all. There are many authors I admire that have influenced the way I write and look at the process of writing.
What are you currently reading?
Right now? Non-fiction: Ray Bradbury's Zen in the Art of Writing Fiction: Forged in Fire by J.A. Pitts.
Do you have any new projects in the works?
I do. Forthcoming from Apocalypse Ink Production is the first of four novellas in the Karen Wilson Chronicles called Caller Unknown. That is due out in November 2012. I also have a forthcoming anthology from Graveside Tales called The Beast Within 3: Oceans Unleashed.
Is your work available in print, as an ebook, or both? Why did you decide to (or not to) publish in each format?
My work is mostly available in both electronic and print format. The publishers chose to do this and I'm grateful. I think the growing e-market for books is wonderful. I buy most of my books electronically these days but I do love the feel of a hard copy book.
You mentioned earlier that you have a non-fiction book out. What is that and where can we get it?
My most recent book is IIndustry Talk: An Insider's Look at Writing RPGs and Editing Anthologies. It was published by Apocalypse Ink Productions in May 2012 and is the compilation of a couple of columns I wrote for Geek's Dream Girl and Apex Publication. Each column has been expanded to answer the five questions that I keep getting. It's a down-to-earth book on what it's like to be behind the scenes in RPGs and editing anthologies.
Where can we find all things Jennifer Brozek?
Your best bet is to go to my website: www.jenniferbrozek.com. From there you can get to my blog, Facebook, twitter, and latest releases.