We Wish You a Geeky Christmas!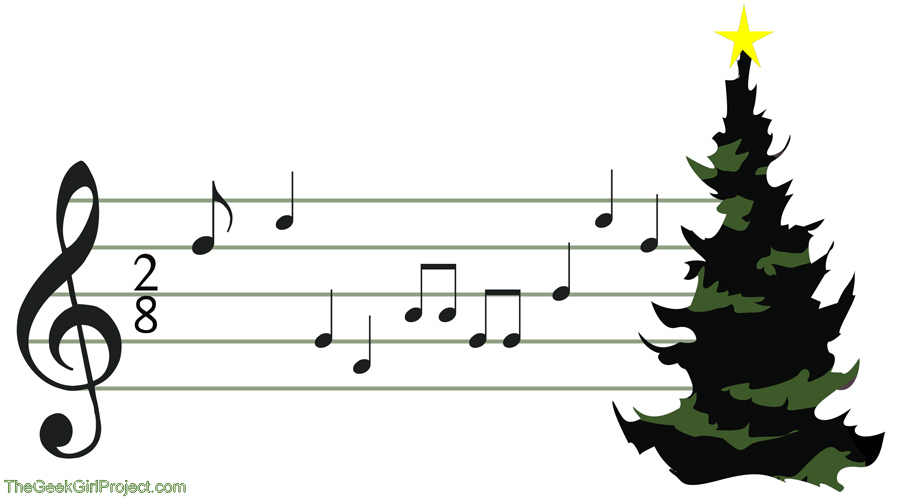 May we suggest some music to put you in the proper holiday frame of mind?
We'll start with a classic, a story of robot overlords (I meant protectors) and tasty Soylent Green: "Chiron Beta Prime" by Jonathan Coulton. That'll take you to the YouTube video; the MP3 is available for free download on his website.
There are one or two other songs there as well, like "Christmas is Interesting".
Then we move to a galaxy far, far away for "The Millennium Falcon for Christmas" from Seasons Geekings by John Anealio; there's a whole album there, which also offers a dose of Christmas cheer to offset Coulton's, um "Interesting" take on the holidays.
Another sweet, geeky song from that corner of the galaxy is "Christmas Tauntauns", written and composed by Ed Johnson, and sung by Kirsty Dawson in this YouTube video by Matt Bagshaw.
Then again, maybe you prefer your Christmas to have a little WoW to it, in which case, you can celebrate with "We Three Dwarves".
Move over just a bit, and here's "The 12 Days of Minecraft", complete with gifts.
Or perhaps you prefer a chillier sort of Christmas? Try "It's Beginning to Look a Lot Like Fish-men" from A Very Scary Solstice.
Not scared enough? Try listening to "The Carol of the Old Ones". The H. P. Lovecraft Historical Society has two albums of comparably creepy stuff, and there are some more solstice songs to sample on the website, but we're too busy hiding under the covers to listen to them all at the moment.
Go to a different, more epic past for the recently released The Lord of the Rings by the Piano guys (YouTube; download $1.29 here). We thought it made quite a good Christmas gift, but if you're not satisfied, there's also their splendid, cheerful "Carol of the Bells" or "O Come, O Come Emmanuel".
Middle Earth seem to distant? Head back toward the present and board the dirigible for a "Steampunk Holiday", by Reginald Pikedevant. The song is free and easy to download, so you can take it with you through the day.
Merry or Scary, we wish you a very Geeky Christmas!