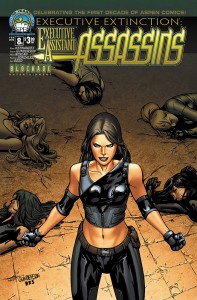 Executive Assistant: Assassins #8 begins where #7 left off: with Rose on top of Orchid and Iris pointing her gun at Rose. I liked the ending of #7 because it ended on the high point of Iris coming to Lotus's house and (potentially) saving the day. I had hoped that Iris would help make Executive Assistant: Assassins #8 interesting, but I was sadly mistaken. Executive Assistant: Assassins #8, fifth in the Executive Extinction storyline(1), is very much a filler book with little action and seems to serve the sole purpose of showcasing and introducing a brand new character.
The first part of the story is boring because the characters are standing around and bickering with each other—and also talking about torturing a character–and then actually are torturing a character. The torture itself is shown in two panels and is gratuitous. It's completely unnecessary–either to be discussed  and definitely to be shown. Surely these professional assassins have other means of getting information out of someone?  It is even remarked to Iris, the character whose idea it is to torture, that torturing is "not really [her] style." The scene could have been shortened and edited. Maybe there could have been more action in the scene when one of the characters comes up with a creative way that could have gotten Rose to share the information Iris was looking for. It is better to show off a character's abilities than resort to an activity that is, based on what is said about Iris, out of character.
Like in #7,  #8 involves the use of gas as a means of confusing and distracting, but seriously: there are FIVE supposedly well-trained and highly adaptable assassins in one area; they shouldn't just have their butts handed to them so easily by a little gas and ONE new adversary. My suspension of disbelief was lost. I really do not like it when writers depict characters not utilizing their abilities and strengths so the writers can highlight another character's strengths instead. The characters are not going to suddenly forget how to fight and defend themselves. This slighting of characters' abilities seems to be a theme of this issue.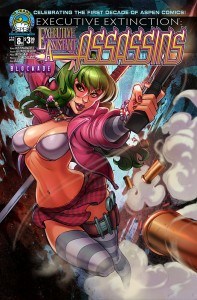 Okay, so the new female adversary. Of course she is one of the Excutive Assistants. Her name is Ivy. I love her look and I love her attitude. The two things that I actually like about this issue are Ivy and Rose. We learn a little more about Rose's agenda and we meet Ivy. I am disappointed when the fight between Ivy and Iris is not faithful to the character of Iris. The writer has made Iris slower  in order for Ivy to easily get the upper hand. Ivy tells Iris that she's in her prime and Iris is not, but before this confrontation it has never been indicated that Iris is not in her prime, like how it's been previously indicated about Aster. Ivy says that not only does she know about everyone, but she knows "more than [they] will ever know." WHY?? I want to know why! I expect we'll get more about Ivy next time because the story ends with Ivy and Rose in a very hairy situation.
My hope, for future issues, is that continuity and character abilities (established ones and ones that we don't know about yet) are acknowledged and utilized and that easy outs in fights are not resorted to.
–
(1) The Executive Extinction line so far is: Executive Assistant: Assassins #6, Executive Assistant Iris #1, EAAS #7, EAIR #2. EAAS #8, for those of you who are wondering.
—
For Aspen Comics' press release and more pages, see the preview here.
Who's Who:
Vince Hernandez – Writer
Jordan Gunderson – Pencils
Teo Gonzalez – Colors
Executive Assistant: Assassins #8 is in stores February 20th, 2013.
FC 32 pages $3.99
Have any thoughts about the issue? Comments? Who is your favorite Executive Assistant and why? Leave a comment here!  Be sure to also swing by our Twitter and Facebook.