Jenn Daugherty Talks to the Geek Girl Project about a Guy a Girl and Their Monster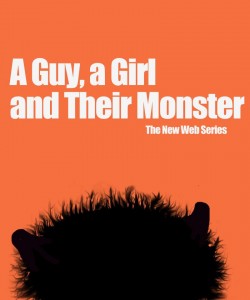 Recently, I discovered A Guy, a Girl, and Their Monster, a web series that tells the story of what happens when your childhood monster moves back in.
Early on, the audience learns Jenn had a monster years ago, but her parents made her give it up when she got too old for such things. Now, all grown up and living with her fiancé, Phil, she's invited the monster home again. He's as cute as ever, but…well, he is a monster!
YouTube episodes of A Guy, a Girl, and Their Monster range from 2-5 minutes and are interspersed with comic strips, advertisements from the Monster Adoption Agency, Skype calls from the Aunties, and other good things.
Below,  Jenn Daugherty, creator of and actress in of  A Guy, A Girl, and Their Monster, shares monster-care tips and information about her fabulous, funny series. We've also embedded their latest episode for your enjoyment.
GGP How long have you been working on the series?
Last summer I got the idea for the series. I created Henry monster about three years ago and was searching for the right project to feature him in. I came up with the idea for A Guy, a Girl and Their Monster and spent the early fall months writing the main episodes. After a few rewrites I collected some of the directors from the graduate production program from the University of Southern California and we began shooting the actual episodes. Our premiere was on February fifth of this year.
GGP Have you got any idea how long it will run?
Our first season is thirteen episodes long with bonus videos sprinkled through out. We already have a second season slated to start airing in September. I'm really excited about it. We're looking at having content five days a week with a lot of fun new characters.
GGP Who is involved in creating the series?
I created the show and have written most of the episodes. Underneath me I have a team of very talented directors that I gathered from the School of Cinematic Arts at USC. Each of them have their own flair and bring something really different and fun to their respective episodes.
The main actors for the series come from all over the United States, but the majority of them hail from Albuquerque, New Mexico, another blossoming film town. Before living in Los Angeles I made my home in Albuquerque and had a chance to develop relationships with many talented artists there. That was a relationship I knew I had to take advantage of for this series.
Recently we just brought on another producer, Marie Javdani, who is going to helping us with both production and finding the right audience for our web series.
GGP Tell us about some of the characters in your series?
The main characters in this series are Phil and Jenn. They're an engaged couple living in a small apartment in Los Angeles. Phil lives and dies by the rules while Jenn is much more of a free and quirky spirit. Living with them is Jenn's best friend, Henry, a little brown hairy monster. He's obsessed with bacon, annoying Phil, movies and with Jenn, in that order.
Supporting characters include Jenn's cousins who have dubbed themselves "The Aunties." They call Jenn and Henry over the internet and tell them about the new and wacky classes they're taking. Then there is Van Helsing, the owner of the Monster Talent Agency, who you see in the commercials between the regular episodes.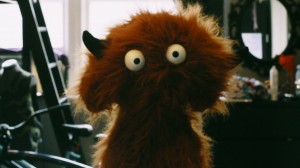 GGP It's a multimedia story, covered in several separate videos and comics. Have you got a guide for new viewers? What is the best way to follow the whole story in order?
We created the series to be watched from beginning to end but we were careful to make it episodic enough so that each main episode could stand on its own. The comics are designed to provide back story and extra antidotes for those who were already sold on the series.
GGP What made you decide on these formats? What does the mixed-media approach add to the story?
Phil Hughes, my fiancé and one of the directors, has a background in illustration so we decided that comic strip would be a fun addition to the creative content of the series. Plus, we have attempted to make the episodes play like live action comic strips, which allow the same style of humor to play out smoothly between the two mediums.
GGP What advice would you give someone wanting to adopt a monster?
Patience
Have a lot of your monster's favorite food
And if your monster gets aggressive with you just give them the BIG EYES!
For more monster advice you should watch my Monster's Can Be Your Friends Too… The Vlog.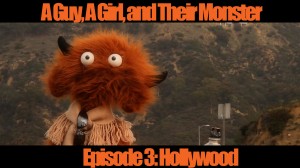 GGP Did you have a childhood monster?
When I was about seven years old I was convinced that there was a monster under my bed. Then one day my Uncle told me that he put a crocodile under my bed to eat any monsters that came around. This was unfortunate because I eventually became afraid of the crocodile and my Uncle's plan backfired.
GGP What is the hardest part about creating the series? The best part?
The hardest part of making the series is finding the right audience for it. We live in a world where everyone is making videos, web series and other forms of entertainment so it is difficult to get noticed. But we are constantly developing strategies so that more people can enjoy Monster.
The best part of making the series is watching the episodes come together. You spend such a long time writing and planning out a season that is really satisfying to see the finished product become a reality.
GGP Have you always like monster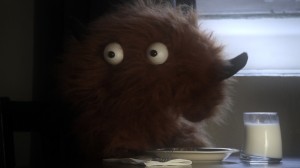 stories? Got a favorite?
As a child I was always attracted to stories that were a little darker in nature. I was obsessed with Edward Scissorhands, The Dark Crystal and other movies that gave me nightmares after I watched them. Then when I grew older I discovered Poe and Lovecraft and fell in love with their stories. At the Mountains of Madness blew my mind when I first read it. If I didn't have Henry I would probably adopt a pet Shoggoth.
GGP Got any other series out there we should be aware of?
Oh goodness. There are so many web series out there, pretty much something for everyone. Phil is a big fan of Wil Wheaton's Table Top and I love The Flog with Felicia Day and Written by a Kid. Also, another web series from New Mexico, Enter the Dojo, is pretty hilarious and worth the watch.
GGP Thanks for taking the time to talk with us! We look forward to watching your series as it evolves.
Thank you so much for talking to me and we hope we continue to entertain you.