Review: Cyborg 009 Chapter 000
CYBORG 009: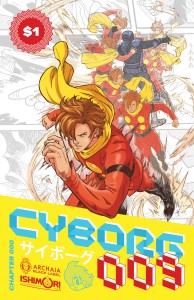 This review will be spoiler-light, but there are a couple of plot points mentioned. Read at your own risk!
Cyborg 009 000 is a teaser, just introducing us to the characters and their dilemma. There's 009, a young man who is both literally and figuratively awakened in this chapter, there's the evil Black Ghost society who has kidnapped him, and a band of unusually augmented cyborgs he is ordered to destroy, plus a possibly friendly doctor.
In this initial outing, 009 has a steep learning curve as he wakes from sleep only to find himself thrust straight into a frantic escape from the people he's told are responsible for his current lack of memory and unexpected strength. What follows is a rapid, dramatic exit from the base followed to a journey to—who knows? Issue #1 waits for that.
The most interesting part of issue #000 is the scope of the plot unveiled. We don't yet know quite what it is the Black Ghost society wants, but since they have kidnapped and experimented internationally, they're clearly not limited by any merely national goals. Whatever they want is worldwide in scope, and they're quite willing to risk any lesser beings in search of their goals.
Amazingly, cyborgs 001-008 have managed to form themselves into a working team, even while under Black Ghost's "care." One wonders how 009 will fit into the mix and how he'll respond to returning memories while on the run. What is it like finding yourself a member of a tem you don't know, don't necessarily like, and have no prior ties with? Do numbers 001-008 even have enough in common to function outside of the base, without an immediate threat? How much are their national ties still in place?
Dr. Gilmore also caught my attention: Does he truly have a conscience, or is he working on his own agenda? He clearly managed to do some considerable extra-curricular tinkering with his "subjects" while ostensibly working for The Black Ghost.
The opening has plenty of energy but (not surprisingly) few answers. The DeSanto promises a "message of hope and cooperation." How that plays out…remains to be seen.
Edit: for additional pictures and excerpts from 000, take a look at the preview post.
CHAPTER 000
One-Shot
Retail Price: $1.00
Page Count: 24 pages
Format: Staple bound, 6.625" x 10.25", full color
Genre: Superhero
On-sale Date: May 1, 2013
Written by F.J. DeSanto and Bradley Cramp
Illustrated by Marcus To and Ian Herring
Cover by Marcus To and Ian Herring
Rating: E – EVERYONE (all ages, may contain minimal violence)