Titan Books releasing Complex 90 Mickey Spillane's Lost Mike Hammer Thriller!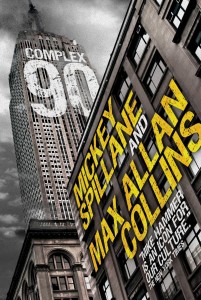 Mickey Spillane's lost Mike Hammer Cold War thriller, completed by his friend and literary executor Max Allan Collins is finally making it to print for the first time. Though the crime novel had been announced for publication in the 1960s, Complex 90 never appeared…until now.
"Mickey Spillane has been a huge part of my private and professional life since childhood. He was the role model that led me into mystery," says Collins. "We became friends in the early 1980s…Over the years, Mickey entrusted me with numerous unpublished manuscripts, including two half-completed Mike Hammer novels. Shortly before his death, he said to his wife, Jane, 'When I'm gone, it will be a treasure hunt around here. Call Max — he'll know what to do with what you find.'"
"The setting [in Complex 90] is 1964 and the novel is, in part, a sequel to the Mike Hammer comeback novel of 1961, The Girl Hunters, the film version of which starred Mickey Spillane himself. While reading this novel," says Collins, "you are encouraged to picture Mike Hammer in just that way."
Hammer accompanies a conservative politician to Moscow on a fact-finding mission. Arrested and imprisoned by the KGB on a bogus charge; he quickly escapes, creating an international incident by getting into a fire fight with Russian agents. On his stateside return, the government is none too happy with Hammer. Russia is insisting upon his return to stand charges, and various government agencies are following him. A question dogs our hero: why him? Why does Russia want him back, and why was he singled out to accompany the senator to Russia in the first place?
Product Details
ISBN: 9780857684660
Dimensions: 6 1/8" x 9 1/4"
Hardback: 256pp
Publication date: May 7 2013
All authors:Mickey Spillane , Max Allan Collins
Characters: Mike Hammer