Interview: Max Allan Collins, Author of Complex 90, Seduction of the Innocent, Road to Perdition and…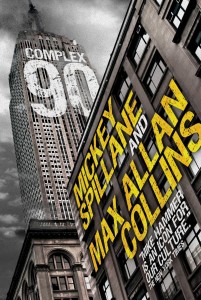 Author Max Allan Collins is a prolific author who writes in multiple genres and formats, including film, comic book, comic strip, screen plays, short stories, and novels. The novels include the fabulous Jack & Maggie Starr series which concluded (for now) in Seduction of the Innocent, the Quarry series, and the award-winning, hardboiled Nathan Heller mystery series. Collins also wrote the graphic novel, Road to Perdition which inspired the movie of the same name.
He is also Mickey Spillane's literary executor and just completed Complex 90, Mickey Spillane's lost Mike Hammer thriller
GGP: Thanks for taking the time to talk with us!
Collins: Glad to have the opportunity!
GGP: You've written in a remarkable number of formats. Do you have a favorite? How do you approach switching formats? Do you prefer to work all in one format for as long as possible, or to switch over?
I am probably most at home in fiction-writing. I started out as a writer of novels and short stories, so that's the most comfortable and where I am probably at my best. But I've been doing comics for a long time, too, and I really enjoy screenwriting, which is where I still feel like I'm learning all the time.
Ideally, I look at a project and decide what the best form would be to tell that story in. But sometimes it's a matter of what market is available. I wrote the two sequels to ROAD TO PERDITION as prose novels — ROAD TO PURGATORY and ROAD TO PARADISE. But that publisher wasn't interested in the concluding story in the saga, RETURN TO PERDITION, which wound up as a graphic novel, published by DC last year. Fulll circle! I do think RETURN, which was extremely visual and action-heavy, worked best in the comics format.
GGP: You've done both collaborative work and solo work. How does partnering with someone else differ from working on your own? What does it offer? Any drawbacks?
Collins: Novels were solo affairs for many years. I always worked with collaborators on comics — the artists involved — and filmmaking is inherently collaborative, a process I love. But bringing collaborators into the fiction-writing, novel aspect of my career was gradual. My wife Barb and I fell into collaborating when she had ideas she felt could use my heavy input. Then we tried a novel together, and another, and then a series of mysteries, the ANTIQUES novels (most recently ANTIQUES CHOP) that have been among the most successful I've been a part of. We've done eight of those, and three more under contract. They're by "Barbara Allan."
I brought my friend Matthew Clemens aboard as a researcher and he became a co-writer on the CSI novels — he's very good with thrillers, and we wrote two together, YOU CAN'T STOP ME and NO ONE WILL HEAR YOU, not long ago. He's worked closely with me on my upcoming thriller for Thomas & Mercer, WHAT DOESN'T KILL HER, which is sort of an American variation on THE GIRL WITH THE DRAGON TATTOO. That comes out in August, I believe.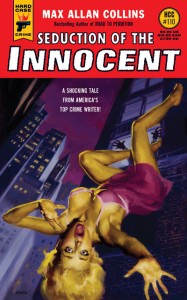 GGP: I saw one report that stated that the Jack and Maggie Starr series had "definitely" concluded with Seduction of the Innocent The book, however, left everyone alive and ready for more adventures. Are you planning on writing more? Or waiting to see what happens?
Collins: Well, it was conceived as a trilogy. But the warm response to SEDUCTION OF THE INNOCENT has got me thinking. Also, I had been going to do a novel in my Nathan Heller historical series dealing with the possible murder of George (SUPERMAN) Reeves, but that got shelved when the film HOLLYWOODLAND covered the same case. But now that some time has passed, maybe that's a good subject for a Jack and Maggie Starr.
GGP Road to Perdition was adapted to a movie in 2002. What was the process like? How much say did you have in the final script?
Collins: The filmmakers, particularly Dean and his father Richard Zanuck, who we recently lost, were just fantastic to me. I had no direct hand in the screenplay, but I gave notes and was kept in the loop. I like the film very much.
GGP: How does it feel to watch something you've written take on a new life in another format?
Collins: I've been lucky so far. I've adapted a few things of my own in indie films I directed myself, and that was a wonderful ride, though with the expected bumps. THE LAST LULLABY was from a screenplay I co-wrote, and I liked the film a lot — say what you will about Tom Sizemore, the man can act.  I think ROAD TO PERDITION is a great movie — it's going to last a long time, and I am very lucky to have the kind of talented people bring my story to life that were assembled for that production. Of course a lot of credit goes to my artist, Richard Piers Rayner, whose work had a huge impact on the Oscar-winning director of photography, the late Conrad Hall.
GGP: You wrote the comic and then the novelization of the film for Road to Perdition. How did the story shift for the formats? What were the advantages each medium offered? What were the drawbacks?
Collins: ROAD TO PERDITION began with our graphic novel, Richard's and mine. The visual nature of the presentation caught Hollywood's eye and that got us off to a great start. The transition from graphic novel to film is smooth. The film is less episodic than the graphic novel, which is a change I agree with, and I also very much approve of the emphasis on Connor Looney (Rooney in the film) and his homicidal son, as a parallel father-and-son story. My ending is better — Spielberg himself told me so, and I won't disagree with him. But if you want my ending, it's still right there in the graphic novel, untampered with.
As for the novelization, DreamWorks hampered my work there. Though I had created this story and these characters, they prohibited me from expanding the novel into a real novel, as I had done for them with SAVING PRIVATE RYAN. It was an awful experience. Fifty-thousand words were cut from my novel, and I hope someday it may be published in full.  The saga works well in novel form, as I think ROAD TO PURGATORY and ROAD TO PARADISE demonstrate.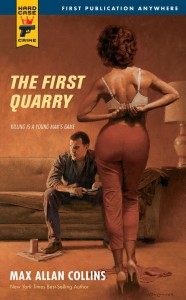 GGP: Cinemax has ordered a '70s-set drama pilot for Quarry, based on your series. How involved are you in its development? When can we expect to see it?
Collins: I've been in close contact with the two writers, who spent hours on the phone with me, talking about the books, which they obviously love. I am very excited, extremely hopeful. It looks like I will be writing several episodes a season, if it goes to series. The pilot will shoot this summer. More than that I can't tell you, because more than that I don't know.
GGP: Much of your work features the lone individual having to set things right–sometimes within the law, but often not. What about that trope appeals to you?
Collins: There's something deep in the human spirit that craves and admires the individual seeking and finding justice.  It's interesting that the TV shows I grew up on, or anyway the ones I remember, started with a craze of westerns…GUNSMOKE, MAVERICK, HAVE GUN WILL TRAVEL…that was replaced by another craze, this time of private eyes…PETER GUNN, MIKE HAMMER, 77 SUNSET STRIP. The private eye is a modern version (although the noir private eye now mostly exists in period) of the western hero.  The gunfighter or the Wyatt Earp-style lawman is an easy jump to the likes of Mike Hammer, whose WIld West is Manhattan…and Russia, in COMPLEX 90, the new novel.
MAVERICK, by the way, which spoofed westerns to a degree, featured the wry, smart-ass stylings of the great James Garner, who was later both Marlowe and Jim Rockford. There's lots of the Garner-type character in my own Nate Heller. But not in Mike Hammer.
GGP: You have finished several Mickey Spillane works. How do you approach finishing someone else's work? Is there a certain mind-set you need to be in? How do you combine your work and his?
Collins: I don't have anything to get around where the concept of finishing somebody else's work is concerned. Mickey himself chose me for this role, and I consider myself a collaborator, and the material he left behind is rough draft for me to enhance and expand upon. So there's no intimidation, despite how highly I regard Mickey and his work.
I don't really try to write an imitation — this isn't pastiche. As I say, it's collaboration.  I attempt to write each book in a way that is consistent with other books Mickey wrote around the same time as the unfinished manuscript.  COMPLEX 90 dates to 1964, so I read the '60s Mike Hammer novels, THE GIRL HUNTERS, THE SNAKE, THE BODY LOVERS.  I read and re-read paperback editions of those, marking them with a marker pen like a college student getting ready for a test.
I look for areas where Mickey perhaps skipped a scene or had something occur off-stage that might be effective on-stage. COMPLEX 90 is a strong example of that. In Mickey's manuscript, Mike is interrogated at the Pentagon about his recent Russia trip. The book begins that way, but now flashes back to what led up to that trip and the trip itself. All of that material is mine, then when we get back to New York, the Spillane material comes back in. I weave my stuff in and expand his, so that Spillane material continues deep, deep into the book. So that you don't get chapters purely by me until maybe two-thirds or more of the way in. COMPLEX 90 is an exception, because of the Russian flashback I wrote, but in this case Spillane material appears almost to the end.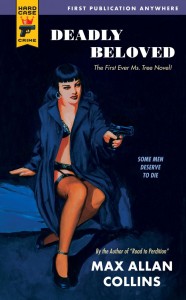 GGP: Is Complex 90 the last of the Spillane works or can we expect more?
Collins: I am about to begin the final of the six substantial Hammer unfinished manuscripts — KING OF THE WEEDS. It was the second-to-last Hammer novel that Mickey worked on, and is very much about the older Mike Hammer. He had intended it to be the last Mike Hammer novel, but when 9/11 happened, he set it aside and wrote about Hammer vs. terrorists in THE GOLIATH BONE.
I have three more shorter but substantial Hammer unfinished manuscripts that I will complete, if readers…and my publisher…are up for it. I've also been doing occasional Mike Hammer short stories, fleshing out the shorter Spillane fragments. Recently "So Long, Chief" appeared in THE STRAND magazine.
GGP: How do you start writing each day? Is there a favorite place you have? Favorite music?
Collins: I can't listen to music when I work. It distracts me. I always work in my office, which is an upstairs converted bedroom. I am surrounded by framed original artwork, including two Mike Hammer vintage paperback covers and the cover to my novel THE LAST QUARRY, and lots of comic art; and bookcases of books and CDs and blu-rays and collectibles. Creativity surrounds and feeds me in that space.
My day begins with work stuff, like this interview, and I usually am not writing fiction until the afternoon. Sometimes I return to it later that night, after my wife Barb and I have watched a movie or some TV. Right now we're working our wonderful way through ARCHER.
GGP: What are you currently working on?
Collins: This week I will begin KING OF THE WEEDS.  COMPLEX 90 just came out, of course, a book I'm very happy with, and so did ANTIQUES CHOP by "Barbara Allan."  In October the final book of the JFK Trilogy in my Nathan Heller historical thriller series will be published, another book I'm proud of.
Links of interest:
http://www.maxallancollins.com/blog/
Twitter.com/MaxAllanCollins
Max Allan Collins books on Titan Books