Geek Girl Saves the World One Schoolbook At a Time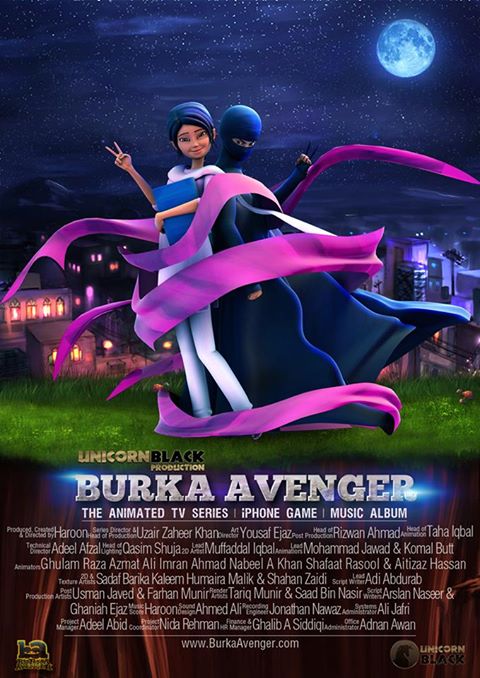 "Separated from her parents at a young age, Jiya was adopted by a wise old Kabbadi Master, Kabaddi Jan. He took her under his wing and taught her the art of Takht Kabaddi, a new kind of fighting style where books and pens are primarily used as weapons in conjunction with a variety of karate moves. To the locals, she is known simply as the demure school teacher but whenever evil is afoot, she takes on her alter identity, Burka Avenger and uses the Takht Kabaddi to defeat her enemies."
The Burka Avenger is the brilliant creation of Pakistani Pop Star, Aaron Haroon Rashid. Developed to combat the pervasive message of the Taliban, primarily targeted at children in Pakistan, the Burka Avenger uses intellect and strength to fight enemies that seek to shut down schools, deny girls an education, destroy the environment and enforce discriminatory laws. It's a brightly colored, playful cartoon that highlights very real issues for its target audience of children between the ages of 6 and 12.
Rashid and his group have seen push back on both sides. Allies question the use of the burka, which Jiya only wears while in superhero mode. Rashid explained, "It's not a sign of oppression. She is using the burka to hide her identity like other superheroes. Since she is a woman, we could have dressed her up like Catwoman or Wonder Woman, but that probably wouldn't have worked in Pakistan."
Interestingly enough, opponents also find Jiya's burka offensive. To them, the long black dress is too form fitting in places, especially for a children's show. So far Burka Avenger has only been seen by 1 focus group, comprised of about 35 displaced and orphaned children at SOS Pakistan's Village Islamabad. Hopefully, the cartoon will make it's way on to Pakistani TVs soon.
For more information, please go to: