Interview: Pete Menotti, Creator of Evil Diva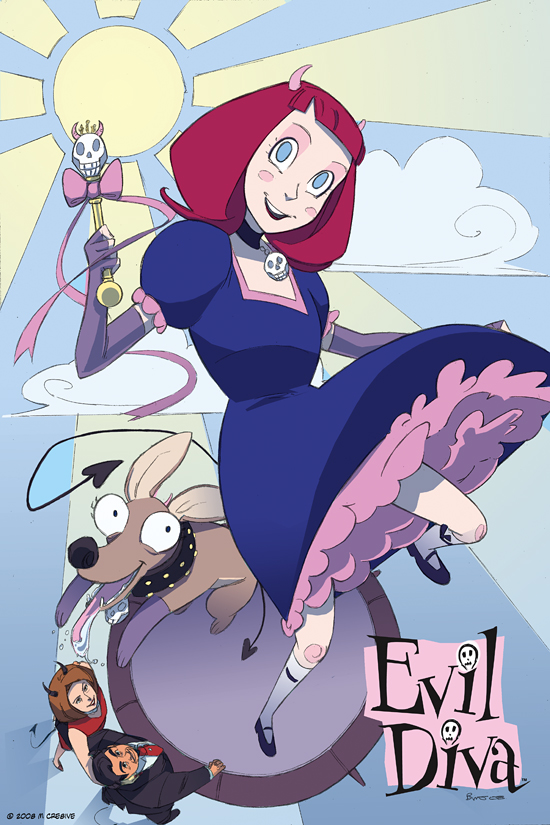 Pete Menotti is the creator of Evil Diva and co-founded of MCre8ive in Los Angeles in 2000 (with children's fiction writer an illustrator Honoel A. Ibardolaza). He is currently running a Kickstarter campaign to novelize his comic. Geek Girl Hanalena spoke with Menotti this past week to discuss his latest projects.
GGP: Evil Diva has been in comic form since 2008. Why the switch to a more traditional medium like a novel?
Pete Menotti: We actually wanted to make the switch towards the beginning. It always made sense as a novel. When we first started the project we sat down to lunch with a literary agent friend of Joe's [Cashman] and by the end of that lunch he was saying this should be a book. The truth is, it's a huge story. We have 500 pages of outlines and notes. It's just too big and detailed for the comic book world. It takes so many panels to tell every part of this, at the end we would have thousands of pages. I mean, take Harry Potter. It's that kind of story. It's a massive world and we really want fans to be able to immerse themselves in every part of it.
GGP: You are currently running a Kickstarter campaign to fund the novelization. What is the benefit of going directly to the audience for funding?
Pete Menotti: I don't know yet. (laughs) I haven't really gotten the hang of it yet. Angry Viking (the publisher of Evil Diva Graphic Novels) initially used Kickstarter to fund publishing Evil Diva. It seems very successful for things like comics and games. The visual mediums do well. Over the years, since 2008, we have put everything we have into Evil Diva. We really love what we are doing; but, we need a little help to take that next step with it. I am not sure that it is as successful with literature.  The visual art seem to have more movement. I am still really hopeful though. We have a few days left and honestly, I will do whatever it takes to make this work.
GGP: What will the funding be used for?
Pete Menotti: Once we reach our Kickstarter goal, the first thing we will do is hire an editor to go through the 500+ pages of scripts and 400+ pages of comics, not to mention all the side stories and other material. Next, Joe and I will work with the editor to compile those pages into the best Evil Diva story yet. Finally, we'll actually publish 2,000 copies of the first book and distribute them both in print and digitally. Leftover funds will go to advertising and marketing. Please help us meet our funding goal and make our dream of an Evil Diva novel a reality.
GGP: You have, like most Kickstarter campaigns, a number of reward levels for donation. Which one has been the most popular so far?
Pete Menotti: 25-35 dollar marks is the most successful now. That's where the signed copy of the book and then the t-shirt come in. We included the towards the $8 and $11 ones because when Angry Viking did their original Kickstarter that was a very popular donation point for them, especially in the last few days.
GGP: The main character, Diva Beezele, is a teenage demon from a typical devil family who can't stop doing good. She is also exceptionally girly, her favorite color is pink, her heck-hound is a "purse pup"; even the skulls on her dress are cute. A lot of artist would move away from the feminine to make the character seem stronger, you embrace the style. Why is that important?
Pete Menotti: First of, Diva is a direct reflection of my daughter. She has always been like that. She has always wanted the pink things, the frilliest dress, the purplest hair and she loves skulls. We thought the whole story should be like that. Diva shouldn't have to act like a guy to be strong. She is strong because she is true to herself, honest in who she is.
GGP: You are very public about your daughter being the inspiration for Diva. Does that embarrass her?
Pete Menotti: She loves it. She still thinks she is Evil Diva. She wants to star as Evil Diva if there is a movie.
GGP: Speaking of daughters, my 10 year old daughter loves reading the comics you have posted free on http://www.evildivacomics.com/. Is she your target demographic? Who else would you like to see reading the novel?
Pete Menotti: Everybody. I really think Diva is empowering for boys as much as for girls. It shows that if you set your mind to something, nothing can stop you. I think that's important for everyone, age 4 up to 99. I mean, look at The Simpsons. It's a cartoon. 9 year olds love it but there are all these jokes for 30-35 year olds. It is written at really adult level. Like say Harry Potter, technically it's a kids' book but doesn't talk down to them. I am in my 40's and I still love it. The story is good and that speaks to everyone. That's what we want here. We honestly think we have a great story. Just look at what just came out recently with The Dude. The story is so involved and surprising.
GGP: Who would you cast as the Diva's evil angel bully, Angela in the fantasy movie version?
Pete Menotti:  Wow. Umm that's one we haven't really talked about. We talked Jane Kaszmerek, from Malcom in the Middle for Mom. If we could have anything it would be her for Mom, Jack Black for Dad. Mr. Virgil, if you ask me definitely has to be Alan Rickman. The Big Guy is Jean-Luc, I mean Patrick Steward. He has to be charming and powerful and incredibly smart. The Dude is Jeff Bridges. We have this talk every once in a while and some characters you know right away. Some others are a lot harder. I don't know for Angela or Diva. I would love to hear what the fans think.
GGP: Who is your favorite character?
Pete Menotti: Dad. Definitely. He is basically me.
GGP: What do mean? How is he like you?
Pete Menotti: We are both jokingly sappy. He does a great job; he is a great dad. Plus he is fat and goofy and doesn't care. You see the dad with Evil Diva. He clearly loves her. That's me and my daughter.
GGP: Diva has been given a magic wand and choices to become a superhero with it. What would you do with your own magic wand?
Pete Menotti: Print money; lots of money. (laughs)
GGP: Is there anything else you would like to share with our readers?
Pete Menotti: Send money. Joking, okay mostly joking. I just want to get the full story out there. So many people would get into the story. There is something really awesome about this. My writing partner, Joe Cashman, is on an extended job overseas and is unable to complete our manuscript without help. Joe gives the story new meaning. Like, I had to spend sometime in the hospital over Christmas. Joe came to visit me all the time and we really fleshed out the whole thing. I don't communicate well. I have the big ideas but having people see what I imagine is hard. Joe microfocuses it like a laser. The story is such a fun journey, the ending is insane. If you knew where this was all going, you would see why I am so excited. I just want to be able to share this whole story with everyone.
We have a new video coming up on the Kickstarter soon. Two words: polydactyl kitten!
You can read the web-comic for free at  http://www.evildivacomics.com/ and donate to the Kickstarter at  http://www.kickstarter.com/projects/2037748484/evil-diva-novel
You can read our review of Evil Diva Graphic Novels #1 and #2 here http://www.thegeekgirlproject.com/2013/06/24/angry-viking-roundup-swipe-1-and-2evil-diva-1-and-2/)