Weirding Willows #3: Of Men and Monsters
In Weirding Willows #3, Frankenstein's monster has come to the Weir, and the residents march out with pitchforks and torches to try to drive him away. Meanwhile, Mowgli finds himself a prisoner in Doctor Moreau's home, and it turns out he's not the only one being held captive.
The best part of this book was learning more about Alice as a character. Here, she's at the Weir itself, and it's obvious both that its animal inhabitants respect her and why they respect her: She's able to act decisively and firmly when needed, but she doesn't resort immediately to violence. I look forward to seeing how she and Frankenstein's monster handle various threats to the Weir as they arrive. I'd also like to see how her relationship with her father develops.
Also, what with the witch, Doctor Moreau, and Frankenstein's monster, Elliott's working with a good range of monsters and the monstrous. It will be interesting to see how he develops the theme and definitions.
I'm wondering, too, whether Mowgli is going to develop much by way of brain power. His original has plenty of sense, but then, the original Alice has plenty of manners. Clearly their Weirding Willows experiences have shaped both considerably.
Oh, and in my review of Weirding Willows #'s 1 & 2, I wondered when this was set. The opening panel addresses this issue: "19th century England." That was a small niggle, but I'm glad it's been resolved in the comic.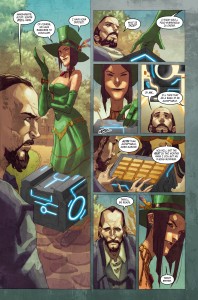 If I have a complaint at this point, it's that while the mix of this-and-that in the A1 anthologies allows for a crazy kaleidoscope of new stories, which is all to the good (in fact, it's great), it means that each individual story is moving very slowly. Weirding Willows has only nine pages this issue. I find myself in the position of wanting to have my cake and eat it too: I love the possibility of everyone getting to tell shorter stories and for the truly insane range of tales so far presented and yet to come, but my current addiction here is Weirding Willows and I want more!
One good thing: None of those pages is wasted. Elliott introduces two, possibly three, new major players this issue, and there are several other secondary characters walking through.
Also the art? No space wasted here, either. It's a beautiful, almost water-color style for the backgrounds with some suggestion and some detail, and great, expressive face.
And it comes out every month.
Note: The Weirding Willow; #'s 1-3 are individually available through ComiXology. A1 #3 will be out in print tomorrow.
Who's Who
Writer: Dave Elliott
Art: Barnaby Bagenda
Colors: Sakti Yuwono
Letters: Imam E. Wibowo
Cover: Bagenda & Yuwono
A1 #3 (which contains Weirding Willows)
Issue Number: #3 (OF 6)
Page Count: 32pp
Full Color
Publisher: Titan Comics
Cover Price: $3.99
Release Date: August 14, 2013
Links of Interest
Dave Elliott on Deviant Art
@DeevElliott
@ComicsTitan
Barnaby Bagenda's portfolio
The Geek Girl Project's interview with Dave Elliott
Dave Elliott also has some Weirding Willows shorts up on his site. "Russel's Son"; "Origins of Evil part 1 (featuring the Cheshire Cat!) and "Origins of Evil" part 2.