Mary Shelley: Geek Girl Extraordinaire
If any 19th-century woman can claim a place as quintessential geek girl, it is surely Mary Shelley, author of Frankenstein.  Not only is she the progenitor of one of the icons of geek culture and a founder of modern science fiction, she is also, I will argue, firmly situated in the grand tradition of women fan fiction writers.  Born August 30, 1797, she would be 216 years old today.
Brief Biography
Mary Wollstonecraft Shelley seemed marked for literary accomplishment.  The daughter radical philosopher, William Godwin, and prototypic feminist and author of A Vindication of the Rights of Women, Mary Wollstonecraft, Mary Shelley was a natural heir to literary talent.  Despite this advantage, however, her life was fraught with sorrows.  Her mother having died in childbirth, she grew up close to her father.  This relationship, however, was shattered when at sixteen she eloped with scandalous Romantic poet, Percy Bysshe Shelley (of the "Satanic School").
Though the Shelleys loved each other and were surrounded by a stimulating social circle of Romantic intelligentsia, their lives were troubled, not least by the loss of several children: Percy Florence was the only child to survive his parents.  After Shelley's untimely death in a boating accident, Mary found herself a widow at twenty-four with a son to support.  Though Shelley's father was a baronet, his disapproval of his son's elopement meant that he provided little financial support.  She ended up significantly augmenting her income by writing and editing.
She was a prolific writer.  In addition to Frankenstein and her futuristic science fiction novel, The Last Man, she wrote lesser-known novels, short stories, children's stories, travel literature, and essays (and, of course, voluminous letters).
Today, aside from some slight attention to The Last Man and her novella, "Mathilda, " about an incestuous father-daughter relationship, she is only remembered for Frankenstein.  But, really, isn't that enough?
Frankenstein
If you want to gauge that vast cultural impact of this novel, I have a couple of exercises for you.


1) Count the number of Frankenstein references you passively encounter going about your life in one week.  The September 2013 issue of the Scientific American has two (pages 10 and 80, both in reference to GMOs).
2) Check out Wikipedia's page on Frankenstein in popular culture.  (Be sure to loosen up your index finger because you'll be scrolling for a while.)
The fingerprints of this novel touch iconic geek texts as diverse as The Rocky Horror Picture Show and Blade Runner.  But Mary Shelley upholds the geek tradition in another way too: by anticipating much of the project of modern fan fic.
Mary Shelley as a Fan-Ficcer at Heart
Mary Shelley was not the epic fan-ficcer her husband was.  (One of his best-known poems, Prometheus Unbound, is an alternate universe fic of Aeschylus' Prometheus Bound.)  Though she subtitled Frankenstein, "The Modern Prometheus" by way of metaphor, her work was generally original.  But some of the literary moves she makes resonate with common fan fiction tropes.
It's a cliché of fan fic literary criticism–but one that, I think, holds some validity–that women often write male point-of-view characters to express their own subjectivity outside the confines of feminine gender expectations.  It seems clear Mary Shelley did this, at least to some extent.  Generations of Frankenstein readers have noted that the story uses Dr. Frankenstein's experiences with his monster to discuss the terrifying aspects of parenthood, which one may well imagine were deeply imbedded in the mind of a young woman who had lost her first child in infancy and been pregnant three times by the completion of Frankenstein in 1817.  Even more explicitly, the titular Last Man, Lionel Verney, is the sole survivor of a global plague, an experience of isolation that echoes Mary's accumulation of griefs at the loss of many loved ones.  One might even lay at her feet a common criticism of fan fic: that it often psychologically disengages from female characters and ends up writing them shallowly.  Certainly, Frankenstein, though a great book, is not known for great female characters: Elizabeth, Justine, Agatha, and Safie are sweet and mostly devoid of personality.
Slash fiction (fan fiction that sexually pairs men, typically who are not in a sexual relationship in the original text) is often considered a subset of this phenomenon of writing female subjectivity into male characters.  Mary Shelley did not write sex fic (at least none that's extant), but she wrote a very emotionally slashy relationship in Frankenstein and Walton.
Early in Frankenstein, Walton, an adventurous sea captain exploring the Arctic, bemoans in a letter to his sister, "I have no friend… I desire the company of a man who could sympathize with me, whose eyes would reply to mine" (4).  His desire is soon–if briefly–to be satisfied through his rescue of the desperate, young Victor Frankenstein, wandering around on the ice in pursuit of his monster.  In Frankenstein, Walton finds true Romantic sympathy, a kindred adventurer who comprehends his yearning to go where no man has gone before, so to speak.  For Walton, Frankenstein possesses a quality that "elevates him… immeasurably above any other person I ever knew" (14).  This ideal of emotionally intimate love for a best friend remains strongly present, in a more sexualized form, in famous slash pairings such as Kirk/Spock and Starsky/Hutch, as well as in an explosion of more recent fandoms.
Mary Shelley presages the work of much modern fan fiction in validating female experience by giving it the social privilege of the universal (male) human.  Her perspective as a mother complicates the role of Frankenstein as a symbolic father.  Her ideal of an egalitarian Romantic sympathy is enabled through Walton and Frankenstein in a way it could not be socially achieved between a man and woman in her time (and is still depressingly hard to depict in literature in our own).  By the same token, she might be criticized for not attending more directly to the full humanity of her female characters. Mar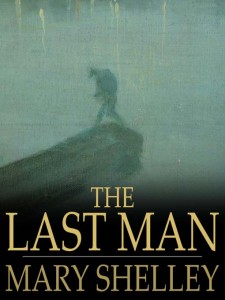 y herself seems to have been aware of possible perceptions that she did not live up to her mother's feminist credentials: in her private journal, she defended her politics: "If I have never written to vindicate the Rights of Women, I have ever befriended women when oppressed.  At every risk, I have befriended and supported victims to the social system" ("Extracts" 268). This egalitarian stance notwithstanding, in her writing, she reaped the power and loss of power inherent in the move of a female writer internalizing male characters as her central focus.
But however we may analyze her literary choices, there is no question that Mary Shelley has earned her place as a geek girl extraordinaire.  Given the pervasive influence of Frankenstein on our science fiction and emotional consciousness, large swaths of our geek culture would be unrecognizable without her contributions.
More to Explore
In this post, I review and have too much fun with "Maurice" by Mary Shelley, Critical Text by Claire Tomalin.
References:
"Fight the GM Food Scare." Scientific American September 2013. 10. Print.
Freedman, David H. "Are Engineered Foods Evil?" Scientific American September 2013. 80-85. Print.
Shelley, Mary.  "Extracts from Mrs. Shelley's Private Journal," Shelley Memorials: From Authentic Sources. Ed. Jane Shelley. Boston: Ticknor and Fields, 1859. Google Books, n.d. Web.
Shelley, Mary. Frankenstein. Introd. Diane Johnson. New York: Bantam, 2003. Print.