Nailed It! Review of Espionage Cosmetics new nail wraps
Nail wraps are blowing up in the beauty industry.  I received a set of "Tentacle" themed nail wraps from Espionage Cosmetics new line.  They were very light-weight and simply gorgeous right out of the package.  As I have never used a nail wrap before, I was surprised at how easy they were to adhere and how long they lasted.
These nails, as Espionage explains on their Kickstarter page, are "the world's first nail-art line designed exclusively for nerds and lovers of all things glitter."  By this they mean they are "geek girls" themselves, and have designed a collection which includes everything from the Teenage Mutant Ninja Turtles to Doctor Who, and from the tentacles of the ocean to the stars of the cosmos, celestially accurate.  They are not only perfect for the Comic-Con crowd, but for those who want creativity on their nails without spending a huge chunk of change every month on a manicurist.
I will admit this was my first go around with nail wraps.  As my set was a prototype, there were no instructions.  It is confirmed that the nails will come with instructions in the packaging, and I am including their video demonstration below.  For my application, I needed an expert.  I contacted my friend Tara Theoharis, better known as the Geeky Hostess, and she got me started.
There are twelve nails in the package insuring a correct fit for all sized hands.  I took the two largest nails away from the set and put them aside.  Apparently, I have freakishly small fingernails.   I did have to do a little careful trimming on a couple of the nails to accommodate.  This is not really an issue as the wraps are vinyl and easy to trim, and the two larger pieces I set aside could have been adjusted to fit in a pinch.
Once the tentacles were on my fingernails, I could not stop staring at my fingers the entire first night.  This was so much better than nail polish!  I took my new nails out on the town each night to get proper reactions.  The first night, without my pointing them out to anyone, my hands were being grabbed all night in amazement.  On day five, people were then reaching for them out of surprise that my nails were still looking good and going strong.
By the end of day six, one of the nails met its demise.  Not thinking I peeled the others off quickly.  That was proof that they remove without any extra assistance and quite easily.  Hindsight, I could have altered those leftover pieces to last me several extra days.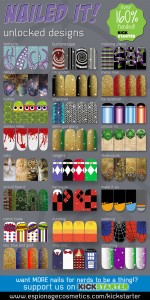 Professional manicures cost about fifteen to fifty dollars depending on how fancy you want to go, and usually last five days up to two weeks.  Nail polish can cost anywhere from a dollar to twenty, with a good majority of them beginning to crack as early as the first day.  When these nails hit the market, they should retail for $12 making them highly competitive with more choices and less work.
In closing, I want to mention that I was in no way nice to these nails while I had them on.  My first instinct was to treat them like wet nail polish at all times to avoid hurting them.  Since I was doing a review, I pushed those feelings aside to get an honest assessment of how long they could last on their own.  After wearing these nails, I went straight back to Kickstarter and upped my backing.  Twice.  That is how much I believe in them after just one week.
If reading this in time, the Kickstarter campaign ends on Wednesday night, September 4.  On that page, backers will receive bonus sets depending on their level of support, including some exclusive designs.  After that date, when all backer shipments have been sent, the nail wrap sets will be available on the Espionage Cosmetics website, as well as ThinkGeek.com.  At press time, the initial release will be 24 different designs, which could increase depending on Kickstarter backing.