Interview: Natalie Hoover, Voice Actress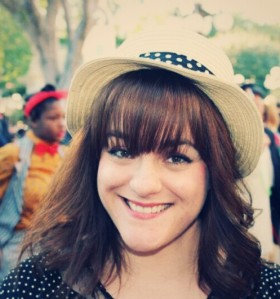 Natalie Hoover is an adorable ball of energy and talented voice actress. She recently won the chance to voice LADY S in Masaaki Yuasa KICK-HEART. Sweet and down to earth, Natalie took time out of her busy schedule to talk with Victoria of the Geek Girl Project about who she dreams of working with in the future and the work of bringing a character to life.

GGP: How long have you been performing as a voice actress?
Natalie Hoover: As of now, I've been a voice actress for 5 years and a stage actor since childhood.
GGP: What has been your favorite character to voice and why?
Natalie Hoover: I personally hold all of the characters I've voiced thus far as my favorite, because each one has different meaning to me. Accel World was my first Anime credit; Sword Art Online was my first named character; and the latest project I worked on was with a director that I've always wanted to work with professionally. So, I don't have a favorite as of yet… Though I'll probably have a hardcore-favorite within these next few years!
GGP: How is recording for an animated show different from when you do a voice for a video game?
Natalie Hoover:  Recording for an Anime is very different than recording for video games. In an Anime session, if the director likes your take they'll usually say "let's safety that" which means "give me another like that, but a little different," so they can give the client who is producing the show more choices. Also in Anime you have to match the lip flaps, and the three-beep preview which prepares you to start your line on time. While in video game sessions you give three different takes of the line and if it's what they want, you move on. If you're new to the whole aspect of voice acting, don't worry because there are tons of steps you can take! Practice, study, prepare, and take classes. As they say, practice makes perfect!
GGP: You were picked by creator and director Masaaki Yuasa to voice Lady S in the film KICK-HEART. What was the process like when entering the contest to do so? Had you been a fan of Yuasa's work before hand?
Natalie Hoover: The process of KICK-HEART was a very interesting one to be involved with. First, you had to be a backer of the project itself and promote your video to have the highest 'likes' out of the entries. After that, Mr. Yuasa chose who he wanted as which character for the Backer dub, and I was chosen to voice LADY S. During the recording session I spoke with him personally as we discussed a few topics in Japanese (how was his experience of California thus far etc.) It was a very special experience that was honored to be part of, and certainly won't forget. The film recently aired on Toonami this Labor day weekend.  My favorite of his works thus far is The Tatami Galaxy since I was a fan of the novels prior to the show.
GGP: Why did you decide to become a voice actress?
Natalie Hoover: Acting has always been a passion of mine ever since I can recall. After years of taking acting classes and wanting to be a stage actor all throughout high school, I decided to take a leap of faith and pursue voice acting in my college years. I noticed that with voice acting there were no limitations, and that's what I loved most. You could be a spoiled princess in one session, and then the other session maybe a talking cat or even a magical girl. I feel that voice acting is what I was meant to pursue for my career, and can't wait to see what the future holds.
GGP: Who would you want to work with if you could work with any voice actor or director?
If I could work with any voice actor, it'd definitely be a few of my good friends whom are in the industry. To name a few Kira Buckland, Cristina Vee, Lucien Dodge, Erin Fitzgerald, Rachel Robinson, Laura Post, Clifford Chapin, Kyle Hebert, and of course Steve Blum. For directors: Tony Oliver, Mary Elizabeth McGlynn, Wendee Lee, Mike McFarland, Joel McDonald, Justin Cook, and many more that I hope to work with one day.
GGP: Can you tell us about any projects you're currently working on? 
Natalie Hoover: I sadly can't talk about the last few projects that I just wrapped up (NDA!) I do have some great news on the horizon… I hope I can announce it soon!  I can however tell you that it's worth the wait.
GGP: Where can our readers find samples of your work so they can make the voice to your face?
My resume and demos are available on my website www.nataliehoover.com or you can listen to my song covers on my Youtube channel www.youtube.com/user/ichigoxcupcake
For anime series the second episode of my arc of SWORD ART ONLINE will be airing September 7th on Toonami.  Video game wise, RIVAL THREADS demo is now available to download via Kickstarter page