Imagine Agents #01: Your Imaginary Best Friend is Real…And May be Out to Take Over the World!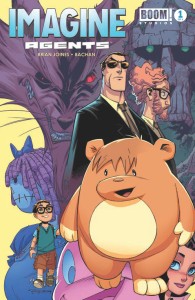 This week, BOOM! Studios released a new series, Imagine Agents, featuring the agents whose job is is to corral and control children's imaginary friends. The good ones, they find suitable housing for. The bad ones, they have to lock up–if they can.
From the publisher's description:
Ever try to wrangle an illiterate, 30-foot tall rock monster away from his 5-year-old best friend? Or calm down a 400 pound muscle-man rag-doll during her daily temper-tantrum? For Dave and Terry, it's all in a day's work. As agents for I.M.A.G.I.N.E., they are responsible for keeping your imaginary friends in-line… Little do they know that six-year-old Elliot and his best bear-friend, Furdlgurr, are about to be entangled in a plan to change everything!
The story is off to a good start in issue #1 as agents Dave and Terry go in to capture Moog, an out-of-control "figment" resembling a giant stone centipede. Terry, it turns out is new at the job–very new, virtually untrained, very enthusiastic, and prone to losing his equipment. Also, it seems that the figment activity is up–which is why the under-prepared Terry is out in the field. The book also provides a chance to see some children with their friendly imaginary playmates as well as to learn a little about the less-friendly playmates' plans to gain dominance. In fine comic-book tradition, it gets things moving and ends on a cliffhanger.
The story is something of an all ages story so far. That is, I enjoyed it as an adult, but I would also feel comfortable giving it to a reading child, and there is plenty for adults or kids to discuss. It's always nice when there are stories people can share.
One big question for the story to answer as it unfolds is where are the figments really from? The children's parents think they're imaginary, but Dave thinks of them as "invaders [who] worm their way here from wherever, take root in these kids' lives and leave tiny emotional trainwrecks in their wake." On the other hand, both of the imaginary friends we see with children, Furdlgurr and Blounder, seem to actually care for their–charges? friends?–so I suspect Dave is more than a little biased after years of working with destructive creatures like Big Doll and Moog (the stone centipede beast). I'm hoping that as the story unfolds we'll see what the beings themselves think of their role in all of this.
The art features whimsical character design and primarily bright colors, taking what is, in many ways, a child's eye view of the world: Things are simple, clear, and bright. There are hints of trouble to come, though: A house darkly silhouetted against the sunset, a child whose hair sticks up in suggestive horns and moments where the palette changes to grays and blacks. Also, Big Doll has an impressive ability to loom. She's also a sort of hybrid between a rag doll and Frankenstein–one with absurdly large breasts.
This is the first book of a four-issue miniseries, and I am looking forward to seeing how the story develops.
Creator & Writer: Brian Joines
Artist: Bachan
Colors: Ruth Redmond
Letters: Deron Bennett
SC, 32pgs, FC, SRP: $3.99
Diamond Code: APR13 0957
In stores: 10/16/2013
Click on any image to see a larger version