Imagine Agents #2 "A Veritable Smorgasbord of Figmentapalooza Delights."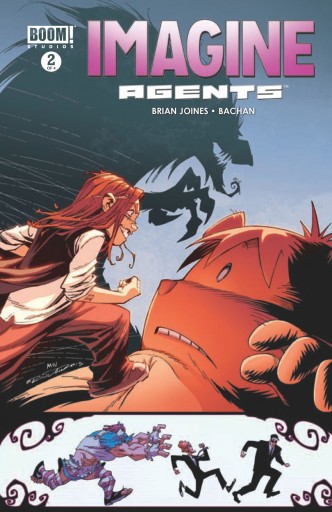 Imagine Agents #2 is quirky, funny, and suspenseful at once. At the end of the last issue, Elliot's imaginary friend, Furdlegurr was kidnapped. Now, Elliot is determined to find him with the help of his good friend, Scott. Meanwhile, the agents have to battle Big Doll, figure out where Elliot is and what his connection to the Dapple, the big bad's plans are, learn how to work together, and try to survive.
Joines tells the story with verve. There's genuine suspense here as Elliot wanders into possible danger and as Blounder is tempted to join in Dapple's plot (and incidentally, "Dapple" is an awesome name for the evil overlord). There are also hints of Dave's backstory and the reason he is so uptight about the Figments. There are even tiny clues about Dapple's plan, though the full scope has yet to be revealed. It's also crazy fun, with an insane assortment of single-minded, colorful creatures showing up to add their bit to the plot. Some want to rule the earth; others would be happy if they could figure out a folding chair.
Bachan populates the story with an assortment of crazy creatures, Figments of all kinds, colors, and shapes. He makes a ragdoll look threatening, conveys the innocence of a cheerful pink blobby creature, and is in his element drawing what one figment describes as "A Veritable Smorgasbord of Figmentapalooza Delights" gathered together in Dapple's home. Redmond keeps the colors cheerful and childlike, often keeping to a solid, bright colored background and adding to the zany nature of the series.
Imagine Agents is a wonderful all-ages books. If you're looking for a new comic to enjoy, pick this one up. If aren't looking, pick it up anyway.
Who's Who
Created & Written by: Brian Joines
Artist: Bachan
Colors: Ruth Redmond
Letters: Deron Bennett
Cover Art: Khary Randolph
Cover Colors: Mathew Wilson
Variant Cover Art: Felipe Smith
SC, 32pgs, FC, SRP: $3.99
Diamond Code: APR13 0957