Geek Poem of the Week 11/23/2013
On the Fields of Trenzalore
By Victoria Irwin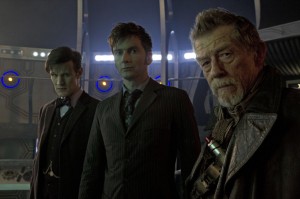 Keep warm, you say?
Stop. You're Making Me Giddy,
No, no, no
Is that a tear Sarah Jane? Where there's life there's….
It's the end,
But the moment has been prepared for.
I don't know. It feels different this time.
Carrot Juice?
I've got to stop….
oh
Physician, heal thy self
but remember
I just want to say you were fantastic
Absolutely fantastic, and so was I.
But of course,
I don't want to go…..
Victoria Irwin  is the Resident Whovian for Fanboynation.com and the Managing Editor for the Geek Girl Project. She is currently in London for the 50th Doctor Who Celebration.