Imagine Agents #3: Dapple's Diabolical Plan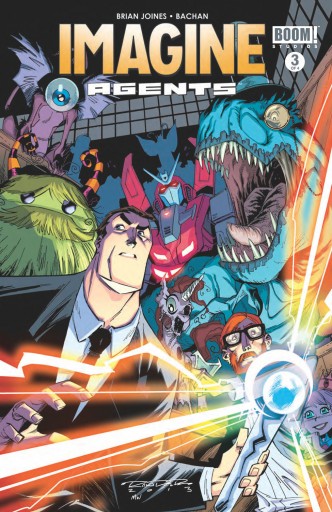 Imagine Agents remains one of the brightest, most enjoyable comics around.In the last issue, Dapple kidnapped Elliot and Furdlegurr to use them as part of his greater plan. It also turned out that, thanks to Agent Terry's bungling, Elliot's mother can now see Furdlegurr. Also, Dapple is Elliot's mother's former imaginary friends, keeping things all in the family. This issue, Dapple's plan for the world is revealed–and it's as dastardly a plan as any evil mastermind ever came up with. He's got followers, plans, and control over the situation.
Then, things get worse.
Joines knows how a to balance humor and suspense, and how to tell a tale that is exciting for adults while also being within children's reach. He's also developing the world in which the figments and agents exist, giving enough detail so that readers can feel the underpinnings of a developed structure without being bogged down in the details.
Bachan and Redmond are still having fun with creature design and coloring. The figments are a varied, crazy, colorful lot. There are more crowd scenes here, and I spent some time examining the different creatures gathered together. Each figment also has an appearance that reflects something of its personality as well, so a lot of fun can be had guessing about the non-speaking characters.
There are also some magnificent action scenes, brilliantly colored and frenetic, suited to the crazy situations everyone finds themselves in. The issue also ends on a cliffhanger, leaving plenty of questions for issue #4 to answer and a messy situation for it to resolve. I look forward to seeing what Joines and Bachan have in store next month (next year!).
Who's Who
Creator and writer: Brian Joines
Artist: Bachan
Colors: Ruth Redmond
Letters: Deron Bennet
Cover art: Khary Randolph
Cover colors: Matthew Wilson
Variant Cover: Felipe Smith
Click on any image to enlarge.