Sherlock Returns With The Empty Hearse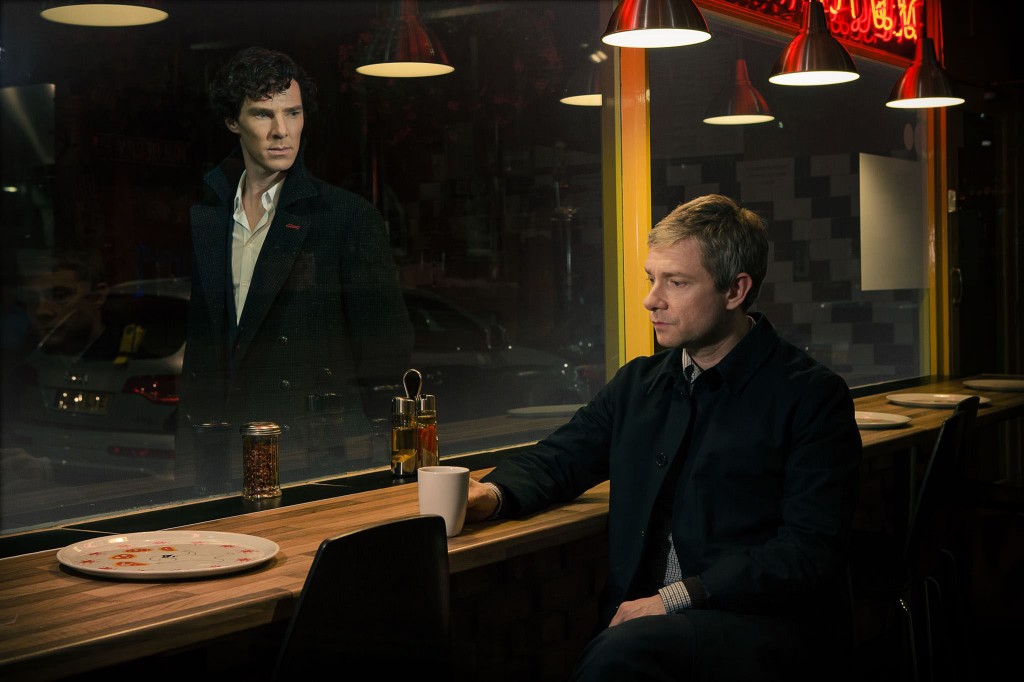 It's been two years since "Sherlock" dove to his death off the roof of the St. Bart's. Two years for John Watson to grieve, to fight to finally move on. But what happens when he finally gets what he wished for?
And so begins the much-anticipated premiere of Sherlock Season 3, with The Empty Hearse.
Caution: Spoilers Ahead!
We begin with a recap of the final moments of The Reichenbach Fall, where Sherlock jumped as John looked helplessly on, and we find out how the deed was done. Or was it? Although I'm not sure bungees, kisses and hypnotists (Oh My!) were actually involved. We soon discover we are seeing a theory Anderson is presenting to Detective Inspector Lestrade, (Yes, that Anderson.) The guilt of somewhat being responsible for Sherlock's death has left him a paranoid, broken shell, his existence now devoted to deciphering how the great Sherlock Holmes faked his own death. The powerful statement that sustained us these past two years, "I believe in Sherlock Holmes," is uttered by him, and a fandom is instantaneously vindicated.
Needless to say, our favorite consulting detective has been busy in his afterlife. We catch up with him in Serbia, where he has just finished destroying the last of Moriarty's spiderweb. Mycroft has of course been aware of his little brother's endeavor, but has come to Serbia to retrieve him. "The holiday is over," Mycroft murmurs, and a smile spreads slowly across Sherlock's shadowed face. London needs him now more than ever. With more than a little annoyance and barely the bat of an eye, Sherlock returns to the land of the living. But will he be welcomed with open arms?
The answer is Yes. And no. And so the game is once again on.
What a long, long wait we had.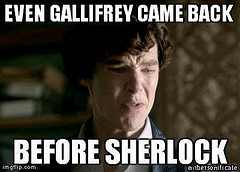 Two years is an unprecedented amount of time to wait after a season ends, (Mad Men was the most recent hiatus that comes close, and that was only 17 months.) But Hatman and Robin were busy bees in the show's absence – Freeman with such movies as The Hobbit series and The World's End, and Cumberbatch doing work on several films including Star Trek: Into Darkness and The Fifth Estate. What I adore is that Sherlock is clearly a labor of love. Both of these rising stars could have walked away after Season Two, (And what a way to go out, right?) but it is a testament to everyone's dedication that not only did the actors eagerly await their return, but the entire company banded together to make it happen, willing to stick it out even if it did take two years. And not only were the fans patient, but they welcomed the show back with open arms. (It was the highest rated episode to date in the UK with 9.2 Million viewers. It has yet to premiere in the US.)
Not to mention the show is clearly a family affair. With the talented additions of Amanda Abbington as Mary Morstan (Martin Freeman's real-life partner,) and Wanda Ventham and Timothy Carlton as Sherlock's parents, (played by Benedict Cumberbatch's mother and father respectively,) it is clear there is a strong vein of care and respect among this dazzling production.
Something that is very apparent in this opening episode is that Sherlock hasn't been around people very much. His concepts of propriety and communication have definitely headed back to square one in the humanity department. The most devastating example would be nearly every single step he takes regarding Watson. From not expecting John's quite valid response to his surprise arrival, to him manipulation of an apology from the doctor in what John believes are their final moments, it is very clear that saying Sherlock is a little rusty when it comes to the human condition. One can only hope that exposure to his once familiar trappings might make him realize the error of his ways, at least a little. But one can only hope.
There are signs leading to the fact that perhaps his rough return to living is merely yet another barrier wall he has erected around himself in order to keep marching on over these years. As Sherlock has come back seemingly more oblivious, he also has become more self-aware. There is a whimsical quality to him now, especially with Mycroft that is both poignant and charming. In the very definition of the pot calling the kettle black, Sherlock calls out Mycroft on his solitary and otherwise lonely existence. Maybe the two years by himself has affected Sherlock more than he let on. He hadn't realized what loneliness was until having to rip himself from the ramshackle family he had cobbled together. Upon realizing he is all that Mycroft has, he wants to make sure his brother saves himself from such a bleak existence. Maybe, just maybe Sherlock has learned a little about being human after all.
The truth of the matter is we will never know. Will we ever find out how Sherlock faked his death? Maybe. But even if he tells John, tells us, will we believe it? Who knows. But with how quickly John rushed back to his side, albeit begrudgingly, we know there will be plenty of emotional and exciting adventures to go on while we wait to find out.