Sprinkles! Recipes and Ideas for Rainbowlicious Desserts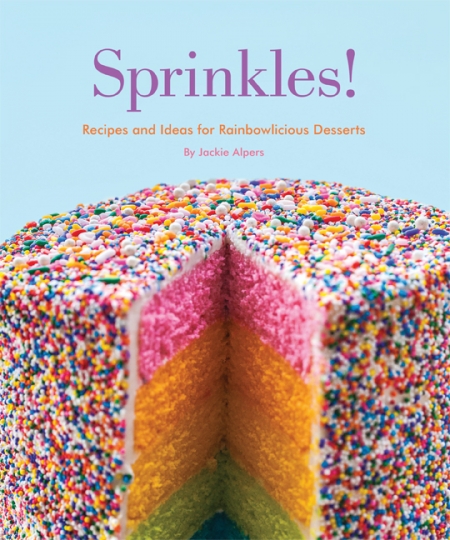 I am not the person you call for social networking-approved food. While often delicious, it lacks a certain something that makes it look edible to the voracious foodie. This is where I find that, at least for baked goods, Sprinkles! Recipes and Ideas for Rainbowlicious Desserts by Jackie Alpers, can try to save me. Giving you not only a list of well and lesser known varieties of sprinkles it also provides you with some off-beat recipes including the means to make your own.
An avid watcher of the Food Network I was excited to see edible glitter mixed in with traditional nonpareils and confetti that often adorns the always delicious soft serve. Alpers also gives you a brief introductions on types of application. This, unfortunately, is where I had an issue. I am a very visual learner. I need several images and often step by step instructions. (Ree Drummond, The Pioneer Woman, I'm looking at you!) With just a few sentences I have little faith I can recreate the beautiful confections within Sprinkles! in addition to my regular rotation of sweets.
Most exciting for me was showing me how to make Rock Candy. I know recipes can be easily found but making them look as gorgeous as I would find them in my youth is hard to be ignored. My go to sugar high was always some sort of rock candy – stick or otherwise. While not the fault of Alpers, waiting two weeks can be a killer for a favorite treat. However, it's always a treat to use sciences for the sugar hungry masses.
If you're looking to bring a little pizazz to your baking, and have the confidence and know how to do so, then Sprinkles! is your best bet. Sprinkles! Recipes and Ideas for Rainbowlicious Desserts is available from Quirk Books wherever books are sold.
Remember, "Sprinkles are Rainbowlicious!"