Crescent City Magick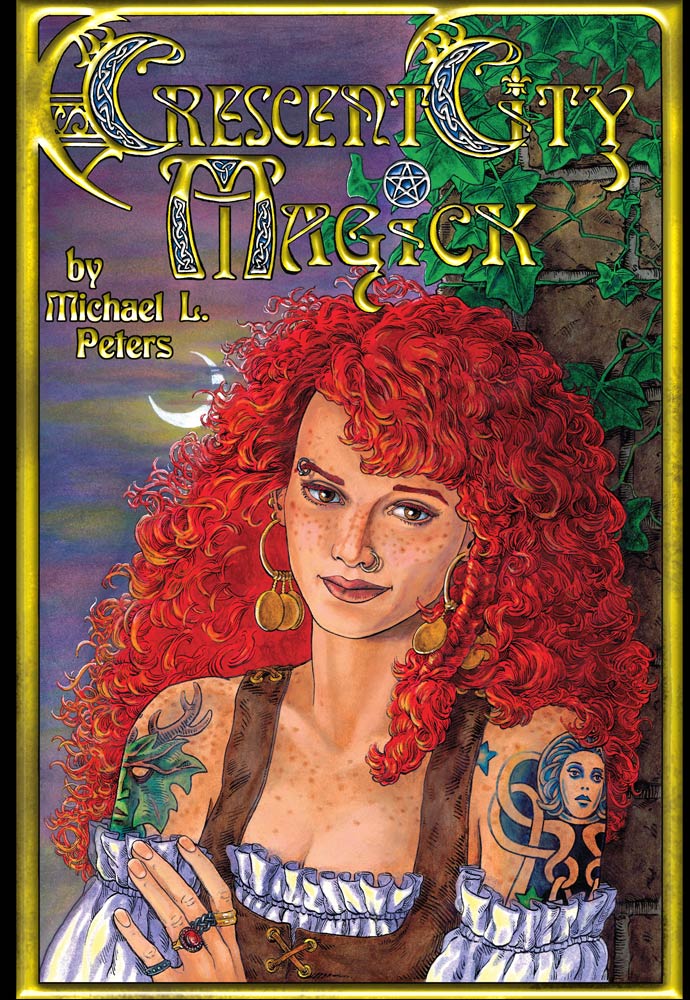 Crescent City Magick features the magic and mystery of New Orleans, a city well known for hundreds of years of voodoo and murder. Drifter Clayton Woods is yet again jobless and roving his way through the United States. His life has not been an easy one, and the last thing he will do is ask his family for help. He finds his way to New Orleans in search of a job. After a strange vision in a bar on Bourbon street, Clayton finds himself in a dark alley at the mercy of three muggers. A red-haired witch, Julia, rescues him and takes him in. Julia, a dancer in Jackson Square, has Clayton help her work to solve the mystery of some robbed graves from the famous above ground vaults of New Orleans cemeteries. Over a few issues, the two are confronted my vampires, aliens, and zombies. It appears Julia's friends are not as trustworthy as they seem.
With a great blend of the mysteries of New Orleans and magic, Michael L Peters tells a fun tale. It is highly notable that Peters does the entire comic himself as both the writer and illustrator. Like his character Julia, the story is a bit all over the place, weaving in and out like her dancing. Peter's characters are cliche, but he plays to that. There is the strong man who won't ask for help, but always needs it. There's the beautiful New Orleans witch who never tells the whole story. There's even the punk rock woman who is too tough for her own good and possibly working for the wrong side. The strongest part of the comic is character design and background settings. It was a delight to be able to see the detailed imagery of  some of New Orleans most recognizable landmarks. I would have loved to see it in color, rather than just black ink.
Overall, Crescent City Magick is fun to read and a fun way to spend some time mentally in New Orleans. It's not trying to be high literature and is worth the purchase price for the artwork alone.
Crescent City Magick is now available in hardcover: http://www.amazon.com/dp/1490488782/ref=tsm_1_fb_lk
Signed copies are available directly from Michael L Peters Website: http://mlpeters.com