Artists to Watch: Jen Broomall
Artists to watch #1
In the coming months, I am going to be targeting comic artists that we as fans should be watching for. From alternate "must have" covers to fantastic art prints, these artists embody the next generation of hot comic talent! I've been blessed with crossing paths with many of them recently, and my first choice to open this series is the following artist. She's honest, open, sincere, and incredibly talented. She's truly, truly, truly, outrageous. Jen is her name, no one else is the same….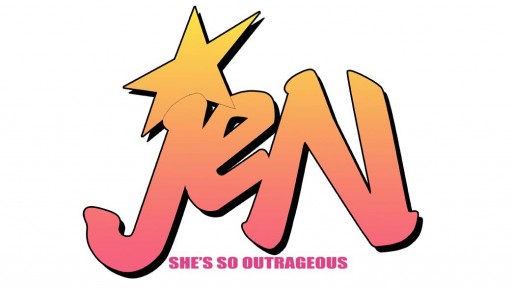 JL: For those who may not know who you are, could you give us a little introduction?
JB: I'm Jenevieve Broomall. I'm a Cover Illustrator, Pin Up artist for mostly indie comics.
JL: How did you get your first big break?
JB: I was submitting my work over and over to a couple of companies. I had a friend of mine give me a lead, and I emailed BDI. From there they asked for me to submit some work; they happened to have an opening, so it all worked out. It really is luck and perseverance. Sometimes companies wait for your skill level to improve, sometimes they simply do not have the opening. I submitted for over 2 years before getting published–that is nothing.
JL: You've been in the comic industry now for a few years, working mostly for Big Dog Ink (Penny for your Soul, Critter, Legend of Oz: The Wicked West) doing mostly cover art and amazing pin ups. But is there a title or a character that you would love to do above all others? (Man-bat comment coming in 3….2…..1….)
JB: Ha! I DO love ManBat but I like to just draw him, especially at conventions when people say "Draw whatever you want!" Expecting me to draw pin ups. Frankly, pin ups are fun but when it's whatever I want, be careful you might be disappointed.
Now, if its a story or book title. I'd LOVE to bring back Tank Girl. I love TG; she is one of my favorite women to draw, and it's such a riot to draw her and all the characters in her world.
JL: For those who don't follow your fan page on Facebook (shameless plug: Art of Jenevieve Broomall): you've shown a picture on a few occasions that illustrates how far you've come as an artist over the years. Is it just a tribute to your hard work or have you had any other driving forces in your life?
JB: My biggest driving force was having my first daughter, I really didn't get motivated until I was let go from a job at 6 months pregnant. I couldn't get another job (about to have a baby no sense in hiring me if I'm just going to leave) so that made me think "You know what? I'm just going to do this." And I started drawing, seriously drawing. That meme is an example of when I started back at my artwork. My starting point looks like horrible teenage fan art, it's bad. It's where I had been told not to quit my day job and for good reason. Take the next leap of not even a years progress and it's night a day. I've been accused that its not the same artist. Especially when I added on the third progress of now. I will admit I won't do another one. I got too much flack and negative backlash from the most recent post. But I found my drive, I found what motivated me and what made me stop making excuses and going for it. I STILL look at my work and internally scream "Make this better!" I don't look at other artists to compete–that doesn't drive me. So I look at my work, I look at the past and see I have improved and I make goals to keep pushing it further, keep improving and making everything better. Now my internal monologue is "Use some finesse!" Because my line work needs that little polish, those clean choices to make it just a little better.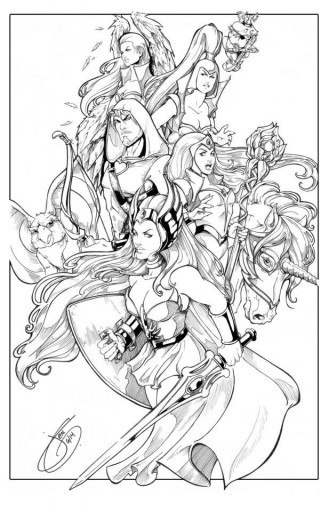 JL: Some may not know but you're also a proud mother of two in addition to being a comic book artist. That is not always an easy task and is something others sometimes feels them from pursuing what they'd like to work towards (risk versus reward, family over career, etc). Yet you're showing that you can be a mother and be someone pursuing the career of your choice. Do you have any tips or thoughts you could share for people who might be on the fence with their own career choices?
JB: Having kids is a big decision. I'd say in any career choice, the biggest thing to plan is making sure everything can balance out. Financially, mentally, time management, etc. Children take up a LOT of time, and they are my main responsibility. I stay at home with the kiddies ages 4 years and 7 months. It's time consuming, I get interrupted constantly, and I stay up late working.
I'd say if you think you can do both, do it. I know many artists who are stay-at-home parents with their kids, men and women, and they manage. We lament about having them color on our originals to not getting those blessed 4 hour stents of just working, but everyone seems to manage. And if you don't think you can, don't worry! Do it as a hobby first! See if you can do both or if you're going to pull out all your hair. But be advised: you will want to pull out all your hair anyway. That's parenthood and art.
JL: Speaking of inspiration: I know when I'm wanting to sit down and be creative;, I'll some times turn on a favorite movie in the background or turn up some music on my PC. What gets your creative juices flowing? Any specific go-to sources (and if you forget to mention your love of the 80's you'll be forever cursed by A Flock of Seagulls)?
JB: love listening to music. I do love the 80s and play those a lot and I also listen to dub-step/electronic music the fast pace makes me draw faster! Ha! I also enjoy watching anime. Yes, I love anime. I am currently watching Sword Art Online; it's an interesting story, but its not too involved where I have to watch it, I watch dubbed anime so all I have to do listen. I will plug in favorite movies too. But a lot of the time I'm listening to movies my daughter likes watching or her play. Right now it's The NeverEnding Story.
JL: In addition to being a comic artist, you're also a geek like many of us! But do you have any specific 'geek' vices such as favorite characters or movies that you cannot pass up no matter what?
JB: Star Trek. I'm a big Trekkie. I also enjoy Firefly and Doctor Who. I am a big book nerd too, I have several series that I like to read, and I'm a fan of Shakespeare and Tennessee Williams. I am a Musical Theatre nerd too; yes I used to sing and dance on stage, so if you see me doing Fosse moves you now know why. (I try to keep it all inside)
JL: September 2013 marked the date of your first sequential interior art for Critter Annual #1. I know it was something you had been working towards for awhile, and now that it's finally done how does it feel? Will we be seeing any more sequential art from you in the future?
JB: I hope so! The biggest feeling from that one shot is motivation to do better. It's ok, but I know I can do better. It was a learning experience. Interiors are a whole new beast, and it will take getting used to. I have something planned; it's a personal project and we all hope it turns out great. One thing my team keeps reminding me is it doesn't have to be perfect, but I am constantly trying to improve so you can see were this would be hard. At least you know I'm not trying to half ass my work.
JL: You have actually had the chance now to visit quite a few comic conventions around the United States. Do you have any favorites? Any places you'd still like to attend or be invited to?
JB: We love Phoenix! They have been amazing to us, and we try very hard to give back and be thankful to cons that treat us so well. But really every place we've attended, large and small, has been accommodating. I'm just happy to go, it's a fun break and I act a fool along with my husband because we are allowed to be ourselves and drink insane amounts of expensive coffee.
JL: If you listen carefully enough when at conventions you'll hear creators, writers, and artists voice various concerns about challenges they've faced either on-going (such as with overly critical fans) or in the past (technical difficulties or unforeseen delays). Have you had any similar challenges? And if so how have you been able to overcome them? And no "My husband's arsenal at home" isn't a valid answer….
JB: I've had the "How does it feel to be a woman in comics" blah blah enough to make me roll my eyes and make gagging noises. I don't knock women in comics, but that shouldn't be the only thing to focus on. I'd rather focus on the art and be an artist not have to explain my gender constantly. I overcome them with humor. As with all things if you can't tell by my art (Joker pubic hair of destiny) I have a sick sense of humor and I will use it.
JL: Ok let's got for a few randoms: Who Wins?
Batman versus Wolverine?
JB: Batman
JL: A tag team match with My Little Pony and Rainbow Bright versus the Care Bears and She-Ra
JB: She-Ra would cut everyone down with brute strength while the Care Bears loved you to death. Sorry ponies…. I would think you're smart enough to surrender and Rainbow? Yeah you're collateral.
JL: Kirk vs the rest of the Starship Captains
JB: Kirk has the swagger and can throw a punch, but the other captains would outclass him hands down. If they all teamed up? Heaven help the verse. (yes, that's a Firefly pun)
I'd like to see Kirk vs Mal. THAT would just be popcorn eatin' fun!
Thank you again Jen for taking time to answer all of our questions! If you're interested in keeping up to date with her artwork be sure to follow her on Facebook at the Art of Jen Broomall or on Deviantart.
She also has a new alternate cover coming out. This time she will draw Lady Death for Chaos Comics in a benefit for VetTix.
Editor note: Colors for Lady Mechanika and Joan of Arc are by the super talented Ula Mos!