Kickstarter! Chris Campana's First World #3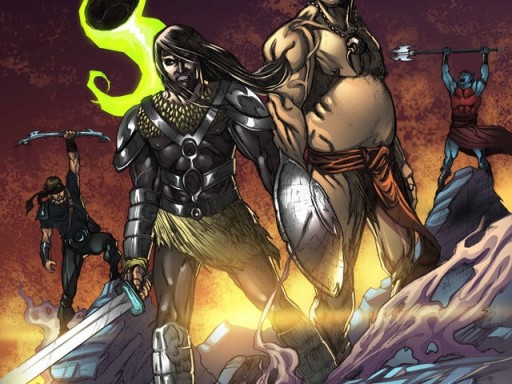 Chris Compana has much more of his fantasy goodness in store for us! Starting the story is his wonderful series Kantara and then spreading his universe to his new series, First World, he richly fills out his beautiful landscapes and rich stories with a new chapter, and a chapter we can have a part in creating!
Chris has the latest issue of First World ready and willing, but in need of funding. To fix this, he's got a Kickstarter going so he can bring us this next exciting story.
I asked Chris if he could tell us a little more about his world and his vision for the next issue. This is what he shared:
Continuing the Fantasy epic, First World! # 3 takes our characters deeper into the battle against the dark force known as the Noctem.
Welcome to the Kickstarter for issue 3 of First World!  What is First World? Well lets give you a little bit of background.  Long ago there was an evil known as the Noctem.  This evil was created and driven by the evil that exists in all men.  How do you defeat what exists in everyone? Well that is the quest within the First World.  Centuries ago there was a war known as the "War of Souls".  A group of 5 warriors stood between the gate to the 12 worlds and the evil army, the Noctem.  After claiming victory in this battle, the 5 nobles warriors went on to live peaceful lives and the 12 worlds were safe from the dark forces.   Now, those evil forces rise up once again..with the Noble 5 long gone, who will stop this wave of death before it takes over all 12 worlds??!!
What we are trying to do with First World is take a genre full of predictability and make it fun and unpredictable.  There is no destined savior in this epic tale.  Nor is there just one way to defeat the evil that confronts our heroes.  First World takes all the great aspects of Sword and Sorcery, the creatures, magical lands and brave warriors and puts them in a story where nothing is as it seems and choice rules all!  Arana, Prince Minak and the other characters within this tale, will face decisions that are not black and white and will have to deal with the choices they make.
With this Kickstarter, we hope to continue this story and bring more Sword and Sorcery action to you through shows and other avenues.  With 5 years behind us as self publishers we feel we are well equipped for the task and with your support, we are confident we can get this story to you and make this the best Fantasy Epic there can be!
You can be a part of this wonderful epic by helping Chris' Kickstarter here! I've known  Chris for a few years now and I always look forward to his books. He's great artist, wonderful storyteller, and one of the nicest people you'll ever want to meet! Help us help him bring his story to life!