Alan Tudyk and Nathan Fillion's Web Series Con Man: FUNDED!
When Firefly stars Nathan Fillion and Alan Tudyk ask you to help them fund a dream project that they don't trust with studios (because they have trust issues with studios, and don't we all), the question is not if you will back it, but how much you can spend. Will you get early access and audio commentary ($25), a spiffy Con Man t-shirt ($60), or go meta and get a package that includes merch from the show-within-a-show Spectrum (starting at $150)? Thousands of fans have already donated over half a million dollars to the project, fully funding it within a little over 24 hours, but they've got stretch goals, and the more money they raise, the more perks the backers get, and most importantly, the more episodes get produced.
So, what are they trying to do here? If you watch the (adorable) video on Indiegogo, you'll see that Alan and Nathan have enjoyed their time on the convention circuit so much that they want to celebrate the fans they've met and the weird stuff that happens behind the scenes at cons with a comedy web series they're calling Con Man "Because Convention Man doesn't sound as cool." They'll play versions of themselves who were also stars on Spectrum, a sci-fi series that was canceled "too soon": Alan as Wray Nerely, who was the pilot, and Nathan as Jack Moore, who was the captain who has gone on to become an A-list movie star.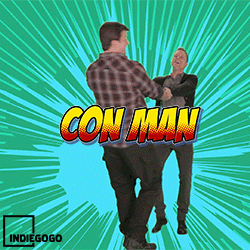 As you'd expect from these guys, the show's cast are mostly Geek/Whedonverse favorites: Sean Maher and Gina Torres from Firefly, Amy Acker, Felicia Day, Seth Green, and James Gunn (writer/director of Guardians of the Galaxy).
So, now that you know a little about the project, take a moment to enjoy this gif of Nathan and Alan before checking out the full list of backer perks, stretch goals, and other fun stuff at Indiegogo.com.