The Top 10 Destinations for Halloween Fun on YouTube
If you're looking for a something a bit different to watch this Halloween Season and you have access to a computer, which you obviously do if you're reading this, here are my Top 10 Destinations for Halloween Fun.
If you're looking for something a little on the spooky and sometimes on the down right disturbing side, you can't do better, or worse, depending on your point of view, than Rob Dyke's Youtube Channel. Dyke has a few different shows he produces weekly that are sure to set you on the edge of your seat. Seriously Strange, Seriously Strange: TWISTED TENS, and Seriously Strange: SERIAL KILLER FILES are sure to give you 10 to 15 minutes of terror with nearly every episode. The episodes pull from real life; you can't make this stuff up. It is sure to give you a sleepless night if you decide to watch it before bedtime. He also has a couple lighter shows like Why Would You Put That On The Internet? and What In The World News.
In the same vein, if you'll excuse the pun is Thoughty2. He tackles things such as Mind Blowing History, Answers to Life's Biggest Questions, Conspiracy Theories, and Creepy and Interesting Videos. He does a good job of presenting the facts or theories and letting it up to the viewer to decide. Presented in a witty way, you'll find yourself very quickly binge watching all his episodes!
Another in the same type, but slightly different is Danger Dolan, as he stated, "Interesting facts about life presented in a quick 5-10 minute video." There are is always a little bit of something of one sort or another with a slightly creepy twist in his videos, that when you start one, you don't know where the next few minutes of your life went, but it was interesting! He's got a humorous way of presenting that always makes it enjoyable!
Top 15 is another of the ones that has Top 15 countdowns, but they all have a bit of a dark twist. Scary things that you never knew you wanted to know, or find out that you didn't want to know, but it's another that you life with quickly disappear into while you're not looking.
Mr. Nightmare was one I just found the other day. As the channel says, they have "2 Dark themed countdowns each week." This channel has a nice mix of dark countdowns and the creepy stories that accompany them. I found this while watching another video and…yikes! Wow. They are very nicely presented and will make you skill crawl.
Some of you may be aware the creation of Richard Gale Films, but not necessarily aware of his channel. His creation has become a phenomenon of himself and has floated around the internet and Facebook a few times.Richard Gale Films is the creator of The Horribly Slow Murderer with the Extremely Inefficient Weapon! This was followed up by The Spaghetti Dinner of the Damned. Even if you do know who GINOSAJI is, do you know that they have a Kickstarter going on right now to make a feature length film, featuring Jeffrey Combs (ReAnimator, Star Trek: Deep Space Nine) and Fay Kato (Memoirs of a Geisha, Fast and Furious: Tokyo Drift, and The Wolverine).
Pulling from REDDIT and CreepyPasta, DorsetGhost is a collection of stories and ghost hunting. They claim to have caught real ghosts on film and share what they claim are true stories of paranormal phenomania and demonic possession. Their videos are sure to creepy you out! They are not for the faint of heart!
For the cosplayer or just those looking to nail that period costume, Vintagious is the channel you are looking for! From Victorian Updos to Betty Page-esque 50s pinup styles, she has easy to follow tutorials that will walk you through the most elaborate hair style. Her tutorials are easy enough to follow for even the hair stylistically challenged like me! She also give great beauty tips and yummy recipes!
GeekGirl Jenn's A Geek's Guide to Easy Microwave Cooking is having a lot of great Halloween recipes this month, that you have to try out! From Spooky Shepherd's Pie, Pumpkin Fudge, and even Pumpkin Bread all masterfully made in the Microwave, you are in a for a treat with her amazing food and videos!
And I can't do list of the 10 ten channels you should visit on Youtube without giving a shout out to a group that is basically our brother site (at least for those of us on the East Coast!), The Gearbox Union! The Gearbox Union is great bunch of guys (and gals), who not only have their own podcast Mandatory Downtime, but also have their own YouTube Channel. Though it is not their primary genre, they do LetsPlays, such as the ever-popular Five Nights at Freddy's, as well as the odd scripted  video, such as when they befriend a body bag. They  do reviews and interviews from Conventions and attractions they've been to, as well as, supporting wonderful charities such as Extra Life.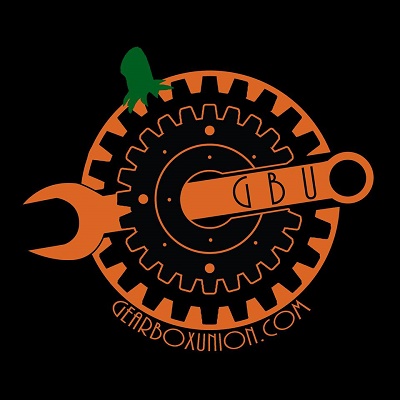 If you're not familiar with Extra Life, it is an annual event where gamers all over the world give back to the community through the Children's Miracle Network of Hospitals. Our own Geek Girls will be teaming with The Gearbox Union November 7th for a 24-hour event to raise money for this charity! Altoona area gamers can participate at Snake Eyes Gaming, or if you can't make it locally, you can still join the team, watch them on Twitch or contribute by sponsoring a team member.
Also of interest: Halloween Treats: The Paramount Vault.