Review: Terminator Genisys on Blu-ray/DVD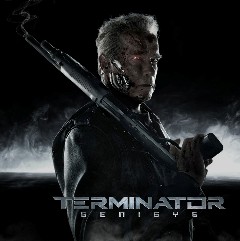 Arnie's back – and so is that line. But Terminator Genisys turns out to be less a worn retread and more a whole new track for the franchise.
In the war of man against machine, Kyle Reese (Jai Courtney) is sent back to 1984 by resistance leader John Connor (Jason Clarke) to protect his young mother, Sarah Connor (Emilia Clarke). But there's an unexpected timeline twist waiting for him: unexpected events have altered the past (as it was seen in T1 and T2) and threaten the future for all mankind. Reese finds himself rescued by Sarah and her "Guardian" (Arnold Schwarzenegger), and has to join forces with them in an effort to save the world and stop the next evolution of Terminators. In the tradition of all good science-fiction, the film also holds up a mirror to the world we know – and, after this, you may never view your Smartphone in quite the same way again.
It's a gripping, action-packed ride, which takes viewer expectations and spins them around. Enemies and allies are more difficult to identify than might be expected but, amid all the excitement, there's enough room to pack in nifty one-liners and some wry humour (usually at Arnie's expense). There's even a line that explains why the "Guardian" has aged.
As with T2: Judgement Day, the Sarah Connor we meet here is tough, smart and capable – and Emilia Clarke (almost unrecognisable without that cascading blonde Danaerys hairdo from Game of Thrones) does a great job of making the role her own. Jai Courtney and Jason Clarke also have hard acts to follow in such iconic roles, and they each talk about those challenges in the extra feature 'Family Dynamics' (included in all versions of the release).
Other bonus content included on the 2D Blu-ray disc includes a look behind the scenes at the filming locations in New Orleans and San Francisco; and a peek at the SFX. The 3D Blu-ray includes the same extras, but also presents the film in 3D 1080p high definition with an English Dolby Atmos* soundtrack.
The picture definition is excellent even on the DVD, and it's presented here in widescreen ('letterbox') format, enhanced for 16:9 TVs. While this does produce black bars at the top and bottom of the screen, it allows the entire picture to be seen as the Director intended. But, if you don't like the black bars, there's a Standard Definition option too.
Whichever version you watch, make sure you don't switch off when the end titles start to roll. The film hasn't quite finished – and nor, clearly, has the Terminator franchise.
DVD
Feature film in standard definition
1 Disc
Total Run Time: 120:31
Bonus Content

Family Dynamics – Casting Terminator Genisys and how the actors filled some of the most iconic roles in cinematic history
2D Blu-ray
Feature film in high definition
1 Disc
Total Run Time: 125:41
Bonus Content:

Family Dynamics
Infiltration and Termination – Go behind-the-scenes to San Francisco and New Orleans in a first-hand look at filming locations
Upgrades: VFX of Terminator Genisys – Delve into the revolutionary visual effects behind the movie's incredible action sequences
Blu-ray 3D + 2D
Feature film in high definition
2 Discs
Total Run Time: 125:41
Bonus Content: The Blu-ray 3D+2D Combo pack includes all of the above extras, as well as a Blu-ray 3D presented in 1080p high definition with English Dolby Atmos* (Dolby TrueHD 7.1 compatible).
RRP:    £29.99 (Blu-ray 3D + 2D Combo Pack)
£24.99. (Blu-ray 2D)
£19.99 (DVD)
UK CERT:   12, moderate threat, violence, infrequent strong language
UK release Date: November 2, 2015 (Blu-ray 3D, Blu-ray, DVD, and On Demand)
Available on Digital HD one week early on October 26