Book Review: 'Silent Women: Pioneers of Cinema'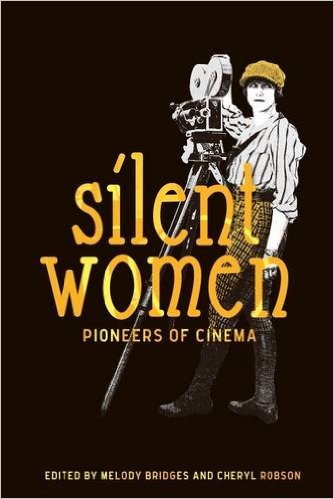 Imagine a world where women take a major part in film production and direction; a world where screenplays are written by women for women; where female leads star in action-packed adventures that challenge contemporary ideas about gender roles and stereotypes.
A hundred or so years ago, such a world actually existed, as the writers of Silent Women tell us in this fascinating paperback, published in the UK by Supernova Books. Who were the women who took charge of early filmmaking? What changed? Why is today's Hollywood dominated by men to such an extent that, as Maria Giese explains, "institutionalized sexism and racism … are currently the subject of both state and federal investigations"?
The book provides answers to all these questions, over the course of thirteen eminently readable chapters. I read the whole thing straight through, but the essays can be dipped into individually, and used as starting points for more research into the subject. Both Aimee Dixon Anthony (in her chapter on early African-American filmmakers) and Tania Field (who writes about female film editors) state that further research is needed; and there's a link provided to the Women's Film Pioneers Project at Columbia University, where more can be learned, and existing research can be added to.
Some of the women mentioned in Silent Women are still well-known to film buffs – Mary Pickford, for example, or Greta Garbo. But did you know that Mae West not only acted but also wrote her own plays?
Patricia Di Risio in her essay 'Women Were Writing' gives us more examples of gifted female screenwriters, who "were interested in questioning gender roles, and challenging traditional understandings of women and femininity, both on- and off-screen". Frances Marion, for example – the first woman to win an Academy Award for Best Adapted Screenplay (for The Big House (1930)); or Clara Beranger, whose script for The Bedroom Window (1924) could have been a template for Murder She Wrote, as it featured "a successful female mystery writer who also solves crimes in real life".
Then there's Nell Shipman, who wrote a film called God's Country and the Woman. Not a great title, but it happened to be the first multi-reel feature film shot on location. Sadly, as Karen Day relates, the redoubtable Nell – who wrote and starred in a number of films which she funded and directed herself – ended up penniless and forgotten. By way of twisting the knife, the Motion Picture Relief Fund turned down her application for benefits with a sniffy letter stating, "we can find no record of your name in any film credit".
Nell's story – like many of those touched on in the book – is both inspiring and heartbreaking. How is it possible, for example, that someone as brilliant as Alice Guy-Blaché is practically unknown? The woman was such a versatile talent that her name features here in several chapters covering direction and production. Or how about Lotte Reiniger? She not only invented silhouette animation, but went on to make the first feature-length animation film in 1926 – that's ten years before Walt Disney got started. Thea von Harbou adapted her novel, Metropolis for the screen – but it's Fritz Lang who always gets the credit for that ground-breaking sci-fi classic.
Kevin Brownlow's previously unpublished 1977 interview with Dorothy Arzner (her last?) reminds us that there were rare successes for women in Hollywood; but the modern-day statistics are bleak, as is Maria Giese's chronicle of her personal battles with the Directors' Guild of America.
Elsewhere, the story is similar. Julie K. Allen's essay on European Silent Cinema reintroduces long-forgotten talents such as Asta Nielsen (so far ahead of her time that she played a cross-dressing female Hamlet in 1921), Francesca Bertini, and Aud Egede-Nissen. Tania Field briefly explores female film editing in the USSR, Italy, France, Germany and the UK; while Ellen Cheshire makes an excellent case for Laura Smith, of Shoreham Beach Studios on the south coast of England, to lay claim to the title "first female cinematographer in the world".
The book's introductory chapter states that "the Women's Film Pioneers Project at Columbia University must be credited with undertaking and compiling much of the research to date"; but the essays in Silent Women will surely help take the story forward, and introduce these long-forgotten film pioneers to a new audience. It's impossible to read these stories without wanting to know more, to hunt down the existing film footage, to seek out the biographies of these remarkable women. There are photographs of many of the subjects in the middle of the book, to help put faces to names. With the help of this book, those names may begin to regain the recognition they deserve.
Silent Women: Pioneers of Cinema – Edited by Melody Bridges and Cheryl Robson – £14.99, 242 pages – http://aurorametro.com/products-page/film/silent-women-pioneers-of-cinema/
To pre-order US release: http://www.amazon.com/Silent-Women-Pioneers-Cheryl-Robson/dp/0956632998/ref=sr_1_1?s=books&ie=UTF8&qid=1456385280&sr=1-1&keywords=silent+women+pioneers+of+cinema
For more information on the Women's Film Pioneers Project at Columbia University, or to contribute to their project, see: https://wfpp.cdrs.columbia.edu/