Comic Kickstarter: A Vampire in Hollywood by Batton Lash
Batton Lash Seeks Funding in A Vampire in Hollywood Kickstarter Campaign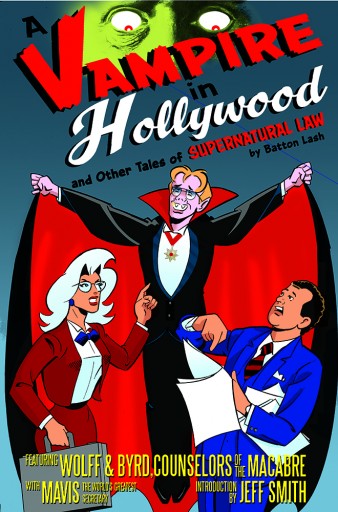 Cartoonist Batton Lash has been self-publishing his Supernatural Law comic books and trade paperbacks for over two decades. The humor/horror series, about Alanna Wolff and Jeff Byrd, two lawyers who defend monsters and the supernaturally afflicted, has won numerous awards and made Batton a popular guest at comic conventions.
Now Batton is conducting a Kickstarter campaign to publish A Vampire in Hollywood, And Other Stories of Supernatural Law, volume 7 in the ongoing graphic novel series. The previous volumes collect issues 1-40 of the Supernatural Law comic book and the spinoff series Mavis 1-4; this 192-page volume collects Supernatural Law 41-45 and Mavis 5. The introduction to the new book is by Jeff Smith, famed writer/artist of the worldwide bestselling series Bone.
The goal of $9,500 will help produce and print the book and have it out in time for Comic-Con in San Diego; the campaign ends March 10. Lash has conducted three successful Kickstarter campaigns for previous trade paperbacks, and he appreciates all the support that backers have provided, funding the publication of The Monsters Meet on Court Street (volume 6 in the collected comics series), the full-color original graphic novel The Werewolf of New York, and the full-color collection Zombie Wife.
Backers of the project can sign up to become the Hollywood player their choice, from gaffer to publicist to producer. At the "Supporting Player" level, for instance, they get a set of six postcards depicting the covers of the six comics included in the collection. To get the book (signed by Batton) with the set of postcards, they can choose the "Key Grip" level. And if they want a personalized drawing in by Batton in their copy of the book, they can select the "Special FX" level.
Among the premiums and add-ons available to backers are other volumes in the Supernatural Law series; five different designs of T-shirts; a 2017 calendar; French and Spanish collections of the first several issues; a pinup book featuring portrayals of Wolff & Byrd by such comics greats as Sergio Aragonés, Brian Michael Bendis, Paul Pope, Carol Lay, Frank Cho, Carla Speed McNeil, Terry Moore, Jen Sorensen, and Shannon Wheeler; and customized original paintings by Batton.
For more information: Jackie Estrada, mail@exhibitapress.com, jackiee@mindspring.com
Kickstarter link: https://www.kickstarter.com/projects/1379875462/a-vampire-in-hollywood-and-other-tales-of-supernat
Website link: http://exhibitapress.com/wp/new-kickstarter-a-vampire-in-hollywood/