Impractical Magic (The Witches of Cleopatra Hill) by Christine Pope
Note: Aside from the first three books in The Witches of Cleopatra Hill series, all of them stand alone to some extent.  After I finished reading Impractical Magic, however, I got the feeling that I had just completed another kind of trilogy because it in many ways resolves the events that began in Protector and continued in Spellbound. Since Protector contains (non-graphic) mentions of rape, the intensity of it may not be everyone's cup of tea, so you definitely don't have to have read it to enjoy the other two books, but you will certainly understand some of the motivations of the characters better if you're familiar with it. This review contains some spoilers for Protector.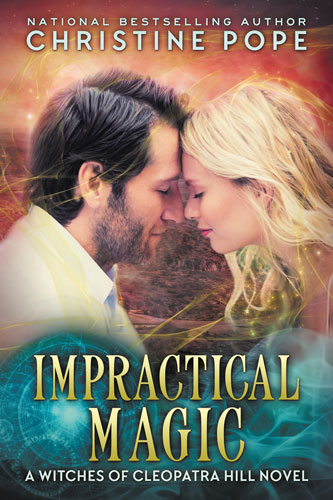 Following her sister's death (Protector) and closely after Spellbound, Jenny McAllister finds herself a reluctant maid of honor in her cousin Caitlin's wedding. Always a bridesmaid, she doubted she would ever find a warlock from one of the Arizona witch clans to settle down with.
Colin Campbell, a "civilian,"  suspects that there is something going on with the McAllisters and their home town. Jerome has long been known as a haunted town, but Colin is too skeptical to believe there are actual ghosts among the somewhat unusual inhabitants… until he isn't.
Impractical Magic is a book you should definitely not judge by the blurb on its beautiful cover. Stories that depend on lies or miscommunication are a pet peeve of mine, but the characters in this book act like real people, with their own strengths, faults and foibles instead of relying on tired tropes of romantic fiction.
Jenny is one of the older unmarried McAllister witches, especially now that Margot has finally settled down. Although she was not one of the girls who was kidnapped in Protector, this story is very much the aftermath of it from the perspective of a grieving sister. Beautiful, and intelligent, she feels like living in Jerome, where the lives of everyone in the clan are interwoven, has been something of a disadvantage to her. However, due to her unique magical ability, she agrees that she is better off living in the small town, even if that means she has been stuck with an ever-diminishing dating pool.
In a series known for down-to-earth heroines and romantic heroes, Colin stands out as the first (that I recall) with no magic. This makes him a little more relatable to us mere mortals and gives us a unique outside view of the families we've come to know and love. Divorced and down on his luck, there is something vulnerable about him that is endearing. Writers like reading about writers, and the small-time journalist in me feels his pain.
Impractical Magic has stronger paranormal aspects than most of the other books in the series, which I always appreciate about a genre novel. Another of the book's strengths is, frankly, the love scenes. Tasteful, yet steamy scenes have been a signature of this series, but some naturally stand out over others, and the ones in this book are some of the best.
You can find links to purchase this book in a variety of formats at ChristinePope.com.