New from J. Powell Ogden: The Devil's Playlist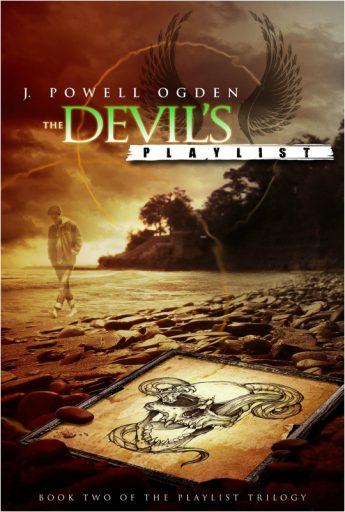 When most people talk about battling their demons, they're being figurative, but not Cate Forsythe. She's had nightmares of them since she was a little girl, but she also sees angels and her special Guardian ghost, Michael. The Devil's Playlist is J. Powell Ogden's sequel to her YA paranormal romance, The Guardian's Playlist. The already dark story of drugs, depression and attempted suicide takes an even darker turn as two dead teens try to watch over the people they care about… discovering that they are connected in more ways than they realized, and also finding new ways to hope.
Alternating POVs between Cate and the ghost of the boy who tried to kill her, they both learn that the spirit world is full of the forces of light and darkness that fight over the fate of humanity and each individual. Despite the religious overtones of the story, the message is a general one of strength and hope. Even the angel Gabriel says God "don't care what you call Him."
The fast-paced writing is full of dialog that is colorful without resorting to purple prose. The message that each individual is important and must fight for themselves is there, but it doesn't take away from getting caught up in unraveling the twists and revealing the secrets, some of which are earth shattering. As the second book in a trilogy, it ends at a great place.  The events of the book are concluded, but I am definitely looking forward to the next book to find out more about what happens to the characters, including the prophecy about Cate.
Ogden is an advocate of hope. She has links to resources as well as the book's playlist at her website.
You can buy her books online or at one of her convention appearances, such as Sci-Fi Valley Con this weekend!
I received a copy of the book with the expectation of an honest review.