Book Review: 'The Walking Bread' by Rick Grains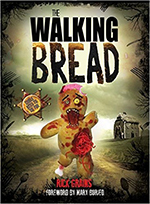 The team behind the bestselling spoof cookery books Baking Bad and Game of Scones have produced a third book in the series: The Walking Bread, which is (of course) loaded with visual and textual references to the cult horror series The Walking Dead.
Soon to be published by Orion Books, a sneak peek reveals pages of suitably gory offerings that would be ideal for Halloween parties (or to devour while binge-watching the entire TV series).
As with the previous books, the recipes are cleverly conceived, and filled with sugar and puns in equal measure. Clearly laid out over several glossy pages, each ghoulish recipe is accompanied by helpful illustrations of method and the finished result. There are clear pictorial indicators of whether a dish is 'easy', 'medium difficulty' or 'hard' – while lines of zombies in chef's hats line up at the bottom of the page to illustrate how many each dish feeds. Recipes are given in both metric and imperial measurements.
The two recipes I made were 'Carol's Tough Cookies' and 'Terminus Treats' – both easy to make, but nonetheless time-consuming. Make sure you start baking early enough in the day to allow time for your binge-watch/eats in the evening!
Carol's Tough Cookies
The recipe called for one large egg or two small. I had 'medium' and used two, but it resulted in a very sticky dough. Or maybe it's supposed to be like that? Still, once it had been in the fridge for a while it rolled out easily enough, and made several trays of cookies (though I don't have a flower-shaped cutter and had to improvise).
Combined with the icing, the finished cookies were very tasty – and not 'tough' at all!
Terminus Treats
There wasn't much baking involved with this, but it still took a while to get the chocolates, cakes, biscuits and sweets to line up and stick together into something resembling the illustration. Definitely one for a friends' night in, it makes quite a showpiece.
Bonus dish
I had egg whites left over from the cookies, and cooking chocolate left over from the Treats, so to avoid food waste I added some single cream to whip up a chocolate mousse. The 'chocolate soil' from the Terminus Treats recipe made a lovely topping!
With a publication date of mid-November in the UK, the book is a great addition to the recipe series, and should make a perfect stocking-filler for any Walking Dead fan.
Published in the UK on 17 November 2016
Price: £9.99
Available from Amazon