A Glimpse at Kingsman: The Golden Circle
Earlier this week, the teaser for Kingsman: The Golden Circle, the second film in the Kingsman trilogy being written and directed by Matthew Vaughn, hit the internet to wild fanfare.
Fans of the first film were beginning to anticipate a trailer being released after it was announced a trailer was shown at CinemaCon in March. What was released this week seems to be a small glimpse of that trailer. The glimpse, an actual blink-and-you-miss-it sort of affair, left many fans baffled but excited nonetheless.
Within thirty minutes of the glimpse's release, fans had already begun to slow the teaser down and this particular fan took it upon herself to screen cap the heck out of the teaser, and even got a shout out from Kingsman: The Secret Service comic book writer Mark Millar:
For anyone who wants to see individual screen caps of the Kingsman teaser @jenniferrcarey has your back: https://t.co/9w0GfoKo8B

— Mark Millar (@mrmarkmillar) April 18, 2017
Mark gave us some follow up tweets to state that he told Matthew Vaughn about the fans' response to the teaser and that apparently Vaughn does no know how to internet:
Matthew Vaughn just off the phone asking how Kingsman teaser went down on Twitter. Yes, he still can't work the Internet 🙂

— Mark Millar (@mrmarkmillar) April 18, 2017
I told him you liked it!

— Mark Millar (@mrmarkmillar) April 18, 2017
You can see a slowed down version of the teaser right here:
This slowed down teaser gives us some really interesting glimpses of what is coming up in the second Kingsman. Here are some of my favourite screen captures:

So check this out! This is Charlie Hesketh (Edward Holcroft), first seen in The Secret Service, with The Golden Circle's villain Poppy (Julianne Moore). Last we saw Charlie, he had just gotten zapped by Eggsy at Valentine's compound. How is Charlie still alive? Why does he suddenly have a metal arm? I can't help but think he is going to be a bit of a "Winter Soldier" to Eggsy's "Captain America." I think this is Taron Egerton's fault, clearly. He recently likened The Secret Service to Captain America: The First Avenger and The Golden Circle to The Avengers. Cheeky, Taron. Really cheeky.
We get this second look at Charlie Hesketh hanging out with Poppy, in what looks like to be a theatre perhaps? But they look pretty cozy, don't they? This is definitely worrying me!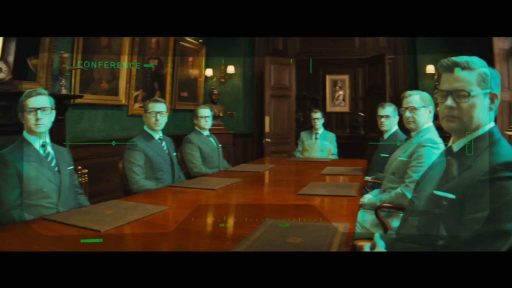 Yay! It's the other Kingsman knights! And my personal favourite Agent Percival (the one on the far left, portrayed by real life investment banker and good friend of Matthew Vaughn Alastair MacIntosh. MacIntosh previously appeared in Vaughn's film Stardust.) Agent Percival is the knight with the distinction of being Roxy Morton's (Sophie Cookson) mentor in The Secret Service. At the end of The Secret Service, Arthur (Sir Michael Caine) said that he was going to gather the Kingsman. I have to wonder if this scene is a flashback to that moment, especially…
When we see Arthur (now apparently being played by SIR MICHAEL GAMBON?!?) appearing in this teaser as well! I am very concerned for the other Kingsman. At the end of The Secret Service, it was suggested that Arthur was going to be dealing with them.

Enter Jack Daniels/Agent Whiskey of the American agency The Statesmen, played by Game of Thrones actor Pedro Pascal! He is said to have a whip that can cut a man in half. Now if you look very close to the booth in the background, doesn't that look a bit like Eggsy and Agent Galahad during their first meeting in The Secret Service? So many questions brought up in this teaser!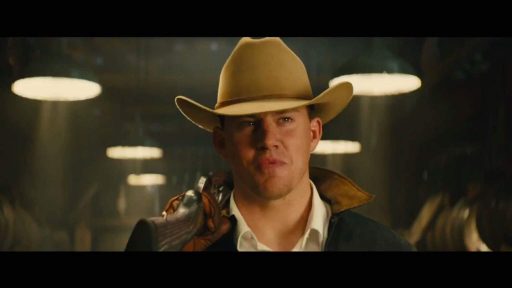 Agent Whiskey will be joined by fellow Statesmen Agent Tequila, played by Channing Tatum.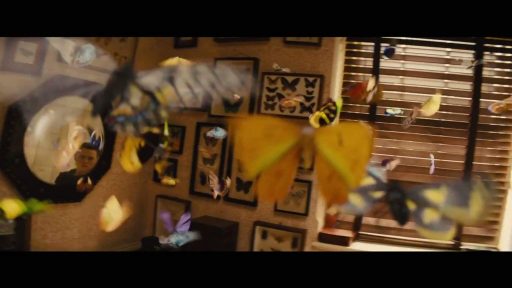 This is one of those pictures to appear in this scrapbook of a movie teaser that leaves fans the most in a quandary. Here it appears to be Harry Hart's bathroom. If you look in the mirror, it shows a different story. There is Eggsy and there appears to be a padded wall behind him. Are all of Harry's butterflies coming back to life? Is this real? Is this fantasy? What the heck is going on here??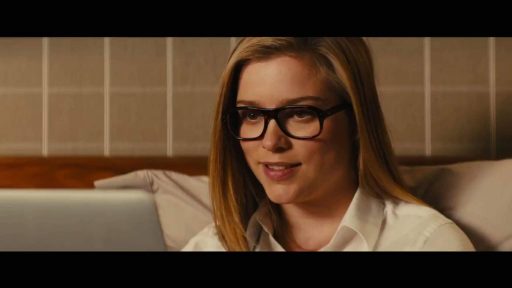 One familiar face I SO am happy to see is the Kingsman's only female agent (that we know of!) Roxy Morton, AKA Agent Lancelot! I am really happy that Sophie Cookson got to come back for the second film. I hope that Agent Lancelot gets to see some great action, in one of the Kingsman's famous suits nonetheless. There is a deleted scene that never saw the light of day–which all we have is a picture from–where we get to see her in a suit and Merlin having assumed the Arthur role. Without this scene being included, I do wonder what Vaughn has in store for both characters!
While we did not get to see Harry Hart in this teaser (with an eyepatch as the CinemaCon trailer says he is! Which I need to see! I need Eyepatch!Harry in my life!) we do have this teaser poster that came out last year:
Kingsman: The Golden Circle stars Taron Egerton, Mark Strong, Julianne Moore, Channing Tatum, Pedro Pascal, Jeff Bridges, Halle Berry, Sophie Cookson, Vinnie Jones, and Colin Firth comes to theaters September 29th, 2017.