Supergirl/The Flash Musical Crossover Event
Supergirl/The Flash Musical Crossover Event
The Arrowverse/Berlantiverse musical crossover event has arrived and it is magical. The crossover began in the last five minutes of Supergirl's episode "Star-Crossed" and continued through The Flash's episode "Duet."
Spoilers ahead.
Star-Crossed
"Star-Crossed" saw Kara and Mon-El dealing with the arrival of Mon-El's parents along with the discovery that he was actually the Prince of Daxum and not one of the palace guards as he'd previously been telling Kara and the DEO. This caused a rift in Kara and Mon-El's relationship and by the end of the episode they had broken up.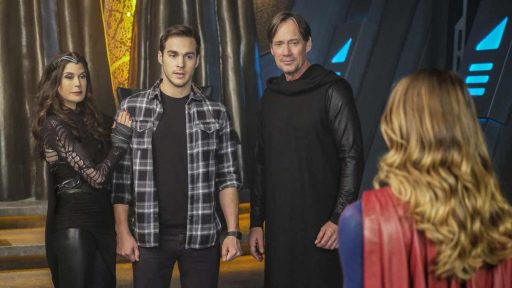 The B plot of the episode dealt with Winn and his alien girlfriend Lyra who had actually been using him to help her steal artwork in order to save her brother from alien mobsters. Winn, James as Guardian, the cops, and the DEO help her out and take down the alien art thieves.
Enter the Music Meister at the end of the episode as a prisoner of the DEO. After using his abilities to hypnotize Supergirl, he conveniently escapes using the interdimensional device that Kara received from Cisco of Earth-1 during the Invasion crossover earlier this season–that Winn happened to be playing with and returned to Kara moments earlier. Before jumping through the breech, the Music Meister states that he now has to "Catch the fastest man alive. Toodles." He then tosses the device to Winn.
Kara has been transported into another world inside her mind, where she is dressed in period clothing and asked to perform on stage before the episode fades to black.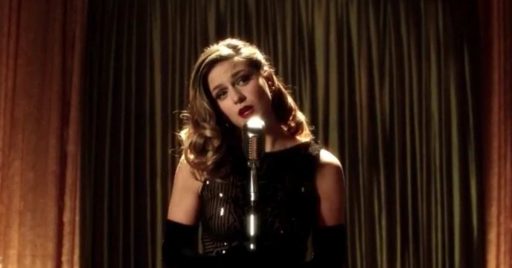 Duet
When we first see Barry, he is binge watching musicals at Cisco's apartment after having broken up with his fiancee, Iris. Barry and Cisco receive a call that someone is coming through a breech to STAR Labs; the breechers in question turn out to be J'on Jones, Mon-El and an unconscious Supergirl. Team Flash immediately sets up monitors to check Supergirl's vitals.
J'on and Mon-El bring Team Flash up to speed on the events that led to them coming through the breech to find Barry and the Music Meister – who shows up at STAR Labs as well. Barry and Wally face him, and both get taken out, not before the Music Meister says that he is there to teach them a lesson.
Barry is transported to the same shared world as Kara where he hears her singing on stage. If he didn't already have a love of his life Barry would probably have been smitten in that moment with the look on his face as he watched Kara singing "Moon River."
The Super Friends learn that people they know are there but playing different roles, the world they are in is based on musicals including The Wizard of Oz. The doppelgangers of Malcolm Merlyn (Arrow), Martin Stein (Legends of Tomorrow), and Joe West (The Flash) for instance are all gangsters while Winn and Cisco are employees at the nightclub where Kara and Barry perform.
The Music Meister informs the Super Friends that in order to escape they have to let the musical play out and follow the script. This he does through the song "Put A Little Love In Your Heart," and we as the audience get to hear actors Darren Criss, John Barrowman, Carlos Valdes, and Jeremy Jordan belt it out. Barry of course protests and yet by the end of the song he's dancing along as he just can't help himself.
When the song ends Kara and Barry have to figure out the plot of the musical. They get a little help from Martin Stein and Joe West's musical doppelgangers when they kidnap them and ask the duo for help finding their daughter Millie, this world's version of Iris. The pair decide to help in order to move the plot along.
When they find Millie, she is making out with Tommy, this world's version of Mon-El, who also happens to be the son of Malcolm Merlyn's doppelganger (Don't think we didn't see what you did there, writers of The Flash. We remember Tommy Merlyn VERY well!) After a moment of their mutual disgust that their respective others are together – they decide that the two should tell their parents that they are in love. Which they do.
After a sweet encounter between Millie and her dads (Joe and Martin), this results in the audience hearing vocal powerhouses Victor Garber (Martin), Jesse L. Martin (Joe), and John Barrowman (Merlyn) singing to their respective characters children ("More I Cannot Wish You" from Guys and Dolls) and then threatening to go to war. At this time Barry and Kara realize their true feelings for both Mon-El and Iris. They also discover that it is easy to convince people in musicals to do whatever they want.
Meanwhile, in the real world Kara and Barry's bodies are being drained of their superpowers the longer they are in the coma. Wally, Cisco, and J'on take on the Music Meister. With some creative teamwork they manage to bring him into STAR Labs.
Back in the dream world Barry and Kara still have to finish the musical and they sing a duet about being "Super Friends" just as the gangsters start shooting the city up. The two of them run out to investigate and are immediately shot down in the street.
In the real world their bodies go into shock. After an interrogation by Mon-El and Iris, the Music Meister explains that only they (and their love) can save Barry and Kara. Iris and Mon-El enter the dream world with the help of Cisco and they confess their love to the dying pair of superheroes. Suddenly with the magic of true love's kiss they return home.
The Music Meister appears – he is a fan of the good guys who was there to teach them to get over their fears and about the power of love before he vanishes. Team Flash can't believe Barry can sing and dance except Caitlin who has heard him at karaoke before – way back in season one. Mon-El, J'on, and Kara return to their Earth – with Kara threatening to drop a mountain on Mon-El if he lies to her again.
The episode ends with Barry and Iris in their apartment. Barry sings "Runnin' Home to You," a song written by the same writers of La La Land, to Iris and reproposes for the right reasons this time.
While this crossover was mostly filler in that it wasn't main plot driven, it was however true character growth for our power couples over both episodes. Kara and Barry recognized their true feelings for their respective partners and it was magical even more so than the wonderful musical backdrop. Both episodes progressed the emotional stories of their main characters while wrapping up lingering plot threads that gave us solid episodes. This will make the next few episodes of each series as they deal with Cadmus and Savatar more solid. It was an incredible bit of storytelling for episodes that were mainly fun fan-service – I have no problem with that as I am one of those fans.
If you would like to purchase music from this episode it is available now on itunes.