The Southern California Renaissance Pleasure Fair – FINAL WEEKEND
Most articles covering The Southern California Renaissance Pleasure Faire in Irwindale, California – or really any event that has a short time frame – gets the news and reviews out fast so that people can get interested, get it on their calendar, and if so excited by their trip go again. Right now though it's about to be the last weekend on Saturday May 20th and Sunday May 21st. This year we thought we'd get our article out to capture all those who are reading this and asking themselves, "How did it get to be last weekend? Didn't it just start?!". Consider this your last alarm that goes off before you have to actually get out of bed. Life happens and short term things like the Faire come up as fast as they can pass you by. Luckily, Mother's Day is behind us and Memorial Day is the week AFTER the faire ends, so there isn't likely to be anything massive that can keep you from rearranging the weekend to grab some last fun out of the Renaissance Pleasure Faire.
If you haven't been and need an introduction on what you'd be walking into we've got those for you covering the 101's of the the fair: Who is it for? What is it? Is it good for kids? Relative costs of going and a lot more. All the information except the themed weekends are still quite relevant in our previous articles. One article can't serve as what to do even in rough review as there's just too much. Consider this a sampler, though it should include more than enough fun options to keep you busy at the faire and point you in the right directions for more fun  – or enough to convince you or your significant other to rearrange your weekend to go and have enjoy the last weekend.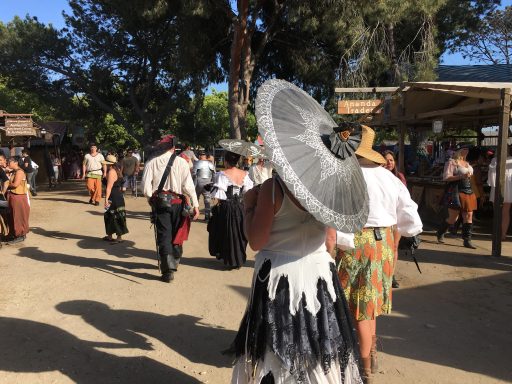 First though three bits of business if you're going to Renaissance Pleasure Faire:
First, bring whatever cash you want with you. Most vendors do take credit or check card, BUT cash is valuable for everything from tipping to bartering on a price with some vendors to combating bad cell reception when the vendor is trying to run your card. There are ATM's nicely decorated to not be an anachronism, but the picture shows a typical line for their use. As you can imagine after lines like this they can run out of money. Again most vendors do take cards, but there are times when paying cash helps. Bring it only because you want to avoid the lines for the ATM if you need it at any point.
Second, bring sunglasses, sunscreen, and a hat. All of these really come out of one factor: There's not a lot of shade in the entire faire, so you're in direct sunlight the entire time, often even when you're sitting down at a show. In addition, it's in a park whose ground is well trodden by the second weekend, much less it's last weekend so there's dust kicking up everywhere. You'll wear sunglasses more to keep the dust out of your eyes than the sun. Wear a hat that's part of your costume or a regular one, but do wear a hat. Your eyes will thank you.
Third, Discounts! AAA give discounts at the door if you have your AAA card. There are also coupons on their website that need only be printed out. Why pay full entrance if you don't have to?
As to the fun now!!!!
Food
I've often wondered who actually gets the more regular food in the faire like pizza or salad or what not. I guess someone does as the booths are there year after year. The Renaissance Pleasure Faire has a wonderful collection of food options to try a wide variety of English and Northern European food. While there are some pubs in the LA area where you can get similar food, they are far and few between and mostly focused in heart of LA. At the faire, the different eateries are next to each other to try all sorts of different options. I make it a point to try something new each time I go. The last time I had a Scotch Egg.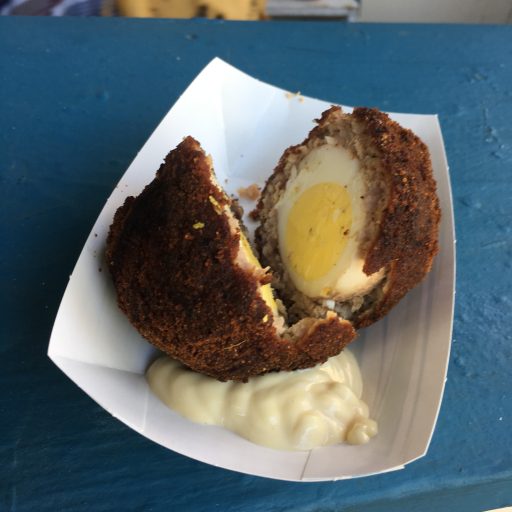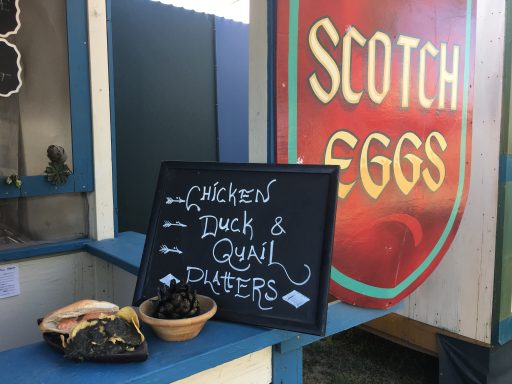 As you can see it's a hard boiled egg wrapped in sausage. Overall, it was nice breakfast flavors mixed up in one bite. Given how portable breakfast has become in the last three decades, it's a wonder they haven't become some sort of microwavable regular. While I'd rather have it have been straight hamburger meat as I'm not much of a sausage flavor guy (I prefer bacon), but it was very tasty and I would highly suggest trying it. Though anything from the turkey legs to meat pies and much more are also a nice culinary exploration.
Though a lot of vendors do mail stuff from websites, there's really nothing like handling what you're interested in or better yet what you may stumble upon and didn't know existed.
For example, my wife wanted to buy a hat, but it took her to literally every vendor (and about two hours) there that sold hats to find the right blue one she wanted. The material was firm enough, simple enough and blue in color. Also as they are handmade just about any one in any of the stacks was a slightly different size. There's no way to do that kind of shopping online. It was literally going from one vendor, trying on their hats, then moving on.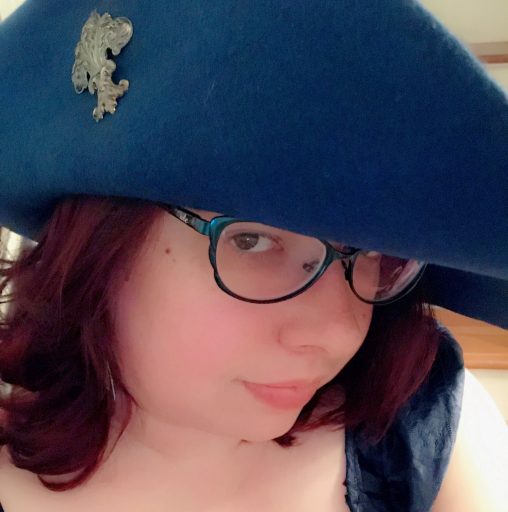 Also Whirlwood has a wide variety of hand made magic wands he makes where holding them in your hand cannot be replaced with low resolution pictures on his website. He has ones from various movies as well as designs of his own inspiration. Personally, I like the ones of his own design, but that's just me. He has a range from $20 to $74 ones of high quality and rare wood. We've saved up enough to get one good one per year and three years later, the collection is starting to look nice. This is definitely a thing where you want, no need to have them in your hand to see which ones call out to you. I don't mean that in some book magic way, though that is fun to think about it. I mean having them all lined up and actually holding them really helps you see which design call out to you and your personality.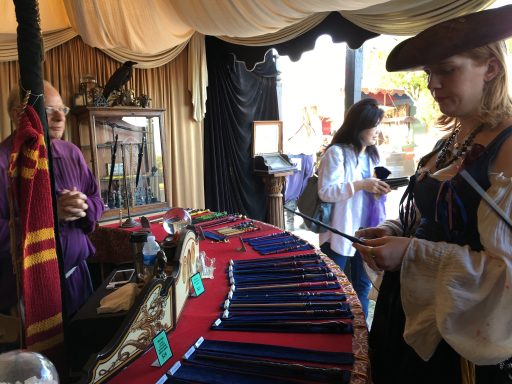 One of the only three places I buy tea from – SpiceTradersTeas.com – is at the faire. They have a faire only deal of buying five tea tins and get a sixth free. Also as any tea drinker knows you have to actually smell any new kind of tea you might want to try. The old blends you know you like? I buy my tea for the year when I go to the faire so I have a budget I've been saving up for and a list of what I want. The good thing about tea is that you can safely buy what you want for the entire year at one time. If tea lasted from china to European ports or British to American ports over oceans it lasts just fine from one year of faire to the next. At this point I have it pretty well down on what much I need. I usually run of last year's tea supply about a week or so before the next faire.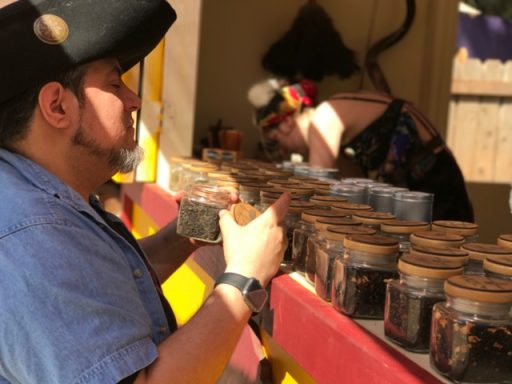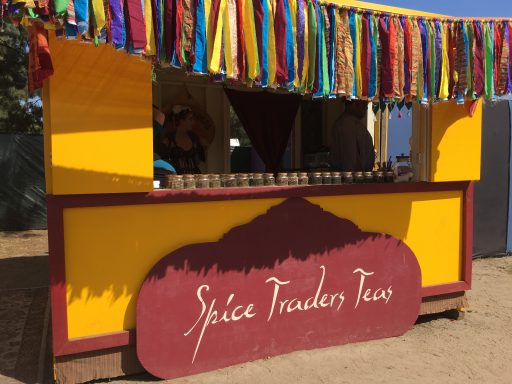 As I buy for the year, between what I save in shipping for a year's worth of tea and the buy five get the sixth free I save quite a bit relative to website ordering. You though might want to just buy a few tins to try different ones out.
Filing under finding new things there was a second tea vendor that sold direct from China teas. As they say it they buy directly from various villages in China that have different teas. I bought a few to try something new, but haven't had a chance to try them yet.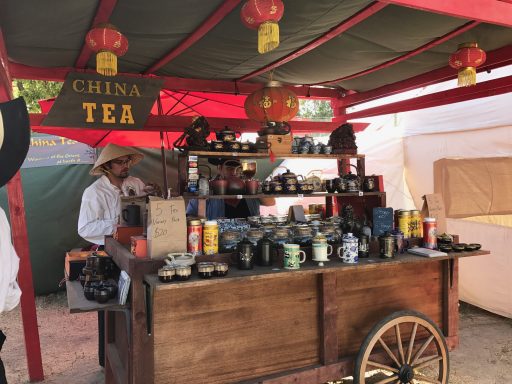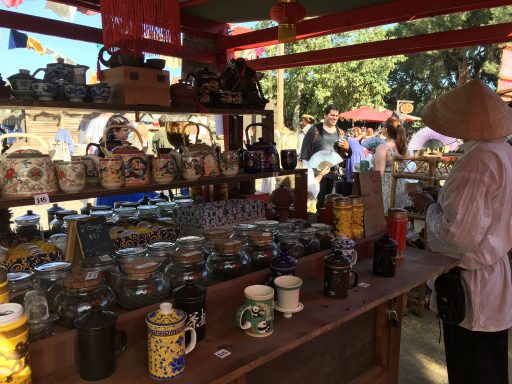 If you're one that likes honey definitely check out Holy Honey near the front. They have more kinds of honey than I knew there was. They have flavored honeys; cinnamon, lemon, raspberry and more. Somehow someone figured how to make honey even more tasty than it already was. They have sampler sets of two ounce jars so you can try their entire run if you like. They also have fun stuff like honey filled candy.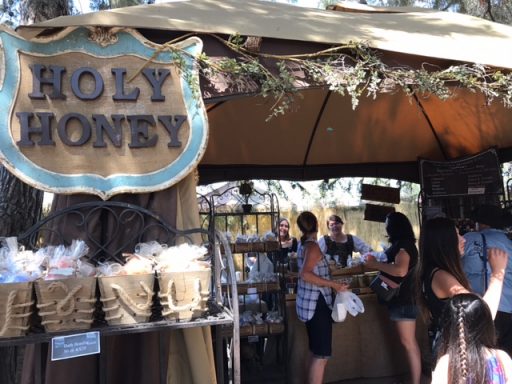 There's a really cool pipe shop somewhere in the middle. I don't smoke, but I do know that getting a good pipe is a hard thing to find. Again, this is the kind of thing that one needs to not just have in one's hands but compare to the others in the shop. It's also a great place to get a display pipe if you're a big fan of  Tolkien's Lord Of The Rings or Hobbit works.
So, so, so many other things to buy…
There's shops for everything from so much jewelry to full combat medieval weapons to metal mugs that last (I bought my so many years ago I don't remember when I got it) to full or part of costumes and more. The faire is basically a giant mall structurally. Sure there's lots of non store fun to be had without spending a time once you walk in, but if you look at a map it's mostly an outdoor mall. This means there's something for everyone.
Entertainment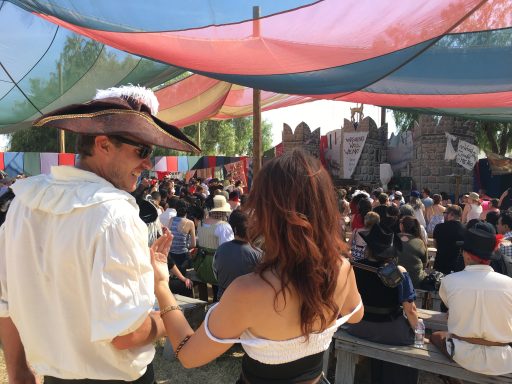 Again, this is covered more in depth in our previous articles, but simply for here it takes us two trips to feel like we've even got a minor handle on all there is to do at the Renaissance Pleasure Faire. Our first trip is shopping and looking. The second trip is stage after stage of fun throughout the day. There are multiple stages with perhaps the most full range of performances content / age wise of any one location. There is stuff from kids-focused stage performances to music and acrobatics and comedy acts that all ages can enjoy to the most adult and mature. With several stages having performances throughout the day the problem isn't what to watch, it's what to choose to watch given you'll have at least two things you'd like to see at any given moment.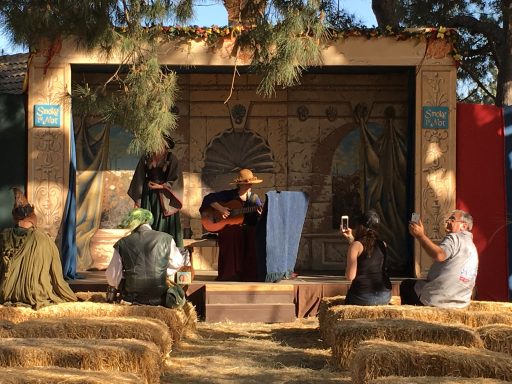 Some Entertainment you can take home with you. Glenn Morgan is a stable of the fair. He plays a Hammered Dulcimer and has CDs to buy. If you haven't heard that kind of music check out the video below.
Though perhaps one of the biggest things to attract attention is the jousting tournaments. There are two per day. Seats fill up fast so get there early. It's a lot of fun to see it in the outdoors. Medieval Times is great and all kinds of fun, but there's something to the sunlight on the armor that really does it's best to take you back in time.
There are so many carnival like games to play. Sometimes it's regular stuff, but there's more time period stuff also. Turtle Racing is exactly what it sounds like and is quite fun. I quite enjoyed the catapult games.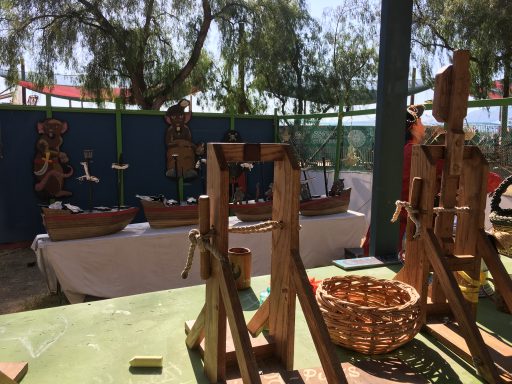 I'd read about catapults in history, even reading about how it was a trained person that had to operate them so I wanted to play with albeit a smaller one. There was quite a lot of factors involved in hitting the target: how far back you pull the catapult, how tight the rope was and wind. It was a lot of fun to have to THINK though the aiming. If there's a game for me – and I never spend money on these games – there's a game for you to enjoy.
If you haven't been convinced by now to make sure to not miss The Renaissance Pleasure Faire in Irwindale before it's gone for the year there's nothing we can do for you. For everyone else this is again only a sampler of what there is to enjoy on this last weekend.
Here's where to find out more!