The Star Wars Collection by Jamberry: The Force at Your Fingertips
Your #ForceFriday shopping is not complete until you've got the nail art to match, and Jamberry has you covered with their brand-new Star Wars Collection by Jamberry. We've been a fan of Jamberry's no-chip nail wraps that last up to two weeks since we first laid eyes on their Marvel collection, but this blows that small collection out of orbit!

From Princess to General, who didn't want to grow up to be Leia Organa? This wrap combines beauty and attitude. Is that stardust surrounding the gun-toting princess in the famous scene where she rescues herself, or perhaps it's an homage to the glitter that Carrie Fisher was known for?
There is no denying that these are the "Droids You're Looking For." These three wraps can definitely be mixed and match in a variety of ways. We'll leave calculating how many ways to C-3PO himself.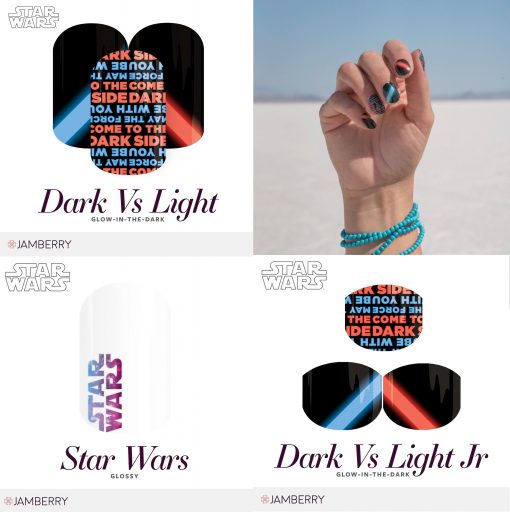 This collection seeks to maintain the balance in the Force, and no designs show that off better than Dark Vs Light (and the Junior version, suitable for young children with tiny nail beds). Even better, these glow in the dark!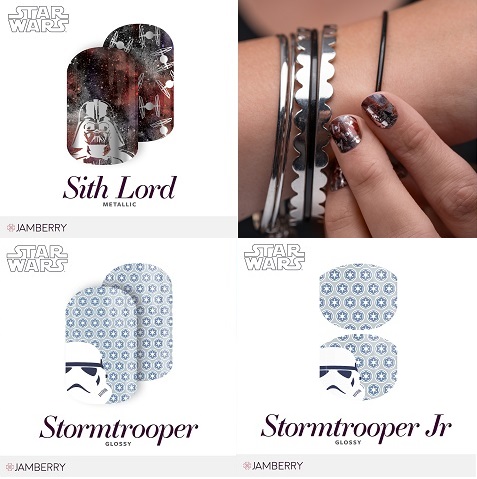 If you prefer the Dark Side, the Empire is represented by these three wraps. Darth Vader's metalic color scheme in Sith Lord is an edgy look, while there is something cute about the Stormtrooper ones. Again the Junior size may be short for a stormtrooper, but will be perfect for kids up to about ages 8 or 10. (Ask your friend who sells Jamberry to help you find the right size if your child might be in between.)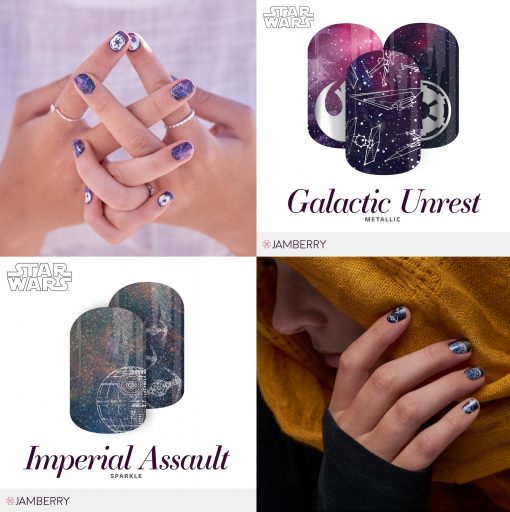 That's no moon; that's Imperial Assault, because no classic Star Wars collection would be complete without a Death Star design. Galactic Unrest is also a gorgeous blend of geeky and feminine. This mixed mani can stand on its own, but also looks like it would pair well with new wrap Supernova Girl.
Last, but not least, we have another contrasting pair of wraps featuring two fan favorites. Boba Fett captures the bounty hunter's weathered helmet with metallic flashes, while we can't quite figure out what's going on with Chewie, a whimsical take on a beloved favorite.
We've provided a few links for reference, but we highly recommend you shop with a friend instead of directly through the website. Consultants can help you find deals (for example, these wraps are $18 a sheet, but can be purchased as part of a buy 3 get 1 free bundle) or help you with application and removal. If you ask around and still can't find one, we do know a few, who have helped us share this exciting news with you, and we would be delighted to put you in touch.
So, which ones are you dying to wear? When you share your Star Wars manicures on social media, we'd love if you'd tag us (@GeekGirlProject on Twitter or @TheGeekGirlProject on Instagram) so we can see!