Murder on the Orient Express Review!
John Jondee here on the Orient Express,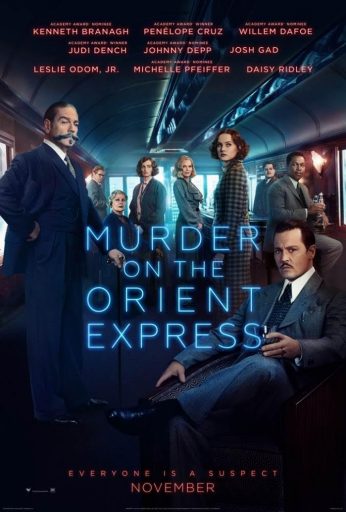 First, I have to admit that I went into the movie cold, I didn't read the 1934 Agatha Christie novel (but I did buy it immediately afterwards!) or any of the previous film versions; the 1974 Sidney Lumet or the 2001 tv version. I knew about Hercule Poirot (my French is ok, but I'm still mispronouncing his name!), but I actually had the delusion that Arthur Conan Doyle's Sherlock Holmes was enough for me! In fact, Poirot is not a distant, cold detective, he is in fact a vibrant, sometimes hilarious detective obsessed with two opposites; in this case, murder and justice. The novel was Christie's ninth for the Poirot mysteries so he is a veteran of solving difficult cases. The script was written by Michael Green who also co-wrote Blade Runner 2049.  This film is absolute entertainment, the mystery is unexpected, but the film is funny and dramatic. The trailer is stunning with Poirot walking through the train car as character descriptions float by him. It really is a cast with the foremost acting talent in films. I'm familiar with Branagh's Shakespeare films where he casts a wide variety of veteran, new, dramatic, and comedic actors. Here it is the same and all of them deliver intriguing performances. I also wanted to address the question that I keep hearing, is Johnny Depp turning in another eccentric performance?, no, it is a dramatic part with nothing quirky about his character. Final point, the best part of this film is how it ultimately reveals a very human message, the nature of murder and how it affects people. I was entertained, but also walked away thinking about the film.
The opening shot of the film is beautiful sun peeking out at the Weeping Wall in Jerusalem. I'm not certain if it and the other location shots are CG or CG enhanced, but the visual image is just beautiful and makes me want to go to Jerusalem. The film's cinematography is by Haris Zambarloukos who also worked on Branagh's Cinderella (2015). We pan down the wall to see a young boy (Yassine Zeroual) racing up steps to deliver a covered box. He reaches a kitchen to reveal some eggs that are cooked and served. The diner checks the eggs and sees one is larger declining the meal. The boy races back to bring more similar shaped eggs. The diner is revealed as Hercule Poirot with his trademark, bushy Moustache, it is a bold risk for Branagh not to let the look of the character be silly by today's standards, but he pulls it off. He has a suit, coat, and stylish cane. We get his obsession with balance including a scene where he is walking with the police captain (Jack Riddiford) to the wall. There we find three suspects, a rabbi (Elliot Levey), a priest (David Annen), and an imam (Joseph Long). Brilliant representations of the world religions, the book begins at the train platform, but this is to establish Poirot as detective. The crime is a religious item that was stolen that sets the whole town in chaos, but Poirot is on the case.
He takes a boat to finally take a vacation from all of the detective work. Poirot is the reluctant detective. On the dock, he sees Mary Debenham (Daisy Ridley in her second live action film!), and instantly tells her she is a governess. On the boat is the impatient doctor, Dr. Abuthnot (Leslie Odom Jr. from 2012's Red Tails), who helps work on the boat to get it ship worthy. While they are sailing to reach Istanbul, Poirot overhears them saying they must wait for something, a clue! They reach Istanbul, another beautiful, must travel destination from the film, and we get some pastries that Poirot regards just to smell their baked deliciousness. It's a nice touch. He meets his friend, Bouc, played by Tom Bateman who played ITV's Jekyll and Hyde. Bouc is a spoiled, rich kid and doesn't care what others think of him. He is the director of the Orient Express, and when Poirot receives a telegram about a case in London, arranges a seat for him on the luxurious train. They also see a dancer, the Count Rudolph Andrenyi (Sergei Polunin, a real ballet dancer from the Royal Ballet School) who is angry at a photographer and gets violent before he sees his wife, Countess Elena Anrenyi (Lucy Boynton, I didn't recognize her from 2016's Sing Street, acting!).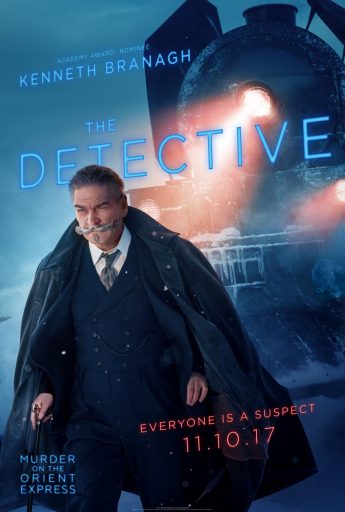 The train arrives and we get Johnny Depp's Samuel Ratchett, making demands to his assistant, Hector MacQueen (Josh Gad, an absolutely serious part!) and butler, Edward Henry Masterman (Derek Jacobi, one of the finest Shakespearean actors and a regular player in Branagh's films). There is a gruff man, the professor, Gerhard Hardman (Willem Dafoe). Also, the salesman, Biniamino Marquez (Manuel Garcia-Rulfo, he was in 2016's The Magnificent Seven). The missionary, Pilar Estravados (Penelope Cruz), gets angry at the flirtations of a passerby. Then, we get Princess Dragomiroff (Judi Dench), and the maid, Hildegarde Schimdt (Olivia Colman, I should have recognized her from 2007's Hot Fuzz!). Lastly, we get the widow, Caroline Hubbard (Michelle Pfeiffer), who admits to looking for a new husband. All of these suspects drop in like a blur, easily identified in the trailer, so it's a challenge to work out suspicious actions. The train is a first class experience, much like the luxury of the Titanic, plus it rolls through some amazing vistas.  We can reasonably rule out Poirot and Bouc as suspects!  
The last minute addition of Poirot means he has to share a cabin. Bouc has a talk with Poirot and it is clear the detective is constantly watching everything going around him. Ratchett has a talk with Poirot sharing his cake. He wants protection since he is an art dealer and believes someone is coming after him. Poirot refuses knowing that Ratchett has "dirty money." He returns to his cabin where the bunk bed has the assistant's feet dangling in his face while Hector snores. Poirot notices something happening in Ratchett's room next door. He looks out to see someone in a red kimono, but the conductor, Pierre Michel (Marwan Kenzari), does not notice. The storm brings down an avalanche that throws the engine off the tracks. The next morning, Bouc explains that a rescue team will arrive there soon to dig them out. They also discover the victim, Poirot sends for Bouc and the doctor who determines he died by stab wounds.  A challenging case with all of the suspects and detective trapped!
Evidence leads to the Daisy Armstrong case that Poirot wasn't able to solve. This failure ties him into the mystery of a death in a locked room with no witnesses. Poirot must interview all of the suspects to find all of the secrets that the passengers are hiding and also probable cause for the murder. It touches on the racism with the doctor and salesman. Poirot becomes frustrated at this unsolvable case. He tries to confide in the picture of a woman he lost, Katherine, but there are clues, including one at the very beginning. I know all about misdirection, I saw The Prestige (2006), but this case had me pointing the guilty finger until the truth comes out!  There is deceptions for nearly everyone, hidden identities, and the cost of murder!  This is a film that is one of the greatest mysteries, featuring a cast who is worthy of taking on this adaptation, and of course all under the direction of Kenneth Branagh!   
Five Knives out of Five!