Coco Review!
Papa Julio Jondee here at the Land of the Dead,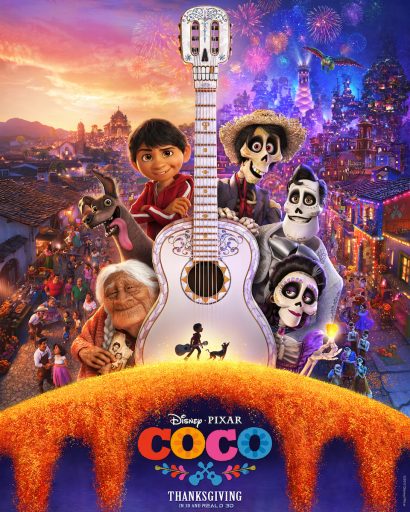 Pixar's latest film, Coco, is it's first animated musical and if you have some patience, has all of the joy of every Pixar film. The pacing is incredibly slow, the lady next to me was snoring, and the pacing or dead skeleton characters were making little ones scream their heads off, so please don't bring very young children to see this movie. Ok, with that out of the way, it features the first film for Anthony Gonzalez, and he is well cast as the twelve year-old Miguel Rivera. Miguel not only has to be winning as a young musician caught between a long family tradition against music and his inner drive to sing, but also he has to handle several of the film's songs, brilliant!
There is a introduction by the film's director and producers before we get the animated short, another first, from Walt Disney Animation, Olaf's Frozen Adventure. It has the returning voices for Anna (Kristen Bell) and Elsa (Idina Menzel) looking to bring in the Yuletide Bell to start the season. Olaf (Josh Gad) realizes that his friends don't have a family tradition. So, he goes collecting traditions from families around Arendelle. One is a map of Norway so this is the first time that we have a specific location for Arendelle. Things of course go haywire and Anna and Elsa have to find Olaf to discover their own tradition. The songs are ok and it is a short, but like Frozen Fever (2015) there isn't real development of the characters especially since Kristoff (Jonathan Groff) is mostly sidelined. Now we can shift a little to the south. Some spoilers!
Coco is directed by Lee Unkrich who had his first solo directing work with Toy Story 3 (2011) and co-directing here with Adrian Molina. The film has a screenplay by Adrian Molina, Pixar vet, and Matthew Aldrich who wrote the screenplay for Cleaner (2007). The songs are by the writing team of Kristen Anderson-Lopez and Robert Lopez, the songwriting duo from Frozen. The movie doesn't play loose with Latin culture like The Emperor's New Groove (2000), it is very tied to Mexico and it's traditions. While centered around Dia de los Muertos, it has more energy than The Book of Life (2014), more family oriented than that film. The movie opens recounting the story of the how the great, great grandfather left the family to pursue his music and this left his wife, Imelda, to build her own shoe business which is passed on to the family while despising music.
Miguel idolizes the musician Ernesto de la Cruz (Benjamin Bratt) whose music including the song that runs through the movie, "Remember Me", came from Santa Cecilia. He has also become a movie star of B&W films. Miguel is not interested in making shoes and he plays around with his great grandmother, Coco (Ana Ofelia Murguia) whom was the daughter of Imelda and now quiet in her wheelchair. This is all set up, but she becomes very important which you have to find out by the end of the movie. It is up to Abuelita Elena (Renee Victor), his grandmother, to keep the family tradition of hating music. She gets angry at a group of marches at night and when a musician (Lombardo Boyar) hands Miguel his guitar, she hits the musician with her shoe!
Miguel also picks up a street dog, Dante, a Mexican Hairless Dog with a long, wagging tongue and more than a little resemblance to the poet of the Inferno. He tries to sneak in Dante, but the dog running out has disturbed the ofrenda, the display of photos of relatives for Dia de los Muertos, the Day of the Dead. Miguel finds the top photo has Imelda, Coco, and his great great grandfather's photo, with the top half torn away having his face. He unfolds it to find the stylish guitar. It is the same one he saw at the mausoleum of Ernesto de la Cruz! The marigolds are tossed as a trail to lead from the cemetery for the dead to the living. Miguel sneaks away to try to find a guitar to play at a contest and prove he's a musician. He asks mariachis and is refused so like young King Arthur looking for a replacement sword, he's forced to go to the mausoleum and take the guitar of Ernesto de la Cruz. He plays it and this shifts him into the Land of the Dead.
People search the mausoleum and pass through him as well as his family looking for him. His relatives discover him and take him across the bridge of marigolds with Dante. He is of course stunned to see the Land of the Dead, a brilliant vista of colors like a fantasy version of the stacked favela houses in Rio de Janeiro. Also, trying to pass through is Hector (Gael Garcia Bernal). His disguise doesn't work with the clerk needing a photo from the family so he can pass to the Land of the Living. Miguel is sent to the Department of Family Reunions. I couldn't shake the bureaucracy that was in Beetlejuice (1988). The clerk (Gabriel Iglesias) goes over Miguel's problem being stuck in the Land of the Dead and slowly he's losing his body starting with his finger to ghostly skeleton bones!
They find Mama Imelda (Alanna Ubach) is barred from crossing over since her photo was taken by Miguel. The clerk explains is that all he has to do is have a marigold petal and have a relative give a blessing. Imelda does so with the condition that he never plays any music. Miguel takes it and returns to the mausoleum, reaches for the guitar, and returns to the office. He has to find Ernesto de la Cruz who is giving a sunset concert to celebrate the end of Dia de los Muertos. Miguel overhears Hector pleading to return to see his daughter one last time. Also, that he says he knows Ernesto personally. Miguel offers to take his photo back in exchange for getting to his idol whom he hopes will give his blessing. Meanwhile, Imelda calls on her alebrije, a spirit guide, Pepita.
The spirit guide is a giant, multi-colored jaguar with wings. It reminded me of the Jaquins in the Elena of Avalor animated series. Peptia's breath reveals Miguel's footprints. Hector brings Miguel to see a friend, Chicharron (Edward James Olmos) for his guitar. Hector has to play "Everyone Knows Juanita", very funny lyric change with a kid present, and they find that Chicharron fades away since he was not remembered for Dia de los Muertos! Hector is in the same situation so it is a race against time for Miguel to return. The truth behind hero worship is revealed. Miguel has to prove himself as a musician in "The World Es Mi Familia" and also find the importance of family in his life. There's a twist, but it gets a bit predictable, when Miguel falls (he does so a few times), what could possibly save him? I kept waiting for Pepita to fly in. A number of good songs, some laughs, and a very Pixar heart warming story once you reach the end.
Three Marigolds out of Five!