Rey, BB-8 and Porgs Debut in Star Wars Collection by Jamberry V2
With Star Wars: The Last Jedi opening next week, you might already have your cosplay–or at least your favorite t-shirt–picked out to wear. Whether you dare to go Dark Side or you're all about Rey, you can show that you are excited down to your fingertips with The Star Wars Collection by Jamberry, Volume 2! If you've never tried the long-lasting nail wrap brand, this is a great chance to check them out for yourself. While we love the classic characters in the first volume, it's thrilling to see new favorites in this collection. The colors and designs in this volume also have a mixture of sleek and trendy and colorful and whimsical. Thankfully, there's much less pink.
If you love natural green and browns, there are four wraps in that palette, featuring Chewbacca and the lovable new Porgs. Camaraderie also includes R2-D2 in his only appearance in this volume (since he's in two wraps from Volume 1), alongside Rey, who now has her own wrap, which is a must-have.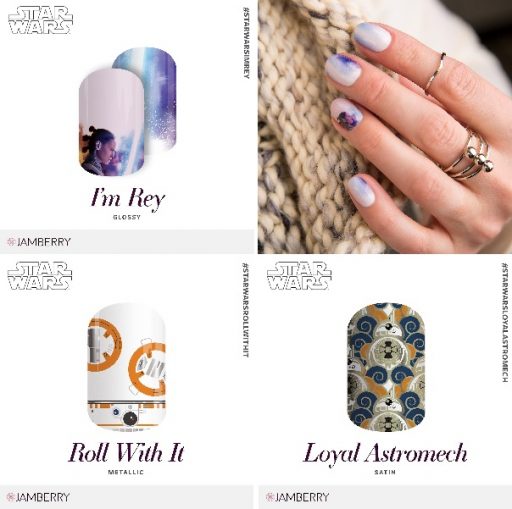 That brings me to BB-8, who features in two wraps. Roll With It will go nicely with the R2-D2 and C-3PO wraps from the first volume, which is what I intend to wear because I've been saying for months that I'd buy BB-8 as soon as it came out.

If you like bad boys, then take a look at Kylo's Lightsaber, which might distract you from the previews in the theater because it glows in the dark. First Order is also a stunning wrap with a satin finish (which means it is hybrid between Jamberry's metallic and matte finishes).
These last three designs are both subtle and stunning, with colors that are fitting from office to red carpet. You can really tell that Jamberry listened to their customers and consultants when designing these beauties. (Although our Creative Director has noted that there are still no wraps with just the Rebellion. "I do not give the Empire equal time." So there's a suggestion for Volume 3.) This entire volume shows diversity of designs to appeal to Geek Girls of all ages, and will work equally well with jeans or Jedi robes. Volume 2 of the Star Wars Collection by Jamberry goes live Thursday at 9 am Mountain Time, so get in touch with your friend who sells Jamberry to order and to be sure you get the best deal. If you don't have one, you can contact us through our Facebook page, and we'll get you in touch with one. (The Star Wars collection is only available in US markets.)
Which wraps are you dying to wear? When you share your Star Wars manicures on social media, we'd love if you'd tag us (@GeekGirlProject on Twitter or @TheGeekGirlProject on Instagram) so we can see!May the Force be with you!