The Long Beach Comic Expo!
Journalist Jondee here at the Long Beach Convention Center,
 Cosplayers at the steps of the convention center, photo by the author.
It was a long morning with Star Wars: Secrets of the Empire at Downtown Disney. The review for this will come later. After lunch, I picked up my backpack, and headed to the convention center. It was afternoon and the con was open and busy. The first thing to do at a con when you get there is the Sweep, walking around to get a general sense of the con. The other point is to remember to get a map, I was lost except the banners for Space Expo and Artist's Alley. I was getting two Hero Initiative books signed by Drew Johnson. I also mentioned to him at Tony Fleecs about the Secrets of the Empire experience. The other guest was voice director Andrea Romano. She started her career as a casting director at Hanna-Barbera before working at Warner Brothers. Romano worked on Tiny Toon Adventures and then an incredible collaboration on Batman: The Animated Series. She spoke about some of the talented, creative people on the show.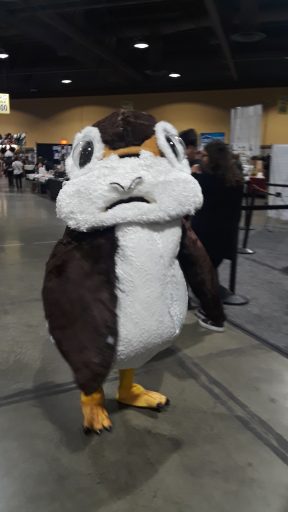 Porg cosplayer! Photo by the author.
The Guest of Honor for the con was writer Don McGregor. He of course is known for his Black Panther stories including "Panther's Rage" in Jungle Action, "Panther's Quest" in Marvel Comics Presents, and the limited series, Panther's Prey. McGregor had a story that went along with each comic book. One of the highlights for me was the special guest, Joe Keery, who plays Steve Harrington on Stranger Things. His table was in the Social Square which was at the center of the con past Artist's Alley. I had missed him earlier with the photograph line and the closing of line at 2. I was told that he would be signing later at 4:30. I showed up at 4 and there were three people ahead of me when Keery showed up at his table. It was really nice to talk with him about the show. Lastly, it was nice to talk to Rachel Liftin, author of The Lost Noble, at Artist's Alley. It is a fantasy novel about a young woman, Adella Everheart as a commoner now becoming a noble in Royal High. Long Beach Comic Expo has many fun experiences meeting and talking with interesting people. It ends tomorrow, Sunday, and hopefully everyone has a chance to walk around the con floor.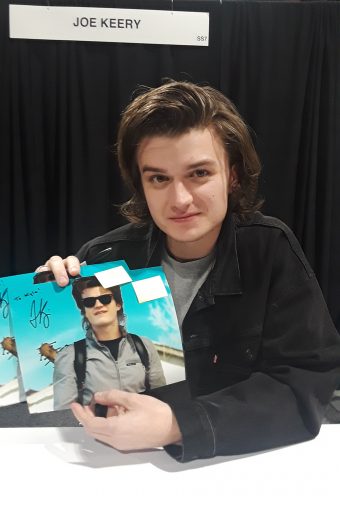 Joe Keery, Steve Harrington!, photo by the author.