Highlights of WonderCon 2018
WonderCon is one of my favorite cons that I have been attending for about five years now. It took on a different vibe when it moved from San Francisco to Anaheim a few years ago. It offers many opportunities to see celebrity guests in the areas of television, film, and comics, but it has a thriving cosplay community as well. It's much more of a fan-driven, inclusive community compared to its sister con San Diego Comic Con, but WonderCon is still quite massive in its own right. If you are planning on going to San Diego Comic Con, I always recommend to people to check out WonderCon first in order to see what going to a larger convention is like before they take on something like San Diego Comic Con. I think of WonderCon as a great place to test out new cosplays, too. Below you can see some of my favorite cosplays I encountered during the weekend and read highlights about a few panels, too.
Cosplay
When I think of WonderCon, I think of cosplay. I mainly come to this Con to see what everybody is wearing. And the fans never disappoint.
Porg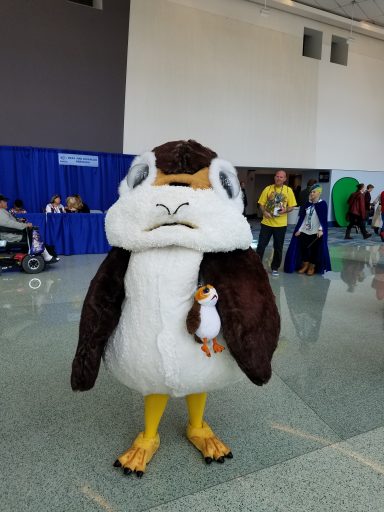 Everyone's favorite new creature from Star Wars: The Last Jedi. I couldn't help but get a picture when I saw this costume.
Miguel and Ernesto de la Cruz (Disney's Coco)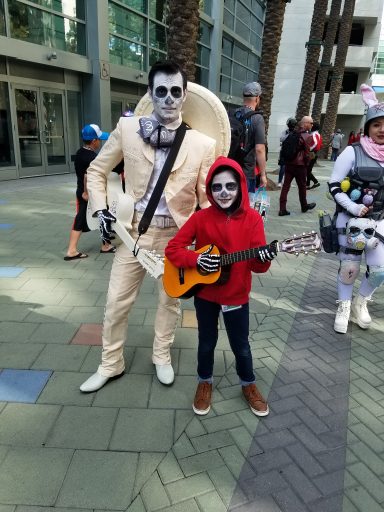 I happened to see this father and daughter duo's photograph online in an article about stellar cosplays at WonderCon. When I saw them in person a little later during the Con, I had to get a few pictures of them! The makeup makes their features stand out and they really embody the characters from Disney's Coco. I saw the film a few weeks ago and was instantly charmed by it.
Fitz and Simmons (Agents of SHIELD)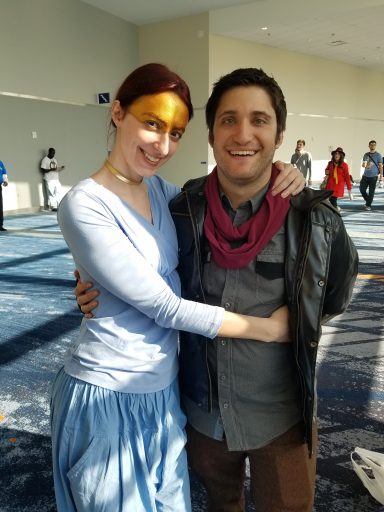 Spoilers for season 5 of Agents of SHIELD! As you can see, Fitz and Simmons aren't dressed quite like they normally are, but the brainiest couple there is still shines through. I met these two cosplayers as assistants to the Legion M crew—and was surprised to discover, while going through pictures from last year's WonderCon, that I had met them before—also dressed as Fitz and Simmons, no less. Couples cosplay is one of the best thing cosplayers can do and this pair definitely makes a very adorable looking Fitz and Simmons. Their cosplay gave them a good fortune, as I found them each with a poster that had been signed by the entire cast of the show.
Peggy Carter and Bucky Barnes (Captain America trilogy)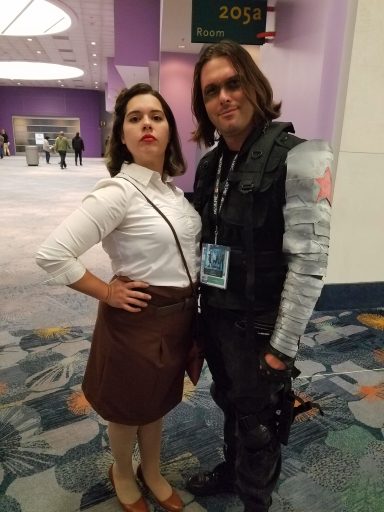 Being a big Peggy Carter fan and cosplayer myself, I adore meeting fellow Peggy cosplayers. I saw this one and asked if she was indeed Peggy and then I noticed the Bucky standing with her. Peggy's look is both reminicent of her appearance in Captain America: The First Avenger and a particular costume Peggy wore in the first episode of Agent Carter.
I also love how people get creative with Bucky's metal arm. Seeing Peggys and Buckys at conventions definitely makes my heart a little more glad.
On the last day of con, Dawn and I had opted to enjoy lunch outside the convention center, close to where people were gathering in various places for different photo shoots. This was a great plan as we got to see cosplays that we hadn't seen during the convention. First I saw Agent Whiskey and then a moment later I saw PT Barnum and I was literally torn between my two fandoms. But I caught up with Agent Whiskey first to get a quick snap.
Agent Whiskey (Kingsman: The Golden Circle)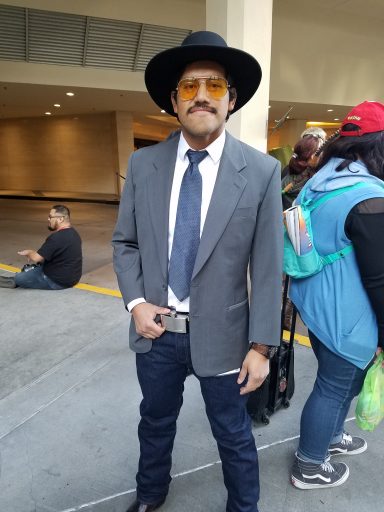 Without having anything labeled Statesman on him, between having the glasses and the belt buckle –which doubles as a flask–were two of the talltale signs that this indeed was Jack Daniels, aka Agent Whiskey! He was the only Kingsman-related cosplayer that I saw all weekend and I might have done some rambling when I spoke to him. 🙂 Kingsman: The Golden Circle might not have been the best movie, but seeing the characters in cosplay still makes me very happy. I have a dream of doing a full Kingsman and Statesman shoot where I get to cosplay Agent Percival.
PT Barnum (The Greatest Showman)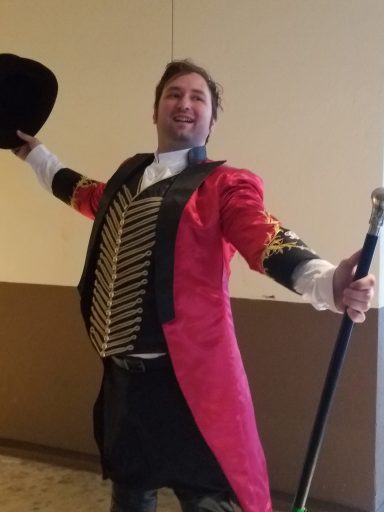 Oh PT's costume, what a delight! I had never met the cosplayer, but we have a lot of mutuals—including the costumer who built this costume for him! I am not the least bit surprised that Chad Hatter would create a PT Barnum costume, as he himself is rather theatrical and one of the best Sixth Doctors you are ever going to see anywhere. The costume, though, is amazing. The pipping on the vest, the detailed embroidery of PT's initials on the sleeves, the entire coat, stunning. Of all of the PT Barnum cosplayers to run into (and the only one I actually saw at WonderCon), it had to be someone who was wearing a costume by one of the best costume designers that I know. Both cosplayer and costume pull off the character brilliantly.
Diana of Themyscira and Captain Steve Trevor (Wonder Woman)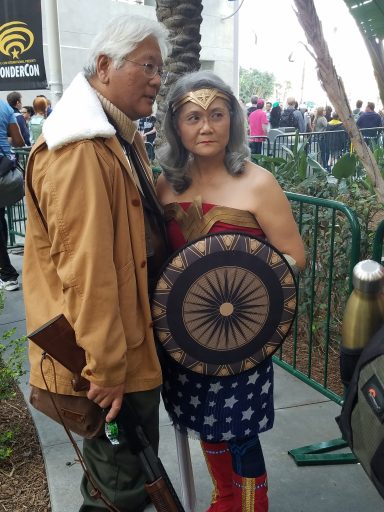 I adore The Cosplay Parents (AKA Steve and Millie) and so does everybody else from NBC News to Yahoo Lifestyle to The Nerdist. These two are really lovely people and two of my good friends. They help to make the cosplay community a joy to be a part in. If you ever see them at a convention, stop and say hello. They are always making new friends.
Panels
I didn't attend very many panels this year, but the ones I did attend had a strong message and were tied to the empowerment of fans, something that I am very excited about. Fans are oftentimes more powerful–by themselves and in groups–than they are even really aware of. When one begins to recognize one's power, there is so much more one can create in this world.
Legion M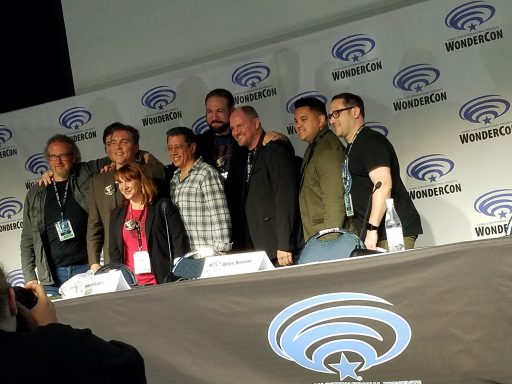 The Legion M:How the Power of Fandom is Changing Hollywood panel was a blast. If you haven't heard of Legion M, get ready for them. Legion M is a fan-owned entertainment company. A couple of times a year they invite anyone to become an investor into their company. They have already begun working with some big names in Hollywood–Nicolas Cage, Elijah Wood, Dean Devlin, just to name a few. I got the chance to attend the LA screening of Bad Samaritan earlier in the month and got to meet the co-founder Paul Scanlan, COO Terri Lubaroff, and head of development David Baxter. These people recognize the power that fans have and through Legion M are giving fans a voice in the marketplace. They introduced attendees to three new television projects that Legion M has in the works and the creative teams attached to them. There are many exciting things in the pipeline and we all can be a part of the creation of it. Membership to Legion M is free and you don't need to be an investor in order to reap the rewards of membership.
Pop Culture Hero Coalition: @SuperheroIRL
Chase Masterson's SuperheroIRL! Join the Real-Life Justice League panel is a mainstay at not just WonderCon, but other Southern California conventions including San Diego Comic Con, Stan Lee's Los Angeles Comic Con, and Gallifrey One. The Pop Culture Hero Coalition is the "1st nonprofit org making a stand against bullying, racism, misogyny & other forms of hate using pop culture TV & film in schools, comic-cons & communities." Masterson invites people from the entertainment industry and education to speak about their experiences with bullying.
This year's panel had each panelist come up separately and speak about their experiences with bullying. All were compelling, but I was particularly pulled into the story told by writer Geoffrey Thorne. He told us about how people treated his brother at a school for gifted people. Thorne repeatedly said that he had never told anyone this story before. Thorne shared with us what he had told his brother: the bullying was what he was only experiencing now, it wasn't going to last very long and more than that–it was based on a lie. All bullying is based on a lie. I have heard this advice before, but not given in the way that Thorne was offering it. The panel was an incredible experience and while I have been to at least five panels hosted by Masterson, every one makes my life a little better.
The Writer's Journey: Developing Material for the New Marketplace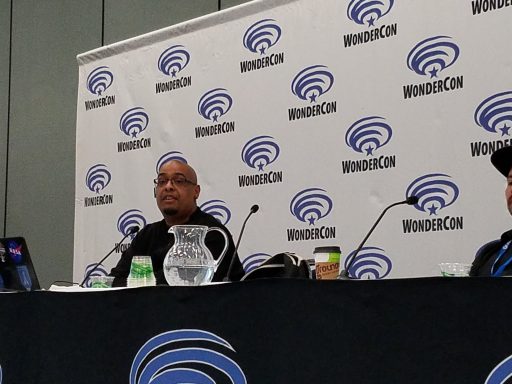 Another mainstay panel that I have attended at WonderCon, Long Beach Comic Con (and Comic Expo), and San Diego Comic Con is Brandon Easton's The Writer's Journey: Developing Material for the New Marketplace. Easton invites his writer friends in the industry and presents a Power Point presentation while giving a Q&A. While much is the information presented in the Power Point is the same, the questions are always different and oftentimes there are different panelists so there is always something new brought to the panel. This has been one of my favorite panels to network afterward, as oftentimes the panel is later in the day, which allows for meetings to happen afterward. I have met so many great people from this panel.
All in all, this was an amazing year at WonderCon, where cosplays were seen, friends were hung out with, panels were attended, networking was done, and the planning for the next convention (probably San Diego Comic Con for me!) has already begun.