Exclusive: DC Universe Launches on Batman Day!
Batman Day has brought us two free comics at any comic book store; Batman Day editions of Batman Li'l Gotham #1 and Batman: White Knight for the DC Black Label imprint. DC Universe, the new streaming service, has also launched. Under the bar with More and News, there is the host of DC Daily, Tiffany Smith, previewing an exclusive clip of The Titans with the Jason Todd (Curran Walters) excited about being the new Robin and the old Robin, Dick Grayson (Brenton Thwaites), stunned that Batman allows Jason to drive the Batmobile! Hector Navarro introduces Lois & Clark: The New Adventures of Superman. There is an interview with Kevin Conroy on Batman: The Animated Series. John Kourounis interviews the couch of Harley Quinn Smith, Samm Levine, Clarke Wolfe, and John Barrowman are interviewed about their favorite Batman films and villains.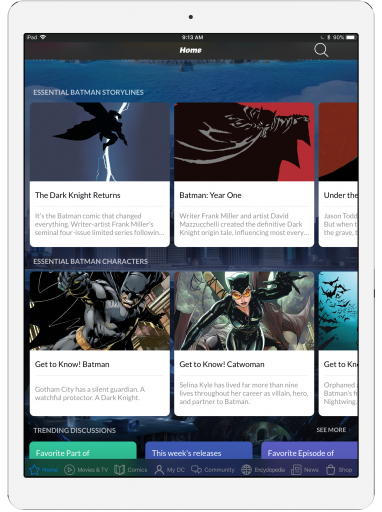 Image courtesy of DC Entertainment.
There is a number of comic books with new and classic runs. The first issue of New Teen Titans, the first issue of George Perez's run on Wonder Woman, Batman: Year One and Year Two, Batman #1 (1940),  Batman: The Dark Knight Returns, The Batman Adventures: Mad Love (1993), 32 issues of Batman and the Outsiders, 16 issues of the first Aquaman title, the incredible Atlantis Chronicles, Green Arrow: The Longbow Hunters, 26 issues of Kamandi: The Last Boy on Earth, 6 issues of Sensation Comics with Wonder Woman, 9 issues of the first Supergirl series, and 22 issues of the original run of Teen Titans. There are a number of New52 and Rebirth issues. DC Universe Presents has Ralph Garman, Cameron Cuffe (who plays Seg-El on Krypton), and Burt Ward introducing comic books and films.
For the Movies & TV section there is the Specials; Batman Unmasked: The Psychology of the Dark Knight (2008), The Science of Superman (2006), and the goofy fun of Legends of the Superheroes (1979). It has Adam West and Burt Ward Batman and Robin, but also Retired Man. Shorts include DC Nation Shorts: Doom Patrol (2013), DC Nation Shorts: Super-Pets (2013), and DC Nation Shorts: Amethyst: Princess of Gem World (2013). There is Animated Series; Batman: The Animated Series, 9 seasons of Super Friends!, 4 seasons of Static Shock, and 2 seasons of Young Justice. The Series features 6 seasons of The Adventures of Superman, classic!, Birds of Prey, and 3 seasons of Wonder Woman. The Batman Day includes the animated films, Batman: Assault on Arkham and Batman: Gotham by Gaslight. There are many Batman films; Tim Burton's Batman (1989), Jonathan Nolan's Batman Begins (2005), and The Dark Knight (2008). The Movies section features the animated The Death of Superman (2018), Wonder Woman (2009), and Justice League vs. Teen Titans (2016). There are four Superman movies from Superman: The Movie (1978) to Superman IV: The Quest for Peace (1987).
This is press release from DC:
In celebration of the launch on Batman Day, the service will enable fans to access and interact with a wide variety of unique Batman movies, animated series, comics and giveaways throughout the month of September.
The first-of-its-kind digital subscription service gives fans access to exclusive content and experiences not available anywhere else. At $7.99 per month or $74.99 annually, membership includes exclusive original live-action and animated series, classic TV series and films, a curated selection of digital comic books, breaking news including the all-new DC Daily show, an expansive DC-centric encyclopedia, and access to exclusive merchandise. Additional fan features include opportunities to connect with others in the DC community, earn premium rewards and participate in sweepstakes and contests. Both monthly and annual subscriptions include a seven-day free trial.
Celebrating Batman on DC UNIVERSE
Kicking off on Batman Day and through the month of September, fans will be able to access a variety of content ranging from more than 400 issues of Batman comics to acclaimed films like The Dark Knight. DC UNIVERSE will kick off 30 days of giveaways for members starting with the DC Gallery: The Joker 1:1 Bust by Rick Baker, #1 of the limited series.